Sunday, December 25, 2011
11:15pm (EST)
Merry Christmas! It feels good to be back in Tampa. I arrived back home yesterday safely and I have been mostly laid back. Its the most laid back I've been in a while. I'm really happy to back home. I was debating on whether I should come or not for a while. I fully recognized the importance of getting away from LA during
week 65
. The reason for such a debate was because sometime earlier this year I promised myself I wouldn't return to Tampa until I made a significant accomplishment. One year later, I can either say coming to Tampa is a useless strategy or a mission accomplished.
The intent of the initial decision was to make sure I returned with some good news. News that would make everyone proud. I wanted to make sure I finally sealed the deal on something big before I returned. One year later, with less then a week before 2011 ends, I can't say that I've sealed the deal on anything yet but I am proud to be in my current place and space.
In small talk for the past couple of weeks, I would say this to random people, "Last year this time, I was being considered for 3 big projects that could change my life. Now exactly one year later, I'm being considered for 3 bigger projects." Of course I haven't sealed the deal on anything yet but just being apart of the conversation for the
In Living Color remake
, is something to be proud of. There are also possibilities of advancing in
Doritos Crash The Super Bowl Contest
and
The Amazing Race
. This is why I say, I"m in a good space and place that is obviously much better than last year.
Last Year it was all about
The Big 1 (Expedition Impossible)
,
The Big 2 (Battle of the Sexes -Dating Show)
&
The Big 3 (Second Chance - Documentary Feature)
.
No one could tell me I wouldn't get selected for at least one of those projects. My confidence was high for at least one. In the end, none of them hailed victorious for me. I remember being confident for a while but as each new day of 2011 was revealed I felt sprinkles of concern.
One year later, who cares about last years disappointments. I'm in a much better place now. Patience is a virtue. I can look back at all my previous disappointments and I'm now happy for them. What seemed like the best thing for me during those times really wasn't. Today, I'm much wiser and much more experienced.
Lets be real. I'm not looking for anymore disappointments. I've had enough and I would love to seal the deal on all 3 this time. All my hopes aren't completely dependent upon the My Current 3 but I do know the importance of those doors to opening for me. They have been on my mind because its best thing I have going for me right now. Besides that fact I have my powers back and my imagination is far more abundant, the My Current 3 are the best things I have going. Last year when I returned to LA after the break, I had a place to call home. When I return to LA after this break, I won't have a place to call home.
There is no worry factor but Doritos and In Living Color has especially been on my mind because of this current week. Doritos will definitely be contacting the top 5 finalist this week. Its one of those situations that relies on a phone call. If they like the work, they will call. If they don't I'll never hear from them. The case with In Living Color has a bit more hands on because my agent is involved. She has been in contact with the casting office and they told her that the decision will be made after Christmas. Anytime this week I will know something about both projects. Which is why I'm going to express my thoughts once a day throughout this week. When I know, you will know. When I feel, you will know the feeling.
Aside from that, I'm just happy to be in Tampa. Earlier today I was watching the Miami Heat VS the defending champions Dallas Mavericks. It was the season opener. Its also the same two teams from the previous NBA finals. During the game, the commentators spoke about Dirk Nowitzki. Dirk was the man in the finals last season. He couldn't be stopped. Which is why he is a world champ right now and finals MVP. The bottom line is, Dirk shared how difficult it has been for him to find motivation for this new season. He played in the European championship after the NBA championship and he wasn't fully motivated. Moreover, they later explained that the extra time during the NBA lockout helped him a lot in preparation for the new season. He claims to have the motivation now.
The commentators also explained the difficultly of a champion finding new enthusiasm for a new season when they already recently received a championship. That's completely understandable in my eyes. My enthusiasm dropped right before I left LA. I got sick of all the
auditions
and I needed to get away. Which is why I'm glad I'm in Tampa right now. Its giving me a chance to regroup and prepare for what the future is holding for me. What ever that is to be exact.
Monday, December 26, 2011
About 45mins ago I ended my
blog talk radio show
with technical difficulties. This would be that third time something similar has happened. No huge deal. Its over the internet and the best thing is to be prepared for it. That's not the big issue. During the technical difficulties, my guest was able to be heard over the line and she committed the worse crime against me by incorrectly referencing my name. I don't get it. Is it so hard to take instructions. I send referencing details in an email and I go over it verbally over the phone. I've learned to understand that it's just going to happen somethings and there are other times its intolerable. That same guest invited me to be a guest on her public access show but I'm not longer interested now. Its an assault to my brand.
Around the same time all this happened, I found out my guest for tomorrow cancelled. Another situation that just happens. Whats disassembling about the situation is that I had to basically call him to find out. Then he had the nerve to make his obligation seem more important then my show. Maybe it is more important, but don't throw it all in my face. In addition, he wasted my time on the phone to talk about rescheduling for next year. I have to worry about a show in less then 24hours and your taking up my time about next year. I just don't understand humans.
11:30pm (EST)
I feel kind of edgy. I just woke of from a nap and caught myself. My legs were shaking and I halted them. It could because of 1 of 4 reasons.
Reason # 1:
I'm over this break and I want to get back to creating.
Reason # 2:
There have been no updates nor developments about The Current 3.
Reason # 3:
I'm spending to much time around humans and its evaporating my energy.
Reason # 4:
Due to my last minute show cancellation earlier I have to face the reality of hosting a show without a guest (Although, I do have a solution for that.) Now that I have all four reasons laid out, I think its all four of them.
I spend a few hours with my aunt and cousins today and it was cool to hang with them. I haven't seem them in a while and of course the Hollywood question and answering is fun. There was a close yet distance presents about me there. On the way out, I pondered about the level of my energy and then I thought about Rouge.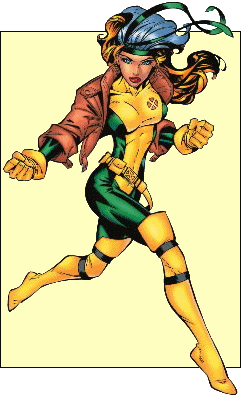 Rouge from X-Men
Known superhuman powers:
Rogue possesses the superhuman ability to absorb
the memories, knowledge,
talents, personality, and physical abilities
(whether superhuman or not) of another human being (or members of some sentient alien races) through physical contact of her skin with the skin of the other person.
The victim's abilities and memories are absorbed for a time sixty times longer than the amount of time Rogue was in physical contact with that person. The victim loses his or her abilities and memories for exactly the length of time that Rogue possesses them. Due to unknown factors Rogue has permanently absorbed certain superhuman powers from Ms. Marvel I.
Special limitations: Rogue cannot touch another human being without temporarily absorbing that person's memories, abilities, and superhuman powers (if any) and rendering him or her unconscious. Remnants of the personalities of victims whose memories she has absorbed remain buried in her subconscious indefinitely.
-------------------------------------------------------------------------
My Explanation:
I'm very aware that my energy is one of my greatest powers and for some reason it always fluctuates around most people. Immediately after I left my aunts house I realized I have powers like Rouge. I absorb the energy people around me. It happened with my last roommate towards the end. Its happening now at my parents house because of one particular person. At my aunts house and a few hours ago when I connected with an old friend.
Rouge absorbs with a touch. I feel like my situation is more crucial. I absorb the energy of humans that are in my vicinity. This isn't a good because the energy I normally absorb is either negative or complacent. This reinforces the reason why The Path of a Great Warrior is a Solitary Path.
From time to time I have visions of what kind of person I will be when I achieve star power. As much as I would love to always be available to the people, that wouldn't be rational. Most people are energy suckers and they don't even realize it. Mainly because the don't understand the path. From what I've learned about the sensitivity of my energy I now believe it will be best to be available yet illusive as the same time.
Tuesday, December 27, 2011
Late Night 12:40am
I just came from a nice one hour walk and I really enjoyed it. Walking made my day. Today had an interesting start. By default I had to interview myself. Overall it was a great show. I talked for an half hour straight. There's always room for improvement but it was a good show. Check it out for yourself. Visit this link
here
.
Shortly after the interview I realized this week isn't the week I thought it was going to be. I reverted back to
this post
and realized that my agent was informed that we will be updated after the holidays. After Christmas isn't exactly after the holidays. After the holiday's applies to after New Years. Which makes sense. Its strictly all about patience. In the mean while, I do believe I've been using my time wisely. Last night I did some In Living Color research and watched Scary Movie on Netflex. Tonight I'm probably going to watch Scary Movie 2. The director is Keenen Ivory Wayans himself. Who is the also creator of In Living Color. The Scary Movie franchise alone has made him the highest grossing director in Hollywood. Just writing and thinking about Keenen makes me really excited. He is very well respected by his peers in Hollywood yet he keeps a low profile.
During this laid back period, I've been continuously looking at my recent work. My
Character Reel Vol. 2
specially created for In Living Color and my
Doritos commercials
. I'm really proud of my work. I've always been the type of person to repetitively view my accomplishments. It puts a smile on my face. I'm not even looking in a picky light. Its just really good work. The judges might have a different view but no matter what, my accomplishments always make me happy.
Wednesday, December 28, 2011
Late Night 12:16am (EST)
The day as been mostly dull. This is suppose to be a break but its not a full break because I'm still producing and hosting my
blog talk radio show
. The preparation has been daunting. Hosting the actual interview always feels great but overall I'm looking forward to taking a hiatus from it after Friday. This proves to show how imperative breaks are. I never include a break, which is why I tend to get wiped out in the end. Two more shows. All I have is two more shows to complete. I'm really looking forward to completing this show so I can really rest and then fully evaluate whats next.
Just a few minute before I stared writing this I hopped on the web and did some
Crash The Superbowl Contest
research. Based off what I read, things aren't looking go for my
entries
. I found a website called
www.VideoContestKing.com
and their suggestion to all the participants is to move on by now if they haven't been notified before Christmas. I found another website earlier this week called
www.VideoContestNews.com
and their claims state contestants should of have been notified yesterday and if not then, today. The top five will be revealed next Wednesday, January 4, 2012 and with all the paper work involved there is no reason for Doritos to wait much longer
It's true that some contests wait until the last minute before contacting their finalist. There are multiple reasons for them doing so. They might wait 3-4 days before as someone else suggested on the same site. That may or may not be the case. I don't know what the case is. I've only been thinking about it so much because I really don't have anything else to do. Besides reading about the contest updates and its developments blogged by fans are fun. Lets face it, things are not looking too very positive right now for my submissions. However, my sources are not verified. My sources come from entrants who happen to be bloggers who love video contests. As far as I'm concerned, Raewyn and I are still in the race. If anything, I'll put up my white flag on Friday. Doritos most likely won't call during the weekend and they definitely won't contact the finalist on Monday, two days before. We'll see what happens. I'm smiling either way. Negative results won't have any affect on me.
Thursday, December 29, 2011
11:10pm EST
The day has passed and I'm putting up my white flag for the
Doritos
contest. It was a good run and I'm proud of the accomplishments between Raewyn and I. Doritos will be posting the top 5 finalist on
www.CrashTheSuperBowl.com
on Wednesday, January 4, 2011. I'll then write a review and also congratulate the top 5. Mostly importantly, I'm going to dedicate the Doritos section of my blog to Raewyn Bailey. Without Raewyn, none of the commercials we produced would of been possible. I am so grateful to her in many ways.
Within a 3 month period, Raewyn and I accomplished a great deal together. We also submitted a audition video for
The Amazing Race
. A presentation in which we both very proud of. I'm afraid to say this but I'm also putting up my white flag for that project. We submitted our best but as I wrote somewhere on this blog (I can't remember where right now) I'm not reality show material. I've been through the process several times to know that they're not going to pick a guy named Motown for that type of show.
Before I continue, I don't want anyone reading to think I'm being negative because I wasn't selected for Doritos. That has nothing to do with my current writing tone. Honestly, out of The Current 3, I had the least expectations with The Amazing Race. I knew what I was up against since the beginning. I still took part in it because its an opportunity. I'm in no position to pass up opportunities.
Now that Doritos and The Amazing race are cancelled out, that leaves
In Living Color
as The Great Hope of 2012. I'm calling it The Great Hope of 2012 because 2012 has a blank slate right now. The landscape is empty. Regardless, I'm not worried. My energy is at a good range. Disappointments don't even phase me anymore. Have you read my blog for the past year? At the same time, I haven't found any enthusiasm about returning to LA yet because I don't have a place to call home. My only option of residence is a car. I'm blessed to even have the a car has an option but I'm in rush to get back to
sleeping in it.
All I can do it take things one day at a time. On a more positive note, I'm excited about my last Hustle & Shuffle interview of the year. After the interview tomorrow my break will officially begin. Then I can begin an indefinite hiatus the show. My last show will be fun. I'm interviewing my mom. How great is that? Again, I'm exited to take a break from it. Then I can truly evaluate my future.
Friday, December 30, 2011
5:47pm (EST)
The last Hustle & Shuffle show of 2011 is complete and I wish I was more celebratory. My mom is emphatic but I'm not. The reception of my voice isn't exceptional. Oddly, there was a virus on my computer 30mins before the show but I managed to fix it in time. After that, I don't know what went wrong. Everyone heard my voice well during the show but it sounds terrible in the archives. Beside the way my voice sounds for
that show
it was a success because it made my mom happy. That alone is most rewarding. She already requested copies of the show on CD to send to her family members.
Its approximately one day away from 2012 and I'm not excited. Last year this time I was excited about going back to LA and I'm the total opposite now. I even look unmotivated. I haven't trimmed my high top in weeks nor have I shaved my face. I'm starting to look I'm on a beard protest again. An audition for some type of part on the Cartoon Channel come in and I didn't even flinch. If I accepted it, I would have to be back in LA by Monday, January 3rd. I'm not putting myself through no rush right now. This will be the second audition I turned down this week. Last year this time, there is no way I would of missed them.
I'm not depressed because I've been here before. I'm just looking for new energy. My energy is drained. Two nights ago, I started watching this interesting program on Netflix. Its called How The Universe works. It talked about Einstein's theory, E=MC2(squared). Which basically means, from energy matter is made. It takes energy to make matter. The program also stated the hardest theory for most people to believable. Can you believe that something came out of nothing. At one point of time there was nothing, then suddenly something came out of nothing and the universe was formed. Energy came out of nothing and matter was formed.
Right now I have nothing. I will be going to back to Cali regardless of how bad things are and as of right now I have nothing there. I'm as homeless and the homeless in LA. Yes, there is one seed left with much potential but I'm still not sure if its going sprout yet. I have nothing but believe you me, I will create something with my nothing. I don't know when and I don't know how but I will create something out of nothing. I'm a product of the universe and I feel blessed to know how some of it works. Everything successful generally works the same.
The universe was formed from atoms. There are positive atoms and anti-atoms. They destroy each other. One day, one positive atom got away and formed the universe. Listen, I'm no scholar but the little that I heard I understood and I can find relative revelation within my life. Through all of my disappointments (anti-atoms) I'm counting on just one good atom to escape its enemy and guide me into the path of my destiny.
Saturday, December 31, 2011
10:40p (EST)
Its about an hour and 40mins away from the new year and my mom is up stairs getting ready for church. I love church on New Years Eve. Its the only time of the year I attend. No joke. A couple weeks ago I thought my mom had to work on New Years Eve but she doesn't which is great. I can't see myself spending New Years any other way. All my life I've attended church with my mom on New Years Eve.
Overall, today has been a good day. I played some ball and connected with my balling partner
Troy
. Before I relocated to LA basketball saved my life. Almost every day during the summer of 2010, I would meet up with Troy at Country Run and play ball. Basketball helped Troy escape from some of his then household issues and for me it gave me a breathe of life. I saw a lot of old faces and I played a good first game. Surprisingly, I had most have my teams points in the first game. I can't say the same for Troy but I had fun. I also played ball on Thursday with Rodney and balled him up.
Overall, I'm doing fine. I'm getting a lot done with my blog and I love it. Within the last 24 hours alone, I probably put out around 10 posts. The plan is get as much as I can out of my system before the new year begins. My energy isn't high but I think that's okay for now because I'm suppose to be relaxing. I still haven't decided when I'm going to return to LA yet because I'm still not excited about the conditions awaiting for me. I'll figure something out soon.
I still haven't shaved or trimmed up my hair and I don't want to right now. My current status and feelings are familiar reflections from the past. The beard and Basketball... A part me wants to start another beard protest and not even cut it when I return to LA. I might just show up at auditions with a full beard and all. I probably won't do that but I'm certainly considering.
I'm getting ready to go to church now but may be I should of tried something different. Maybe I should of partied on New Years for a change. Maybe not. Maybe I should conclude this elongated post and just get my behind to church and bring in the New Year with a positive outlook and state of mind. Yup. I will do that.
I'm going to end this post and bring the New Year in right.
2012 here I come. Don't worry. I'll be posting again before you know it and when I return I'll be a new man ready to take on the New Year.
Happy New Year everybody.
Related Post:
Final Words of 2011
As the quest continues...
The Future of Late Night
Motown Maurice