As the weekend approaches, I often begin to think about what I'm going to title my new blog post. The ideas tend to change at least 2-3 times before I finalize, as it did with this title. "It's Time to Break The Cycle" is based on a bold decision I made during the weekend. Although this decision is very pivotal to my quest, I don't want it to over overshadow how exciting this week was. Therefore, I will extrapolate some of what has been developing in my head in my final thoughts section below.
My weekly patterns have been somewhat consistent. Typically my week starts off slow. By Tuesday I start receiving some audition notices, following by an audition rush on Wednesday. My Wednesday's have been hot lately. Thursday's can sometimes also hold its own heat also but it all depends. Then on Friday's things sadly slow down throughout the weekend.
Nonetheless, I have learned to truly appreciate the slower weekends. I don't always like the slowness of the weekends but it grants me an opportunity to replenish my energy. Through experience I have learned proper energy restoration techniques to surge my body back to 100% expeditiously.
When fully restored, I begin writing my blog sometime on Sunday, while preparing to embrace a new week. No week is ever the same. Each week holds its own mystical and adventurous decor. The goal that I am seeking is truly a quest and now that I have embraced the "
Fun Factor,
" each day/week provides its own unique and astonishing reward.
Day 266 Sunday, June 12, 2011
* Blogging as usual...
* Watching the NBA Play Off (Poor Lebron. Congrats Mavericks)
Day 267 Monday, June 13, 2011
* Last week (
Week 38
) I mentioned a few times about an audition I had for a web-cast show. Today I had to audition for the 2nd time by submitting a video. After submitting they called me on Wednesday to provide an update. I won't reveal the full details yet but I'll say they like my look and they are in the process of creating a character for another show inspired by my appearance. We are suppose to start shooting in July. Once the process begins I will reveal the audition video and future details.
Read Post:
New Jack Web Attack FLOP
Day 268 Tuesday, June 14, 2011
* Early early in the morning near 2:00am I received two audition notices for a Pro Keds commercial. I don't recall ever receiving any notices that late before. The auditions are for the next day. Following those notices, I got a call from one of the new staff employees at my agents office. He noticed I confirmed right away and wanted introduce himself and share the excitement to be working on the team together.
* Last week, on
Day 264 Friday, June 10, 2011
I auditioned for a
project produced by one of my Lifebook classmates. She told me I surprised her at the last audition. I had a call back today and I thought I did decent but I found out later in the week that I didn't get the part. Which is completely cool. The experience we great and I gained from it.
* Another audition notice came in for national highway transportation and safety PSA. Its for my already jam backed Wednesday.
Day 269 Wednesday, June 15, 2011
Today goes down in history and one of my most event full days. Check out my line up below.
* First my day started out as a featured guest host/co-host and on Temple of The Cave with Eric Paul Erickson. The last time I was in that studio was for the
The Red Viking Show.
Once the interview is released, I will post it.
Eric Paul Erickson & Motown Maurice on The Temple of the Cave.
After the podcast I suited up for 4 back to back auditions.
* First I had two auditions in the same location for a PRO-KEDS Promo Video. First I auditioned for a Barbershop client and then I left the room changed clothes for a basketball player. I found out on Friday that I got booked for the Barbershop scene.
* Following those two auditions, I auditioned for a reality show called The Biggest Sports Fan. I exerted a lot of energy and got a nice response. I left feeling good.
* Then my last destination audition was at The Casting Lounge [skirts]. The last time I was at this location was on
Day 223
. This audition was for the national highway transportation and safety assn. It was some type of PSA. Myself and a few random people had to emulate a scene as a group of co-workers slightly drunk leaving work while entering a car and driving under the influence. We all took turns.
* I met up with my agent after all those auditions.
Read Post
:
First Class... Hall of Fame
* When ever I'm in Sherman Oaks. The area of my agent, I have to stop at my favorite pizza shop. Last time I was there was on
Day 240 Tuesday, May 17, 2011
Motown Maurice enjoying his favorite pizza at

Vitello's Express.
* Over all today was really fun and I felt rewarded. I remember walking and smiling during a few parts of the day.
Day 270 Thursday, June 16, 2011
* I spent the majority of the day being lazy by laying down and sleeping. I later realized I deserved to be lazy today. I an an eventful day yesterday, acting class is later in the day and tomorrow is an adventure of its own.
* After class a group of us went to Cafe 101 to eat and chill.
Motown Maurice and a few Lifebook Students hanging out at Cafe 101
See other pictures at
www.facebook.com/lifebookacting
271 Friday, June 17, 2011
*
Read Post
:
Fox's New Sport SKYBALL
* Read Post:
Lets End The Day With a Dodger Game & Fireworks
Day 272 Saturday, June 18, 2011
* My body begin to feel sore from all that SkyBall yesterday and I didn't want to nothing stay in the bed. In terms of working and getting things done, I'm always on auto pilot. Nonetheless, I was drained of energy. Believe it or not, but in the picture tears were flowing through my eyes. Those tears were causes by a scene from The Jacksons: The American Dream. I found it on television and the drive, dream and vision of Joseph Jackson made m tear up. Movies have the ability to make me tear up. Vision in fruition has the same affect. Combine both and tears will flow through my eyes.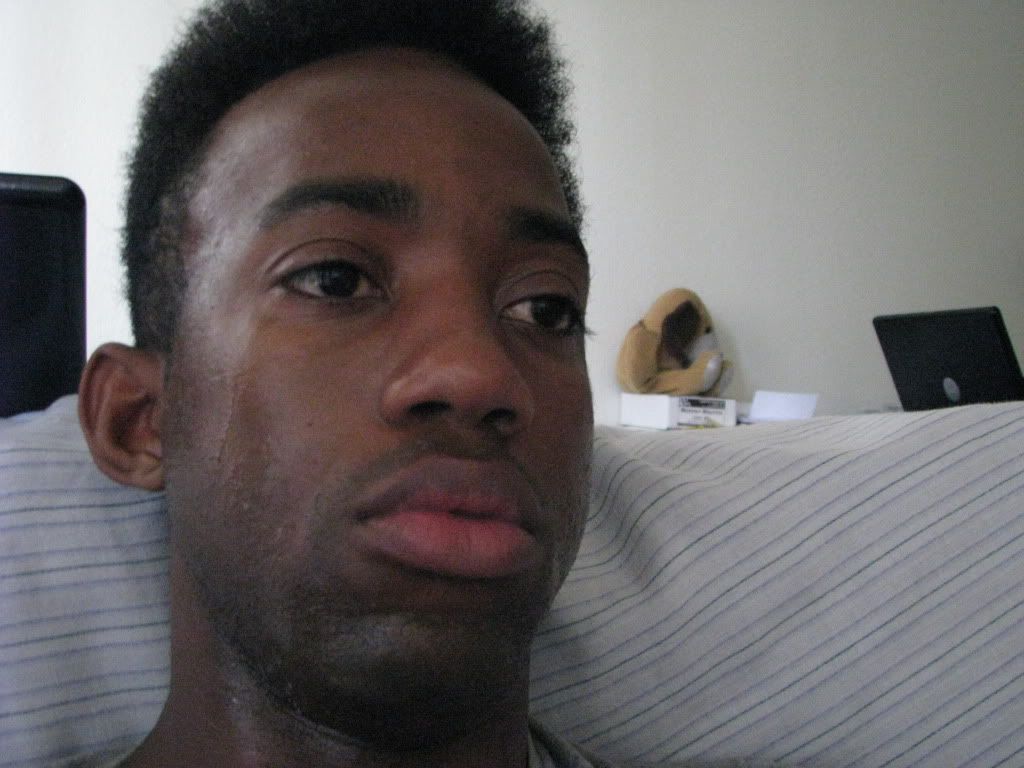 Motown Maurice, you better wipe your tears.
* It took a few hours before I realized I had to do something to replenish. I wasn't in the mood to go to the movie theater so I turned to a restaurant alternative. I've been debating on trying out Sizzler for a while and I'm glad I did. Their open salad bar is amazing.
Motown Maurice takes a dive in Sizzlers Salad Bar.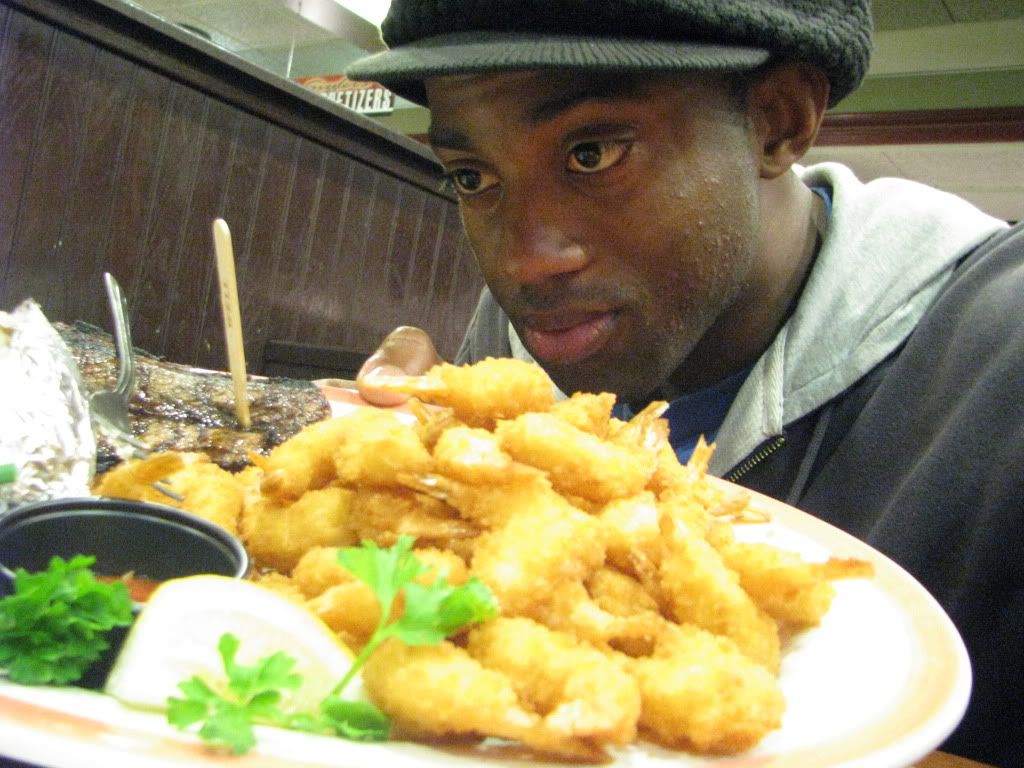 Motown Maurice's Slizzer steak and shrimp meal has arrived.
* On the way out I felt great. My time at Sizzler was relaxing. I read the news on my phone and quickly powered up. As I was walking home, I found fascination in my ability to strategically replenish my energy by going to the movies and/or by grabbing a meal at a restaurant. I wanted to to find a superhero reference to parallel the similarities but the first thing that came to mind was Mumm-ra The Ever Living.
Mumma-ra is nothing close to a superhero. He's a super villian from the 1980's cartoon Thunder Cats.
According to Wikipedia, Mumm-Ra is regarded as immortal, and when defeated, he simply returns to his sarcophagus. Mumm-Ra cannot be truly killed; even in cases where his body is destroyed, he will eventually be restored. Mumm-Ra exists in a decayed, weakened form that must return to a stone sarcophagus to replenish his energy.
He can summon the power to transform himself into a more vigorous and muscular form - Mumm-Ra, the Ever-Living - by reciting the incantation: "Ancient spirits of evil, transform this decayed form to Mumm-Ra, the Ever-Living!"
I'm no bad guy but I can totally relate to Mumm-Ra and the need go into his Sarcophagus to replenish energy. My current Sarcophagus is the movies and/or a restaurant...
Thinking of Thunder Cats brought back memories. I later found the old episodes on Hulu/Kids WB and I'm loving it.
* Still in mood to watch some movies I picked up 3 at the near by Red Box: Clash of the Titans, All-Star Superman & Yogi Bear. Yogi is the only one I haven't seen yet.
Note to self:
Good idea. Write the opening statements and final thoughts of the post first then write the review for the week.
Note to self 2:
My face has improved a lot with the ingrown hairs and razor bums. Last week Friday I purchased Sheer Cocoa butter straight from Africa and that has been helping. The electric razor I brought at my last Wal-Mart trip on May 27th is better then the razor blades I've been using. For a few days may face was near prefect. Now there is a few ingrown hairs here and there but overall my face has tremendously improved.
Since I moved to LA I have been having trouble with shaving. That's over 8 months. Moreover, I'm happy to announce its getter better.

Final Thoughts
Last week I titled my week review "
I'm Ready for a Change
." Now, this week's post is titled, "Its time to Break The Cycle." There is a significant parallel in those titles. Over time I've realized that the life we live rotates in a circular motion. Meaning similar concurrences repeat over and over. Many of them whether positive or negative will repeat for the rest of our lives unless the cycle is manually broken.
Throughout this blog, I have repeated many times that I am blessed. Without any doubt I will mention how blessed I am for the rest of my life. I am also confident that blessings are forever lasting. However, I believe strongly that I need more then my usual cycle of blessings to elevate to the next level. For example, at
SkyBall
I came close but not close enough. That has happened several times just within the past year. If I don't do something I could be on that same cycle for ever. Which is why I'm going to break my cycle with a strong, bold and confident choice.
Truthfully I made the choice already months ago but the difference now is I have an option to avoid that choice but I'm not going to take it.
I prefer not the mention the details of the choice right now but it has to do with
GodSpeed - JuneSpeed (Judgment Day is Revealed)
and something somebody offered me on
Day 235 Thursday, May 12, 2011. Not knowing how serious the person was about the offer, the same offer was presented this past Thursday after acting class.
Initially humbled by just being thought of and remembered I later realized that type of ofter/blessing has been an on going cycle within the last 10 years of my life. In no way do I want to seem like I don't appreciate my blessings but I believe strongly that if I want the change I desire, I need to break the cycle.
Note! I am on a great cycle. I'm on a cycle that is unknown to the majority of the world. Its the cycle of blessings. However, I need to break the current cycle, magnify it and launch a newer cycle that will appropriate me for the next level.
Throughout my life I have fearlessly taken the same approach and it has always been successful. Oddly enough, I was unaware of the powers that exists in those choices. The only difference now is that I more now then before.
Without revealing my choice I will say this much. I have been blessed with the option of comfort but I'm going deny comfort to seek beyond and above my common blessings.
As the quest continues...
The Future of Late Night
Motown Maurice