Last Saturday night (week 51), I had somewhat of an epiphany. As much as I love my Koreatown and Cafe Novel, I figured there's got to be a slightly closer spot with WiFi to work from. Carrying two bags every where can got tiresome. I wanted to find a few spots next to where I'm currently sleeping to eliminate travel and transfer time. That same night on the way to my secret sleeping location I realized the McDonald's exactly one block away had WiFi. Directly next door was a Japaneses franchise named Yoshinoya and they accepted EBT. I was in heavens location and didn't realize it.
Before walking into Yoshinoya, I had a great conversation with my mom in which she received very well. She wasn't to happy about somethings at home and what I told her apparently made her feel a lot better.
Day 357 Sunday, September 11, 2011
* I spent way over 4 hours on my blog at McDonlad's just trying to fix the numerical day order system that had an error. I basically had to revert back to each post and correct them manually because it was off by one. I would of loved to have invested that time doing something else but I don't take the detail of my blog for granted.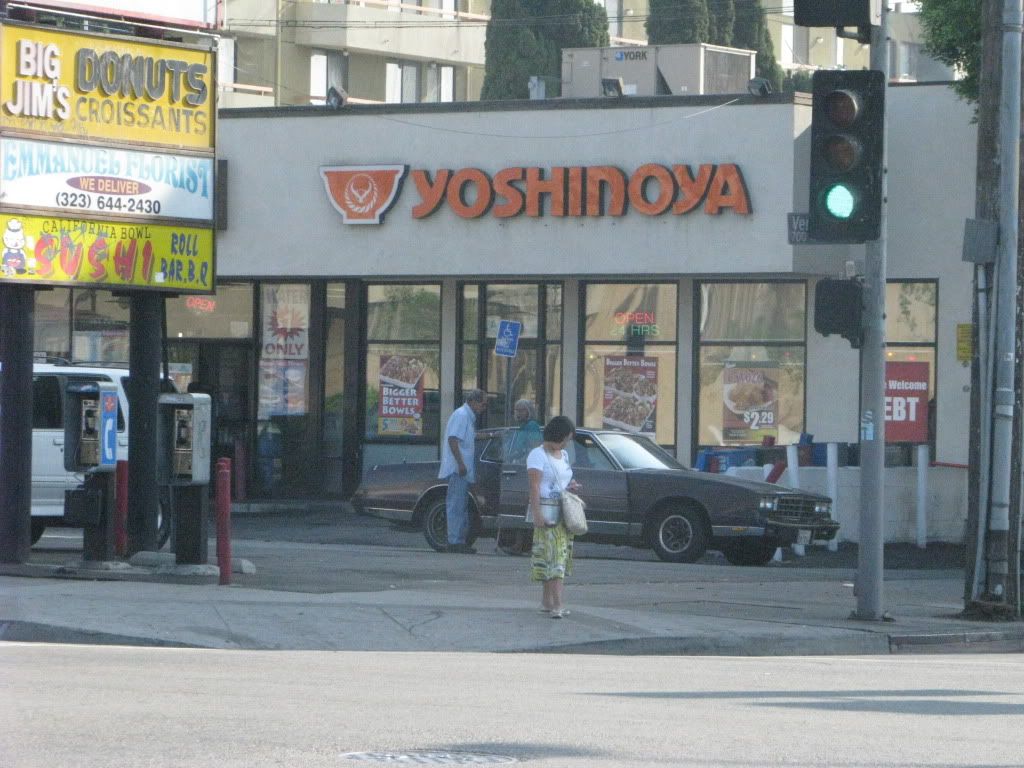 Yoshinoya on Vermont & Melose
McDonald's on Vermont & Melrose
Motown Maurice using WiFi at McDonald's for hours. "I didn't even order anything. "
* After long hours at McDonald's I needed to change up my spot. I went for a walk to relax and eat. During that walk I discovered a cool looking cafe called DC Cafe Library. I ended up going there almost every morning starting the next day. Another block down I noticed El Pollo Loco. Its a Mexican style grilled chicken spot... 3 letters, E.B.T. After I placed an order, they presented some coupons for a $5 two piece chicken meal plus sides. That sealed the deal for my return each following day.
Day 358 Monday, September 12, 2011
* I got a call from CBS to inform me that my
episode of excused
will be airing on Thursday. I already new this because a contact from WTTA My Tampa Bay Station already informed me. They also asked if I would be interested in another opportunity on the show plus a chance to be interviewed. Of course you know how I answered.
* Later that night I walked into DC Cafe Library more interested in watching their TV but for some reason they turned it off a moment or two after I arrived. I then went to the counter to price some granola bars. I'm not sure if I really wanted or if I had a look on my face that indicated that I couldn't afford it. It was only 75 cent and I think I said, "I'll get one next time." I don't quite remember. Either way the young lady asked me which one do you want and I pointed. She then gave it to me for free. I was humbly appreciative of her kindness.
Day 359 Tuesday September 13, 2011
* Another long day at the DC Library Cafe and the Pico Korea branch Library, then I was off to my storage room.
Motown Maurice waiting for the 206 bus on the way to his storage
Read Post
:
Pin Point EBT
Read Post
:
Bath Brooms
Day 360 Wednesday September 14, 2011
The interview below with Linna was recorded in the back area of Tull's Cafe on Wilshire near Normindie.
* Hustle & Shuffle with
Linna Carter
* My agent got me an audition with the Cheese It commercials.
Motown Maurice waiting for the bus, leaving the Cheese It audition at On Your Mark Studios in Sherman Oaks.
* On my way back from my storage I noticed something cool. This video isn't related to anything. I just thought I would capture it.





* Picked up mail from my old roommates house and took a bath for the first time in about 6 days.

* This book below came in and I'm looking forward to reading it.


Backstage at The Tonight Show from Johnny Carson to Jay Leno
Day 361 Thursday, September 15, 2011
*
Read Post
:
Gradual Recovering High Top
*
Read Post
:
Paper or Online Version (St. Pete Times)
*
Read Post
:
Storage Room Confessions
* A call for extra work with De La Soul Music video came in.
Motown Maurice enjoying El Pollo Loco with his EBT card.
*
Read Post
:
Improv Olympics
Day 362 Friday, September 16, 2011
* My agent got me an audition with Dr. Pepper/FX.
Motown Maurice leaving an audition at Your Mark Studios in Sherman Oaks.
* Afterward I headed to another audition my agent got me. This time it was with Windows Phone.
* My pal Eric Erickson from
The Temple of The Cafe
hooked me up with a first class photo shoot. Stay tuned.
*
Read Post
:
Lord Its So Hard...
Day 363 Saturday, September 17, 2011
*
Read Post
:
A De La Soul Request
* On the way back from the De La Soul Shoot, I made a stop by my old roommates house to pick Rush Hour 3 the DVD. I needed to use it to study for an upcoming audition. To my surprise there was a letter there from my mom. It was a beyond super generous donation. I called her speechless. Little did I know but the words of encouragement and motivation in which I shared with her on Sunday, lead her spirit to bless me they way she did. I partly felt bad because on Wednesday my encouraging words got a little mean. She said to me today that it only made her pray more. That's my mom for you. I love you ma.
* On the way out from my old roommates house, I made a stop at Best Buy to purchase a long awaited early 1st year anniversary gift. I wanted to actually wait until the day of which is Monday but I couldn't delay any longer. I well deserved it.
Motown Maurice got a little something from Best Buy. Can you guess what it is? Find out next week!

















Final Thoughts

This week was filled with intense blog affiliated ideas that would have been released in my next week review. In celebration of my 1st year I was going to post all kinds of exclusive never scene before footage from my quest. In addition to that, I was planning on editing an epic video highlight most of my journey. This past Sunday (September 18th) I made a rock solid decision not to do that anymore. There are a couple things I'm still going to do but not the bulk of them. I would be spending too much time in front of a computer. Most importantly, that decision will also upgrade the format of this blog. I'm now looking forward to totally revamping the way I post things on here. I don't want to reveal too much now because I want to surprise you later. Stay posted.

Other than the upcoming blog surprise, this week is the last full week of my 1st year in L.A. and it ended magnificent. The generousness donation from my mom and that super fly gift to myself was more than I could ask for. On Wednesday, I also received a donation from my sponsor for life Pamela Y. Robinson. Thank you Pam.

These rewards are definitely great omens of superb blessings to come. I am on the Thrive of greatness. I'm Thriving for success. I have Thrive power inside of me.

Notice how much I'm Thriving. Hint! Hint!

As the quest continues...

The Future of Late Night

Motown Maurice