In the back of my mind I've been waiting on the release of this article. I knew it was going to be in print this past Sunday (August, 28th) in Tampa but I noticed it by accident online two days before, on Friday. The more I read it, the more I realize it does nothing for me. Its not the best article and its not the worst. Its medium.
There is so much more that could of have been reported but it was left out. Most importantly he could of choose a stronger perspective of my journey but he's a news critic. Its partly expected. This is the 2nd time he wrote an article about me. The first one I didn't really like much. This one I can tolerate.
Continued thoughts are below...please read.
With visions of late-night talk show stardom, Motown Maurice heads to L.A.
By
Eric Deggans
, Times TV/Media Critic
In Print: Sunday, August 28, 2011
[Photos by NANCY PASTOR | Special to the Times]
Motown Maurice, formerly of Tampa, rehearses a test for a new Web show called the New Jack Web Attack in a garage that serves as a makeshift studio in Los Angeles. 
LOS ANGELES
Motown Maurice doesn't look one step away from homelessness.
The onetime Tampa TV host — born Maurice Jeoffroy, he insists everyone use his signature nickname — keeps his clothes in a storage locker in Koreatown. In a town where no one walks, Motown mostly travels by bus and foot. For a time he lived in a facility filled with mentally ill transients and drug addicts.
Motown Maurice packs his belongings after sleeping on the couch of a government-subsidized flophouse. He paid his rent at night instead of in the morning, and his bed was given away, forcing him to sleep on a small couch.


But as he speaks about his lifelong dream to host a nationally aired late-night talk show, there's no sign of stress or fear. Not even as he describes losing upward of $30,000 last year (mostly in credit card debt) financing his homegrown late-night talk show, which aired 10 times last year on Tampa's MyNetworkTV affiliate WTTA-Ch. 38.
Now, courtesy of a county employment program, he has a two-week voucher for a motel in the city's tough South Central neighborhood. With some food stamps, bus tokens and a little cash also coming, it's paradise for an aspiring performer who hasn't lived alone since he flew west from Tampa last fall.
"The timing is perfect," said the 31-year-old, sounding almost giddy. "Literally, when I'm at my most homeless point, this comes along. Before this, I spent my days at cafes, libraries, Denny's. I couldn't get anything done."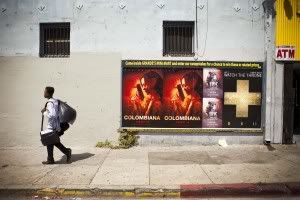 He speaks of this goal as if it already has happened. His enthusiasm is infectious, prompting family, friends and acquaintances to donate cash, space on their apartment floors, discounted acting lessons and cheap plane tickets to help turn his vision into reality.
He has an enthusiastic agent and a growing list of audition experiences, from commercials for Pepsi Max and Miller Lite beer to ABC's Expedition Impossible and game shows such asLet's Make a Deal.
But mention that most big-name talk show hosts have backgrounds in standup comedy or comic acting — experience that he has almost none of — and his rebuttal comes with slow emphasis, as if he's explaining math to a toddler.
"I'm on the edge of destruction, and the best things come where you're on the edge," he said, digging into a barbecued chicken wrap at his favorite Koreatown restaurant. "All of this is nothing but a test . . . I'm enjoying every last aspect of it, because it's going to one day encourage somebody else that's going through the same thing."
Indeed, Motown has an unshakable faith that he will earn late-night TV glory, by sheer willpower if necessary.
Motown has to visit his storage space once or sometimes twice a day, dressing for auditions and juggling bus schedules. "I can adapt to any environment, you know?" he says. "It's not the most comfortable, but I adapt to it."
But what if he's just fooling himself?
At his lowest point came the beard.
Cultivated over five months last year, Motown's "beard protest" (a bit of face shrubbery grown until he could find a new direction) became a long, flowing reminder of his exhaustion after The Motown Maurice Show failed to launch a second season in Tampa.
The program debuted in January 2010 with a determined crew of volunteers, a surprisingly well-built set at Ybor City's Cuban Club and a guest list that included former Good Times co-star Bern'Nadette Stanis (a.k.a. Thelma Evans) and the then-mayor of Tampa, Pam Iorio.
The result still looked amateurish, filmed by eager novices and aired in a low-rated 1 a.m. time slot on the MyNetworkTV affiliate. Aside from about $12,000 donated in two chunks by different sponsors, the show generated little income. Motown wound up unable to pay rent, moving into a condo owned by one of his sponsors and drained of creative energy.
"That period was the most dreaded of my life," he said. "I almost cringe when I'm referred to as an actor or host; I'm a visionary. And it's like, for the first time in over 10 years, I had no vision."
He tried a few things, even applying for Your OWN Show, an unscripted competition established by talk show queen Oprah Winfrey's OWN cable channel. When producers for a TV commercial lost interest after they realized he didn't live in Los Angeles, Motown made a decision.
It was time to head west.
"Right now, (he's young enough) to risk it all and have someone there to catch him," said Marie Maurice, a coincidentally named friend from Florida A&M University. It was there that Motown first gained his unique nickname — taken from the sticker on a car he drove around campus.
Maurice, a Los Angeles lawyer, didn't hesitate to offer her old acquaintance a rent-free crash pad. Even when Motown decided that although he had run his own photography business in Tampa, he wouldn't work a side job in California. He would focus on his quest.
"When I first moved here, I didn't have anyone. I didn't want him to go through that," she said. "He reminds me of those times when I had big dreams."
In Los Angeles, he quickly signed with a small talent agency, developing a promotional flier calling himself the "future of late night."
Among the endless streams of auditions, his funniest moments come in the hazy world of unscripted so-called reality TV programs and game shows.
Motown has to visit his storage space once or sometimes twice a day, dressing for auditions and juggling bus schedules. "I can adapt to any environment, you know?" he says. "It's not the most comfortable, but I adapt to it."

Many of these projects avoid actors, though they need a steady stream of participants in a town teeming with underemployed attention seekers. With a few hints from producers, Motown learned to avoid talk of his showbiz quest in auditions, citing a long-ago bank teller job as his occupation.
So far, he has been on Jerry Springer's dating competition Baggage and will appear twice next month on a new dating show, Excused (casting directors seem to like him more than the women onscreen do).
In September, he'll appear in an episode of Wayne Brady's Let's Make a Deal, and he nearly was cast on ABC's adventure series Expedition Impossible. He's even got a hosting job: helming a Web series called the New Jack Web Attack. (for details, see his blog: motownmaurice.com).
Motown says casting directors remember his name, tickled by his charisma and good humor. "Jerry Springer came up to me (at the Baggage taping), shook my hand and said, 'You're really funny. Do you do standup?' " he said. "I've learned to keep my ultimate vision close to my heart and not blast it into people's faces. Because it can be really intrusive."
The argument was a bad one. Motown and a friend fought over a book project about his grandmother, drawing anger, tears and sharp words on racial oppression.
As the conflict ended, acting teacher Allen Levin piped up with a tough assessment: "The sadness . . . you didn't believe it," Levin told Motown, noting when he tried to cry on stage. "It was a cartoon."
Levin's counsel came during Motown's regular Thursday night class at the Lifebook Playhouse, an unassuming, 30-seat theater on the tough end of Hollywood where he has taken acting lessons since March.
[Photos by NANCY PASTOR | Special to the Times]
Motown Maurice prepares to perform a monologue in class at Lifebook Playhouse, where acting coach Allen Levin says he thinks Motown has a shot: "He knows exactly what he wants, and he's not lazy
."
Lifebook has become an important part of Motown's experience, allowing him to trade work as a stage manager, on-site photographer and all-around helping hand for a steep discount on acting lessons.
"The better you understand dramatic acting, the better you understand humanity," said Levin, an actor and acting coach who insisted that Motown has a realistic shot at the stardom he seeks. "The thing that's great about Motown is he knows exactly what he wants, and he's not lazy. As long as he keeps his health and stays strong mentally, he can make a go of it."
Even Motown admitted he's not the greatest actor, revealed in his improvisation's awkward transition from anger to tears. At times, the Lifebook session felt more like group therapy than a classroom, as participants shared stories of success and fear.
Motown Maurice, 31, receives some constructive criticism from his coach at Lifebook Playhouse in Los Angeles, where he works as a stage manager to get a big break on acting lessons. 

Levin wasn't surprised by Motown's story, though he disagreed with his decision to avoid a side job. He recalled how Sons of Anarchy co-star Dayton Callie once told his class about living in an abandoned building and working eight years before landing his first real acting job.
"If you're walking up a mountain and you keep stepping, you'll get to the top," Levin said. "I just hope he's not putting himself in harm's way to get there."
Being 'realistic' not in the plan
Times are tough for people of color in the late- night TV game. So far this year, comics Wanda Sykes, Mo'Nique and George Lopez have seen their shows canceled or suspended; gifted mimic Affion Crockett debuted his In the Flow sketch show to disappointing audiences on Fox a few weeks ago.
True to form, Motown sees such developments as a sign the universe may be making room for his dream. "I remember somebody once said, 'Being realistic is a commonly known path to mediocrity,' " he said. (Will Smith actually dropped the line in an interview with CBS's The Early Show.) "I will refrain from calling this a dream. It's a vision I see in my head. And I'm bringing it to life."
As proof, Motown recalls the moment during a panel discussion last year at the Billboard Film and TV Music Conference when he asked radio-DJ-turned-late-night-host Carson Daly for advice. After offering a generic, "keep doing what you're doing" speech, Daly had to admit he just gave "the most horrible advice ever," Motown said, because there is no blueprint.
"We shook hands afterwards and I got the e-mail of his manager," Motown said. "I e-mailed him, got no response. No big deal, but I can almost guarantee that I'll cross paths with him again. And that time, Carson Daly won't forget me."
There are a few unnecessary mentions. One blasphemous comment about my team and show last year. It looked far from "amateurish." That's ridiculous. I don't know what he was smoking. Then there are a few errors. What can you say it happens. You can't believe exactly everything you read. Its best to witness for yourself and be your own critic.

There's always hope that someone will notice the story and reach out to me in support of my quest but I'm not counting on it. I'm not dismissing that possibility however, I have realized something else. Within a short period of time since its release I realized this story isn't for me. This story is for the people.



For that reason I am blessed. Most of my comments have come from Facebook. The vase majority of my supporters who made comments have stated that they have been inspired and encouraged. If this article is inspiring others then it's fulfilling its purpose and I am on the right path.

I am therefore blessed by the motivation the story has sent to others. It will be a while before a story about my quest is told in its truest form. Which is why I have to continue to be my own story teller. No matter what, I am still grateful for the article. Thank you Eric Deggans for the written exposure and Nancy Pastor for the wonderful photos.

Most of all, thank you everyone for reading the article and being inspired by it.

One comment in particular came through text from an old basketball buddy, Chris Lafave. He told me to look up Jeremiah 29:11

For I know the plans I have for you," declares the LORD, "plans to prosper you and not to harm you, plans to give you hope and a future.

Thank you Chris. I have received this message.