9/19/17
I've planted my seeds. I've nurtured and watered my seeds. It's harvest time and I'm ready to eat all the sweet fruits life has to offer. Meaning it's time for big television, commercial and film bookings. Along with that big cash payouts. I'll have an order of Financial Freedom please. Bon Appetit!!!
The Quest of a Late Night Talk Show Host by Motown Maurice.

9/19/16
Officially born again this month. Enough said!
9/19/15
This blog is full of quotes and prophecies. The majority of which hasn't come to past yet. I believe they will manifest but I'm done making predictions. I've put enough intentions into the universe and it will come to fruition when the timing is appropriate. As a result, I'm leading into my 6th year in LA with this state of mind:
No Quote. No Theme and NO COMMENT. I'll agree my current blog photo is a little weird but I like it. If I were to analyze it, I would say the stairs represent steps I still need to climb in order to reach my destination. And the creature beside me, Carmen (aka Monkey) represents someone or something watching my back and standing in my corner.That creature could very well be a potential partner of some sort.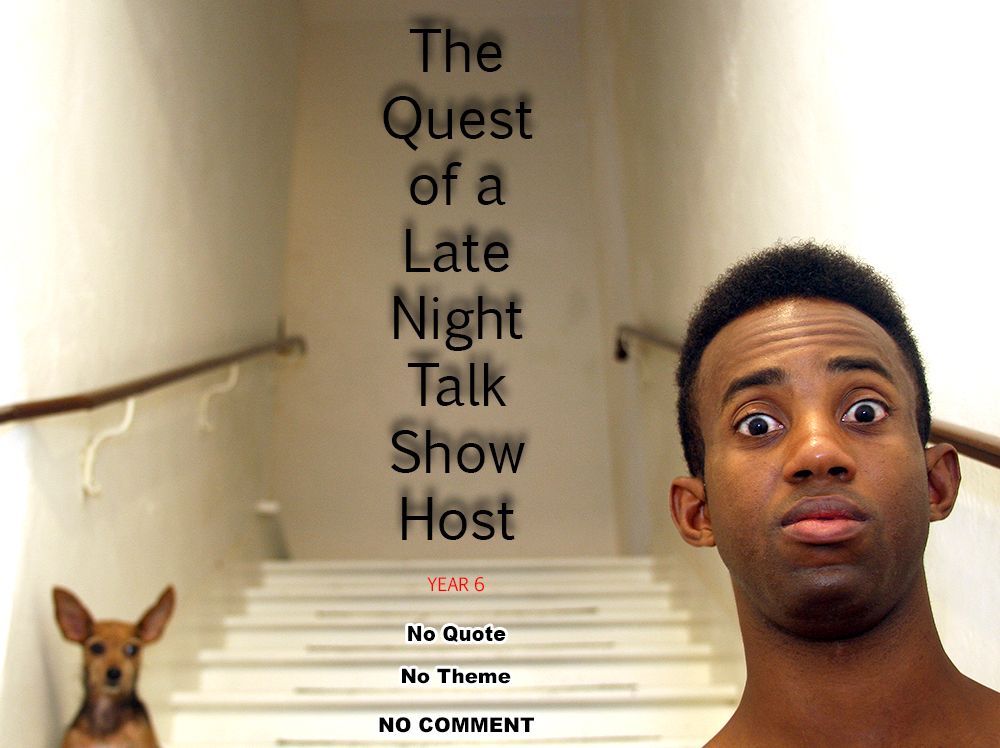 The Quest of Late Night Talk Show Host by Motown Maurice
"No Quote. No Theme. NO COMMENT. "
September 19, 2015 - September 18, 2016
--------------------
9/19/14
Over the past year, I've been telling people "this year is my senior year in LA." Based on my track record, it means I'm about to graduate to another level, gain some financial stability, become more attractive to women... Senior years of my life has opened up many doors to new horizons. My senior year in high school and college are prime paralleled examples. Even after the senior of my production company (Motown Maurice Productions, Inc) while Tampa began to bestow upon blessings in my life. The premise of a great senior year is to go all out with a bang with no fear and no regrets. Just as I did in my previous senior years. Some of my parallels have actually some to past, despite the drama, I'm doing better with women than that past 3 years. We shall see how the verdict pans out for the rest of my senior year and beyond predictions.
------------------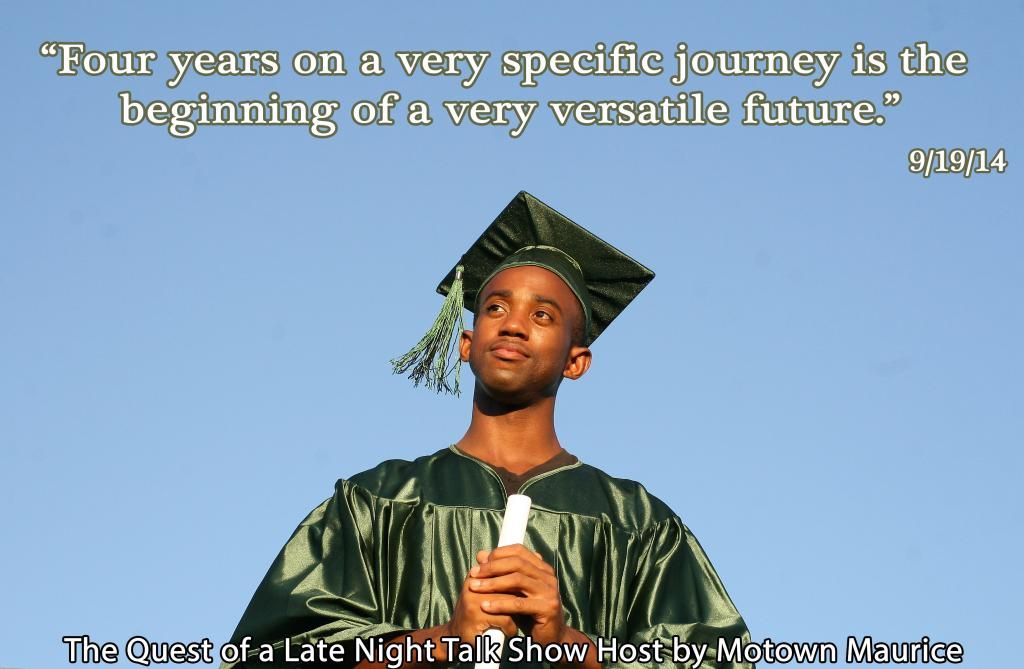 The Quest of Late Night Talk Show Host by Motown Maurice
"Four years on a very specific journey is the beginning of a versatile future. "
September 19, 2014 - September 18, 2015
--------------------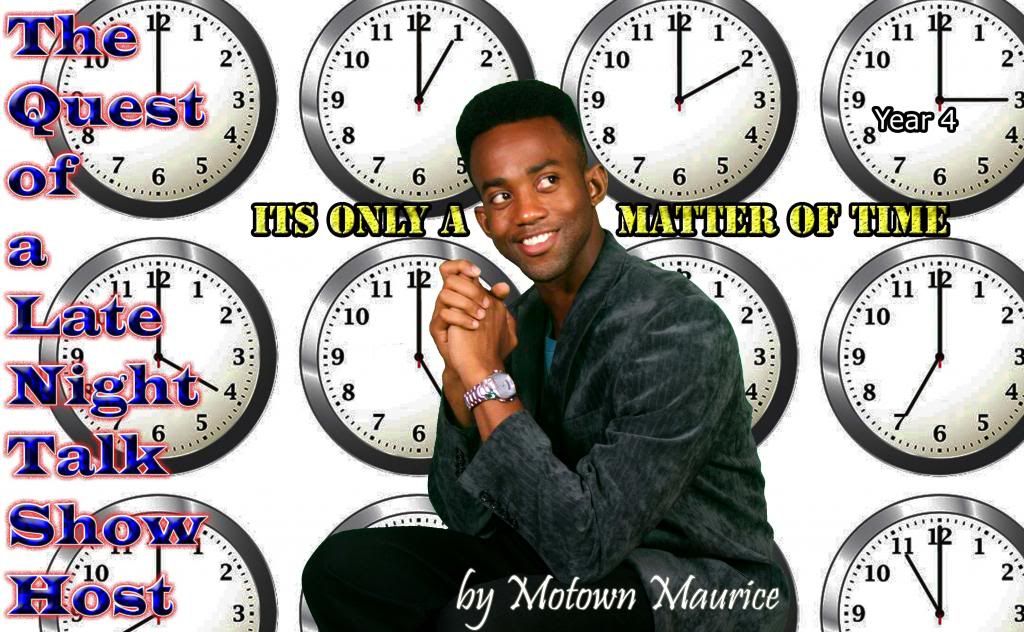 The Quest of Late Night Talk Show Host by Motown Maurice
Its Only a Matter of Time
September 19, 2013 - September 18, 2014
-------------------------
9/19/12
I would love to believe that I will claim my throne in late night television by 2014 but that is far and beyond my total control. It may take a years beyond imaginable. Or it could come sooner than expected. In the mean while, the progression of this blog ensures a genuine fun factor. My commitment to this blog is unadulterated. At the least, I blog once a week and I make minor changes to its features from time to time. The most significant and anticipated change is header photo. Every year on the anniversary of my quest (September 19th) the cover photo goes through an over haul which illustrates the theme, direction and motivation of the current quest chapter.
~
Signs from the first two years have pointed this adventurer in the way of the "Nerd." Now as a junior, he realizes that the only way to achieve his ultimate goal is by taking a strategic approach. Welcome to Operation Tactical Theatricals.
The Quest of Late Night Talk Show Host by Motown Maurice
Operation Tactical Theatricals
September 19, 2012 - September 18, 2013
----------------------------
Year two personifies a voyager who embraces the trails and tribulations that comes with the territory of his mission. In this chapter, he revisits homelessness and various levels uncertainty. Through it all, he remains fearless and fierce.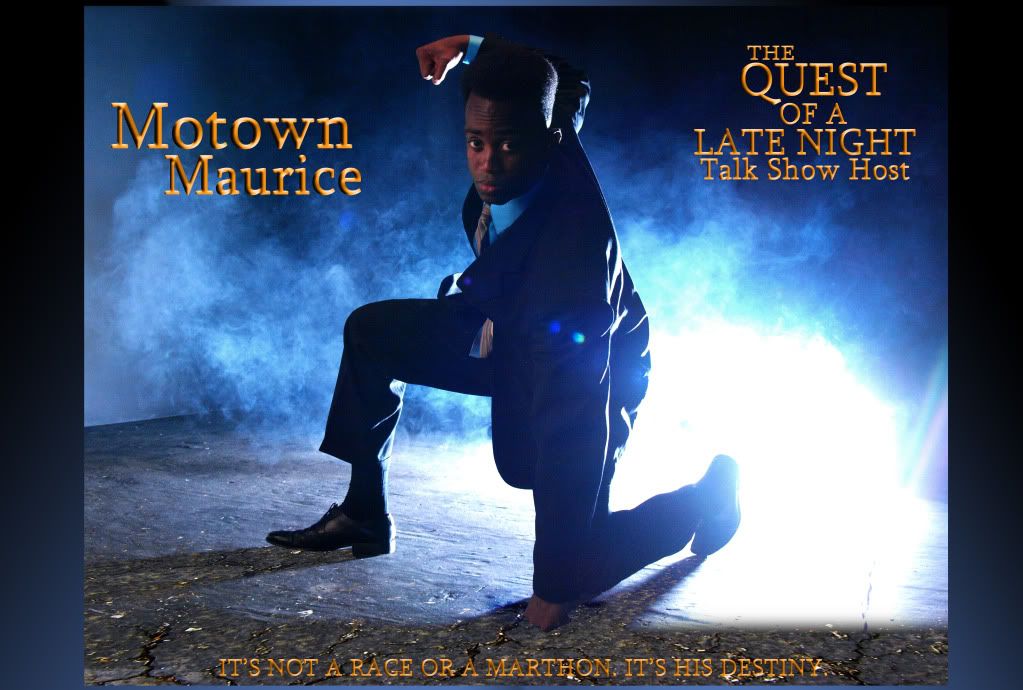 The Quest of Late Night Talk Show Host by Motown Maurice


"Its Not Race or a M

arathon, Its His

Destiny

."


September 19, 2011 - September 18, 2012
-----------------------------
The freshmen year of a late night talk show host officially begins upon arriving in Hollywood on September 19, 2010. With little or no prior knowledge, he has no choice but to adjust, adapt and quickly comprehend the language of the worlds capital of film and television.
The Quest of Late Night Talk Show Host by Motown Maurice
September 19, 2010 - September 18, 2011