Weekly Written Video
I'm publishing week after/post Christmas and my brain is fried. I know the 4th Quarter Wrap Fest was amazing and I had a few pop up auditions I wasn't expecting. On Tuesday I got a lead that could of lead to something great but it didn't. Potentially, that lead may arise in 2014.
Sunday, December 15, 2013
* 4th Quarter Wrap Fest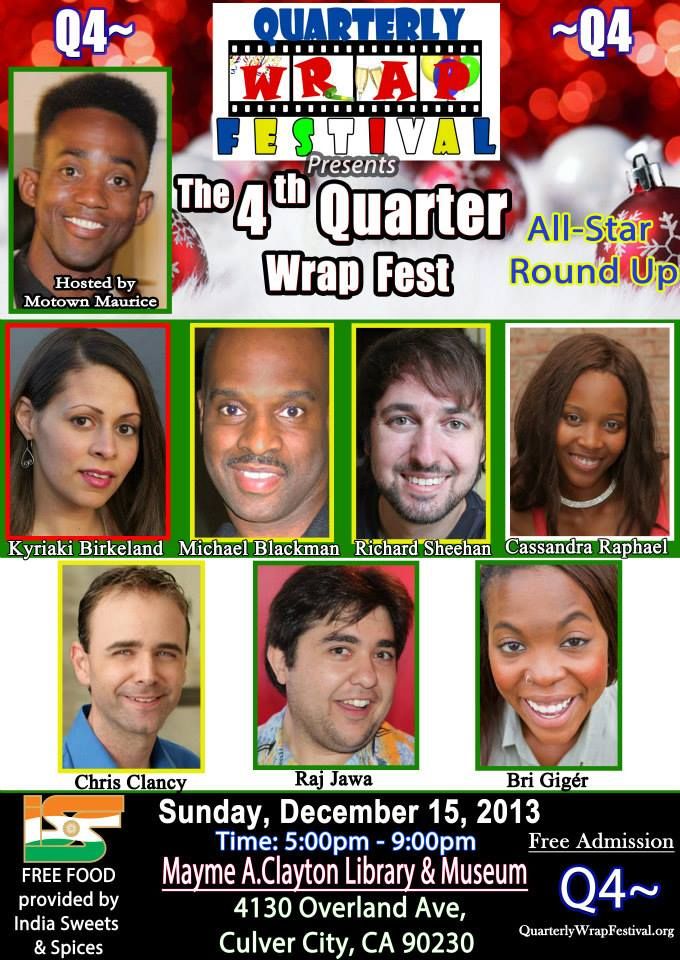 Motown Maurice's Quarterly Wrap Festival - 4th Quarter Wrap Fest
See photos:
https://www.facebook.com/media/set/?set=a.725023900855994.1073741841.577545992270453&type=3
Monday, December 16, 2013
* Staples Audition (Agent sent)
* Monkey Butler
Tuesday, December 17, 2013
* Glee background work (with a surprising phone call)
Wednesday, December 18, 2013
* Missed Jury Duty
* Hewlett Packard audition (Skating rink)
* Missed Glee background work
* I gave up and surrendered to sardines/tuna and crackers.
Thursday, December 19, 2013
* Attended The Actors Market and indievent networking mixer.
Friday, December 20, 2013
* LNExp Season 3 planning...
* Carl Jr's check finally came in.
* Catching up on Scandal's current season.
Saturday, December 21, 2013
* LNExp Season 3 footage seeking...
* More planning I guess...I don't really remember.
Final Thoughts
My brain is shutting down. I don't remember much and I don't feel like writing. Sorry...
All I know is that in real time of this week, I was looking forward to heading home to Tampa.
As the quest continues...
The Future of Late Night
Motown Maurice