Post Represents: Wednesday, August 10, 2011
Now this is a story all about how I went from sleeping like this...
Motown Maurice sleeping on the floor of...
Motown Maurice sleeping good at King Palace Motel
After sleeping in that fitly nasty community housing facility for 2 weeks, then sleeping on the floor of my acting theater for about 5 nights (Shsss! Keep that on the low low!). I now have my own single bed studio apartment. Okay... Let me not exaggerate. It's not exactly a studio apartment. It's a motel but to me it's heaven. This is just one of the great unexpected blessings that has been bestowed to me this week.
It all started on the morning of (Monday, July 25, 2011). It was my 2nd time waking up at the community housing and I was on my way to interview with The Electric Carnival. When I jumped aboard the Blue Line train heading towards downtown, I sat next to 3 young gentlemen. Within a second or two one of them said to me, "Hey don't you live in that house?" They told told me lived in the sister complex adjacent to mine.
We talked for awhile and I realized that were cool and not like a lot of the people that lived in that house. One of the guys name is Danny and he was well spoken and I could tell we were both on the same page in terms of the understanding the world and the "Humans" that live here. When he referred to people as "humans" I knew immediately we're both on the same level. I often refer to people as "humans" as same way he did.
They told me they were on their way to get food stamps. When we got off train we departed with salutations and headed in different directions. After a long 14 hour or more day, I arrived back at the house and I noticed they were in their dinning room area. I went in and we chatted for a while. Travis told that they got their EBT card and it should be activated by now. They told me it was a smooth process and that Danny was the source of the connection.
I believe he then subtly hinted his willingness to help me at through the process at that moment. I asked a few questions and doubted the possibility of myself getting food stamps. Either that or I wasn't too interested at the moment. I received food stamps once in Tallahassee, FL while I was in college and it was drooling experience. I've also been on the move and I really didn't want to invest anytime in something other than a quest related project.
Somehow the conversation changed subjects and I paid more attention listening to Danny's musical ambitions and aspirations. Before I left, I gave them my signature flier and Danny among the others appeared impressed. I left and nothing related to food stamps crossed my mind again.
Fast forward to real time, which is about 3 weeks later. Today, I had a planned rehearsal with the producer of New Jack Web Attack and I decided to practice out in this open field on Wilshire/Oxford.
Open field on Wilshire and Oxfod
While I was rehearsing, I made a few calls and just after I got on the phone about 25 yards ahead of me was Danny walking. Ironically, I saw him the day before leaving the train as I was entering. He was on the escalator going up and I was on escalator going down. I didn't make myself noticeable because I didn't want to miss my train plus he seemed very focused. Today I felt lead to approach him. Awkwardly trying to manage the phone conversation, while running with my script in my hand, I got his attention.
He was patient and the moment I got off the phone we began to share nothing but pure universal knowledge. First, he generally shared with me a few updates of his life since he left the community housing. We both are disgusted with the un-professionalism of that place. Then positively and confidently I explained why I left that place and shared the predicaments of my current living conditions. He listened and from that moment on, every word he spoke was ingrained with a personal blessing customized for me.
He began to tell me everything he did for those two other guys the day we met. In addition to receiving food stamps, I was informed for the first time about The Grow Program (GR Program). The GR Program also supplies a motel voucher and pending eligibility for cash money. I knew nothing about it and he ensured that the process was easy. I agreed to meet him at the corner of where we departed on the day we met. Before we left, he also blessed me with some Starbucks and our universal conversations continued.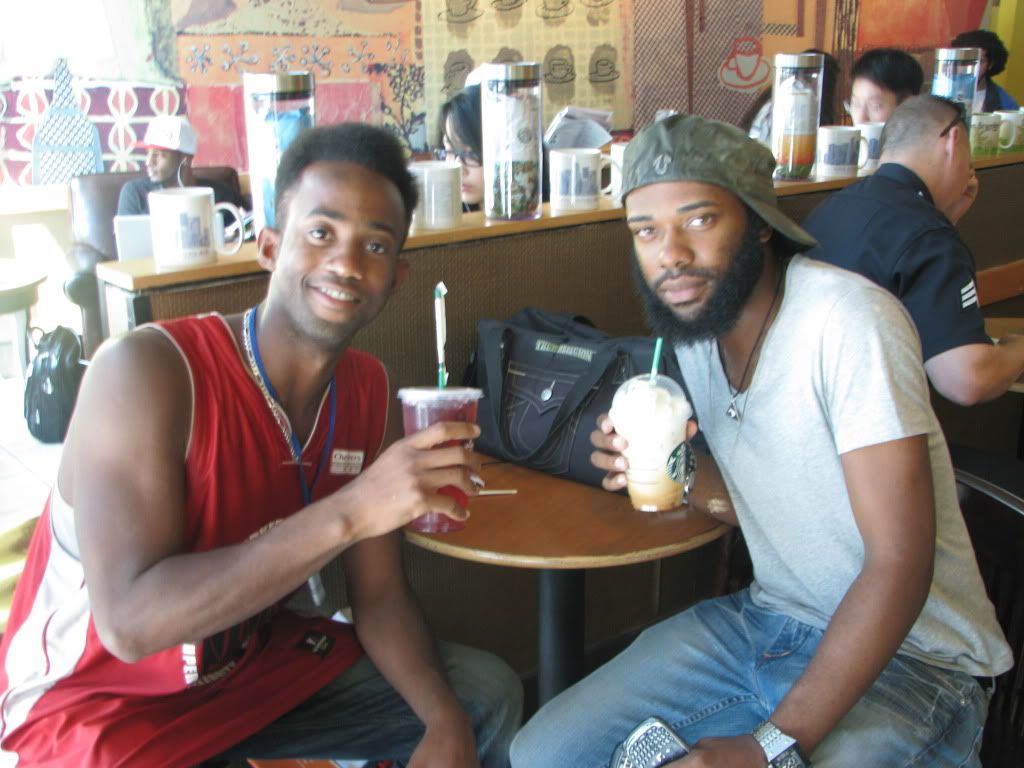 Motown Maurice & Danny aka Daniel Delvin at Starbucks on Wilshire/Oxford
Represents: Thursday, August 11, 2011
The next day was planned and designed with the intention of receiving this on time blessing. He woke up a little too late to meet up with me but Danny was supportive and guided over phone on where to go. I arrived at the Metro Special Services Center approximately before 9am. The process was smooth and well organized. I did exactly what Danny told me to do and everything executed well. I told them I was homeless, filed out a moderate amount of paper work and in the matter of a few hours, I had a $130.00 food stamp card, 10 transportation tokens and a motel voucher for two weeks.
A few people in my life have been expressing their concern about my living situation. From the photographer who has been recently took my pictures for the newspaper and my Familiar Connection Nike. Nevertheless, not having a place of my own has been the least of my concerns. I recently told my former roommate (Interim Guardian Angel) I don't worry about such things because when a man has chooses his definite purpose all paths are paved for him. As it is written in the Alchemist, "Life is really generous to those who pursue their personal legend."
The irony of this situation is that I have a friend named Raymond S. who calls to check on me often. In several occasions he told me to get food stamps. Almost 11 months later the subject continued to rise but this time it came in full force. I knew immediately that I had to act on this. "A blessing ignored becomes a curse." There was no way in the world I was going to let this blessing become a curse.
As I type I'm writing out of my big time Motel and I'm food stamp rich. Check out an exclusive video of my new place and pictures of some of my first EBT items purchased.
Final thoughts
This is beyond an amazing story for a man who has been homeless, and spending long days in random cafes and restaurant establishments. I'm straight balling right now. This is actually my very first place with privacy in LA. I spent the majority of my time in LA on a living room futon. 3 weeks ago, I was on the top bunk of a twin size bed. Last week I was on the floor of you know where. Now I'm sleeping on a full size bed with super basic cable and my own bathroom. This is great and I'm loving it. Most importantly I can stretch out and get stuff done. Now I don't have to leave Starbucks when it close. I can keep on grinding. Plus their is a library across the street and I'm able to pick of their Wi-Fi signal. How great is that?
This is a special thanks to my newest gift giver Danny. Find him on twitter @DanielDevlin. Like him on Facebook. As I said, over the phone I really appreciate what you have done for me. Although we both agreed that when a man does a good deed it shouldn't be with the intentions of receiving. At the same, this gesture is truly appreciated and I will make it my duty to honor your offerings.
The Future of Late Night