Post Presents: Friday, December 2, 2011
The first time the relaunch of In Living Color was brought to my attention was in October. I think it was during the last weekend of October but I can't recall what day or who told me about it. I just know the information initially came from a young lady. I wasn't too certain of her information and I didn't think anything of it until I got an email from one of my agents assistants,
Victor Kelso
. He forwarded me a email with the 411 about In Living Color's new casting sometime after I first heard about it. I remember being at the
Monday night football event
or I might of been on my way there when I received the email.
Furthermore, after a few back and forth emails of clarification with my agent Cynthia, she moved forward with it. There were more emails during the end of
week 62
and early week 63 about it. Finally, this past Wednesday she emailed me telling me they are looking for original characters/celebrity and political impersonations. Believe it or not, I turned it down. I over looked the original characters part and totally just kept my focus on the interview I was getting ready for on blog talk radio. That interview was with
Paul Petersen
to be exact. I don't do impressions and I didn't want to force myself into it. I responded to Cynthia in email that when they are interested in a person who can create, act and write on the fly I'll be ready.
Moments before my show started, she emailed me and informed that they just literally called about me and they are interested. After interviewing Paul Petersen I spoke to Cynthia and she gave me the full spill. They were interested and they needed a reel of 3-5 characters by Friday. Most importantly, impersonations of celebrities or politicians wasn't important. I immediately became excited. Cynthia wasn't too sure if I was going to jump on it or not because I sunned the opportunity at first. Its not that I got cocky all of a sudden, but I know I don't do impersonations and I wasn't going to pretend I could.
Thus, when the focus became more clear for original characters I took on the opportunity full pledge. I never created an original character reel before but that's nothing my imagination can't cook up. This is the type of challenge I feel like I've been in training for these past years. Once I got off the phone with her I jotted down a few ideas. I really didn't think about it too much. Then the next day (Thursday) I wrote a few more things down and future prepared. When Friday came I jumped right into it. I'm proud of this video especially since I got it done within two days.What do you think of it?
Motown Maurice's New Character Photos:
The Dog Whisper-etter
Motown Maurice as The Dog Whisper-etter
The amazing thing about this character below is that I created him for a skit when I was in Tampa back in April of 2009. It was for my Wide aWoke Wednesday show. Immediately, Nino Fry came to mind when it was time to do this. Nino Fry is back and he's pushing even more grease.
Nino Fry makes a come back.
Check out Nino Fry in his first debut in Tampa, FL April of 2009
Nino Fry got the grease and the girl.
Yup, Motown Maurice aka Steve Urkel is back again. This time his name is Milton The Health Food Guru.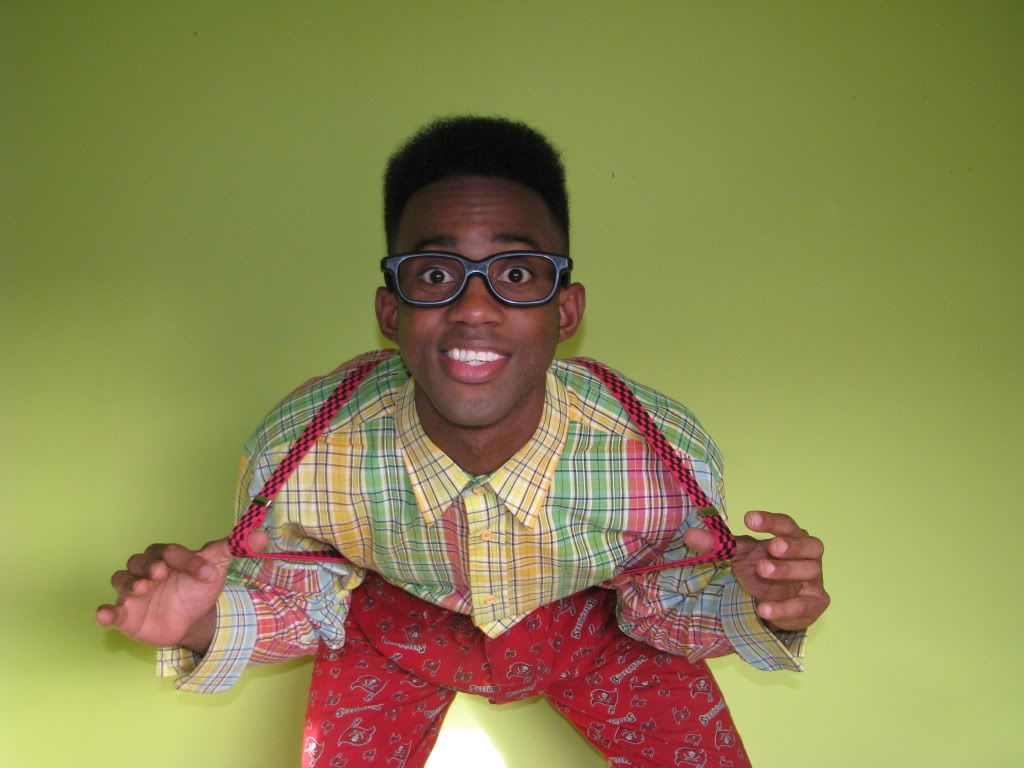 Motown Maurice as Milton The Health Guru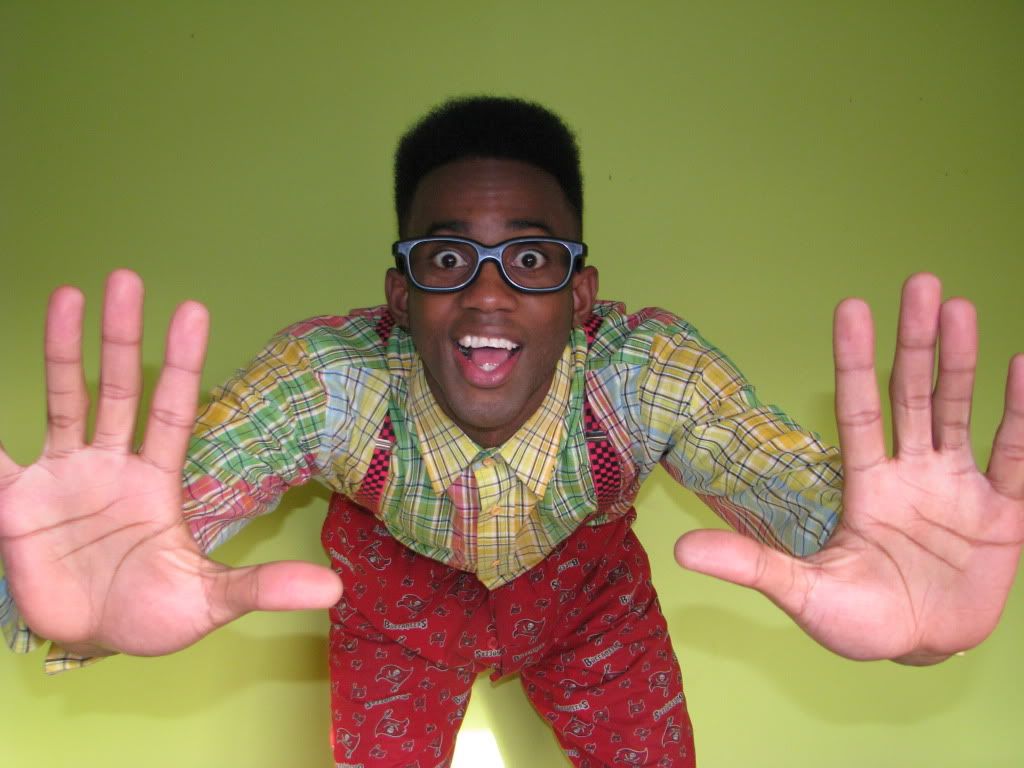 Milton says to stop in the name of healthy foods.
Oh my God, did I just touch breasts.
Nerd Related Post:
Blow The Whistle
Nerd Related Post:
Young, Wild & Free
S.A.M likes The Dog Whisper-etter
Final Thoughts
I worked on this video from about 12pm until sometime after 6pm Friday, December 2, 2011. I was suppose to be ready by 5pm but I went a little bit overtime. I ended up sending it to the casting director myself because my agent had another engagement to attend to. The next day I emailed my agent asking her to be truthful and honest about what she thought of the video. Not only did she email me back, she called me back before I could email her back. She thought the video was brilliant. She said, "That has to be what they are looking for." We talked for approximately 30mins in excitement about In Living Color and besides that we shared many external ideas for 2012. My agent never stops believing in me. Thank you very much Cynthia. I love First Class Talent Agency.
I almost forgot to mention one of the things my agent sent the casting depart which probably helped them become interested in me. She sent them a video that I totally forget I had. It never even crosses my mind. After I looked at it again recently, I thought it was a good choice for Cynthia to send. This commercial below was suppose to air on T.V to promote the premiere of The Motown Maurice Show in January of 2010. Budget restraints only allowed me to promote it on youtube. Furthermore, look at how it came in handy now.
I also want to send a special thank you to S.A.M for helping me with this shoot. You were a great blessing in this process. She has been a blessing for the past month is many ways. I felt like I had my own personal assistant when she was around. Thank you again. Another thank you to my roommate Raewyn for hooking me up with the blonde wig and other important props.
So if you assumed that I could be part of the new In Living Color, you assumed right. At the same time, my mind has already moved forward after making this video. I'm glad to be in consideration in this first casting phase and I'm even more glad and proud of my new character reel. Furthermore, its all behind me now. I'm sure I'll soon know if there is another consideration process. Trust me there are several processes but I've been doing this long enough to know I got to keep it moving. I'm looking for another basket to put my eggs in. I don't rely on just one anyone. Never again will I do that.
How you living? What! How you living? What! How you living? What! In Living Color.
Next
Related:
In Living Color - 1st Phase Complete
Previous Related:
In Living Color Potential
As the quest continues...
The Future of Late Night
Motown Maurice