Post Represents: Wed, Dec 7 & Thurs, Dec 8, 2011
From the moment I got off the phone with my agent on
Monday, December 5th
, I wasted no time to shift my mind in the gears of "Edgy." If "Edgy" is what In Living Color is looking for I'm going to give them my best edge. In less than two days, I came up with a bunch of ideas and shot most of them on Wednesday & Thursday of this post. Editing was a process of course but I got it done. I also had a few technical difficulties but there's nothing I can't over come. It only set me back a day. I was trying to submit it Thursday afternoon but instead it wasn't sent to my agent until early Friday afternoon (Approximately around 12:45pm PST). Again my agent thought it was brilliant and a few people I showed the video also thought is was awesome. My Sponsor of Life Pamela Y. Robinson liked it and thought I was crazy. My mom just loves everything I do. Here is the video below check it out for yourself. It's a big difference from my last one.
That's much edgier than the last isn't it. I hope you enjoyed it. More importantly, I hope the casting director enjoys it. Below are some behind the scenes videos and a few bloopers. Please check them out and enjoy some more.
Wednesday, December 7, 2011
Shoot Number 1 - Ancestry.com (Behind The Scenes)
Ancestry.com you never know what your going to find until you start looking.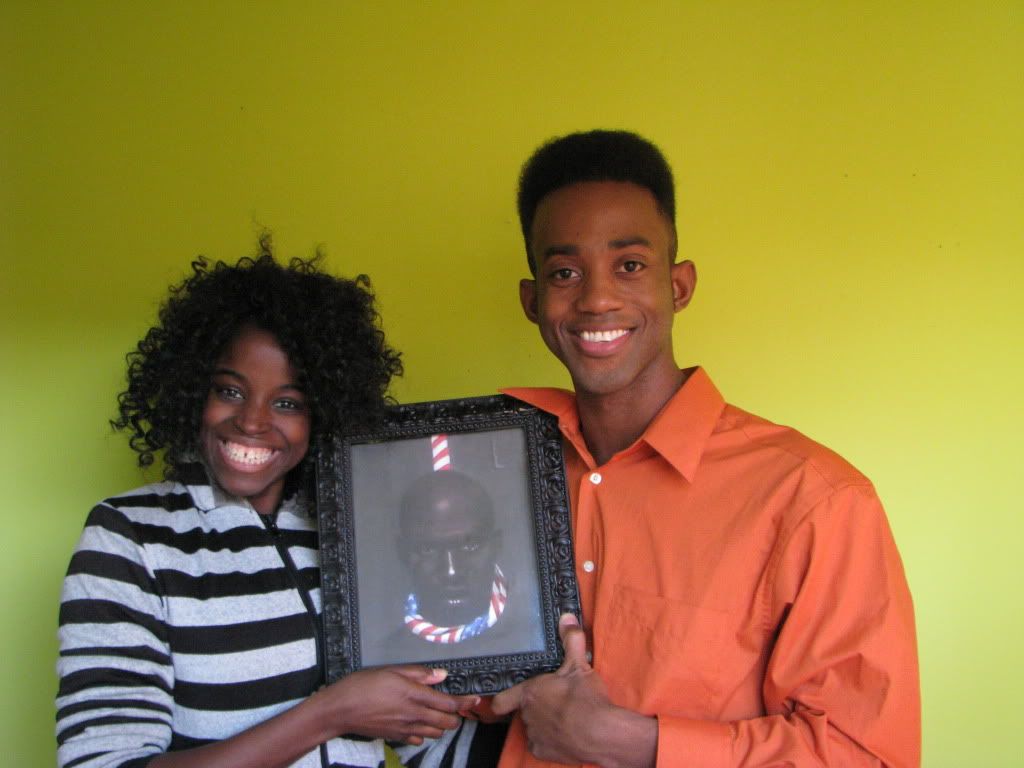 S.A.M & Motown Maurice finds an ancestry
Shoot Number 2 - Foreclosure Party
From House Party to The Foreclosure Party.
Shoot # 3 - Blame Obama (Bloopers)
Shoot Number 4 - Look At Me Now - Chris Brown (Behind The Scenes)
Chris Brown - Yellow Street Lines
Chris Brown chokes Rianna
Thursday, December 8, 2011
Shoot Number 5 - Newer Black Panther Party 3.0 (Behind The Scenes)
The Newer Black Panther Party Leader
The Newer Black Panther Party 3.0 team soldiers
Shoot Number 6 - The Black Family of Television (Bloopers)
Shoot Number 7 - The Arsenio Hall Jr. Show
Ladies & gentlemen, its Arsenio Hall Jr.
Final Thoughts
Later on during the day (5:48pm PST) I received an email from my agent stating that I made it through the first phase. This time Emily thought there was some good bits and she confirmed that she passed it over to Julie to watch. Julie indeed is the one we want to watch this. She is the next phase of many phases.
Again this is nothing to get overly excited about. Although, I have invested a lot of energy into this effort, I have to move forward. Shortly after the completion and submission of this video reel I was slightly drained a little. However, with the experience I had, I quickly refueled.
The majority of this week was fully devoted to this new character reel specially made for In Living Color. I am very proud of my work because I took on the challenge conquered it on time, while wearing all hats. I wrote, directed, edited and acted in this bad boy. Just as I've done in all my work. If that's not what In Living Color is looking for, then good luck to In Living Color.
I want to also acknowledge on how bless I feel. I feel blessed because over and over again I rise to continue to greater creative heights. There are no limits to what I can do. I overcome all challenges. Then when the challenge comes my path is cleared. I find it to be amazing that I've had no distractions with other auditions or obligations in this process. I have been able to focus solely on this task and overcome it.
My mind and body is trained to move on after a project without the lose of too much energy now. I will tell you one thing. I'm tired of editing. Don't get me wrong, its great to create. Nonetheless, there are a few hats I would like to retire. At least retire again for now. With that being said, I'm ready for a change to come in my life. I change that I can't control or predict. All I can do is be patient and wait for the call.
Motown Maurice does it again and he's not even close to finishing. World you better be ready.
Next Related Post:
In Living Color Update
Previous Related Post:
In Living Color Potential
As the quest continues...
The Future of Late Night
Motown Maurice