As the weeks, day, hours, minutes and seconds dwindle down to one of the most defining moments of my quest, its only appropriate that I recap 10 of my most anticipated contests/auditions over the last few years. In chronological order,

I will evaluate 10 of the most significant opportunities that could of provided a path of me to break big in the entertainment industry. I will also evaluate the time period and provide some optimistic reasoning for its then disappointing results.
Note:
Numbers 1, 2 & 3 is extensively longer in literature compared to the remaining 7. The reason for that is because the journey of those particular attempts existed before the creation of this blog. Numbers 4-7 have already been documented on this blog. Which means the related links can tell a better back story.
1. "Chance" aka "Bank of Hollywood"
Time Period:
September of 2009
Contest Info:
Do you need CASH to fulfill your dreams? No matter how extraordinary, selfless or off the wall your dream might be, a new reality game show needs you! Whether you're asking for $50.00 or $250,000 - if you've got passion and the gift of gab, the money could be yours!!
A Major Cable Network and Executive producer Ryan Seacrest are teaming up to bring you.CHANCE! Open casting calls for "CHANCE" - New TV show produced by Ryan Seacrest. Everybody's Got A Dream. What's Yours?!!
Executive producer Ryan Seacrest are
teaming up to bring you.CHANCE! aka Bank of Hollywood.
2009 Recap
2009 was a definitive year for me. My monthly discussion forum turned talk show dubbed Wide aWoke Wednesday's (WaW) was going through some serious marketing changes and so was parts of my identity. I was intensely trying to figure out "who and what am I," in terms of a talk show setting. Since college, I always wanted to host my own talk show and in many ways I was doing that with WaW. Nonetheless, I wasn't sure exactly what type of host I was. Due to the fact that my father is a Black History buff and much of my inspiration came from the likes of Malcolm X and Dr. Martin Luther King Dr., I focused much of my energy on the struggle and conscience issues. When I began WaW, much of its initial topics were all socially conscience and mildly controversial. However, I began to lose interest in those topics has the show progressed.
For a long period of time, I passionately wanted to be this fiery motivational intellectual who rightfully retrieved the baton from those that made sacrifices before me. I wanted to be that leader who held the torch with pride, honor and diligence. During the first half of 2009, I finally realized that person I imagined in my head for so long never really existed. That illusion in my head never matched my true strengths. Subsequently, I started to embrace the fact that I am funny for the first time my life. Throughout my life, many people have always told me that I was funny but I never fully accepted it. Without trying, I've often made people laugh but I never fully embraced the funny factor until the early second quarter of 2009.
Just before I accepted this new funny attribute, I attempted to find my identity by making several self assessed comparisons to Oprah and Tavis Smiley. There were others but I never found any connection with them. Continuously, I searched until I found myself and when I did the world paused for a moment. For the first time, all of my decisions, accomplishments and sacrifices finally started to make sense. I don't remember if I was watching Jay Leno or Conan. Its possible I was watching both of them the same night when I realized I was looking at my inner self.
The reality of my life long purpose flashed before my eyes and manifested into an assured identity as a pursuit to become a late night talk show host.
Prior to the Contest:
Prior to the contest, I attended the American Black Film Festival, June of 2009 with a plan to seek out viable talent for upcoming late night endeavor then entitled, The Wide aWoke Show with Motown Maurice. I'll never forget that weekend.
Actor/Director Robert Townsend
pulled my name out of a plastic bag and I made a spontaneous pitch in front of approximately 1,000 people. I was remade famous throughout the remaining duration of the festival. It was also the same weekend the great Michael Jackson died. Just like many of my endeavors, this trip was successful in many ways but I returned back to Tampa without further insight on how to pull off my new late night vision.
American Black: Related:
Thursday, June 28, 2012
During the summer of 2009, the only resource that truly kept me happy was my subscription to Netflix. I fell in love with the HBO series The Wire and watch multiple films. I also made an official announcement to my audience that I'll will be retiring WaW the following November. I even recall in certain personal conversations, telling friends that I will probably fade away into the shadows at the mark of the new year.
My independent ideas were limited and my only hope for any future growth was to seek opportunity in reality television. I figured if I got on a reality show I would gain notoriety and use the winnings to finance the first season of my late night talk show. One of the first reality applications I filled out was for
Wipeout
. A high school friend even shared with me a contact so I could apply for the show "What Chilli Wants." Another friend and WaW supporter
Raymond Sweet
, encouraged me to take an acting class in Tampa, which exposed me to the bare bones of the industry. I attended for less than two months.

Encouragement to embrace acting started in 2009 with a brief acting class. I used this graphic as a letterhead when I attempted to make contact with talent agencies.
Among this period of uncertainty, I spent some time on the internet searching for a way out. On the site,
Actors Info Booth
, I found the listing for "Chance" and immediately took advantage of it.
September 3, 2009 email to the "Chance" casting department:
My dream is to become America's Next Great Talk Show Host.
HOW MUCH MONEY DO YOU NEED TO FULFILL YOUR DREAM? I will need approximately $200,000 to broadcast the first season of my show on Television and create job opportunities for others.
After receiving no response, I took things further by booking an Amtrack train ticket to Miami for their open call audition. I made arrangements to crash at the home of an old college friend Rosena and everything was in motion.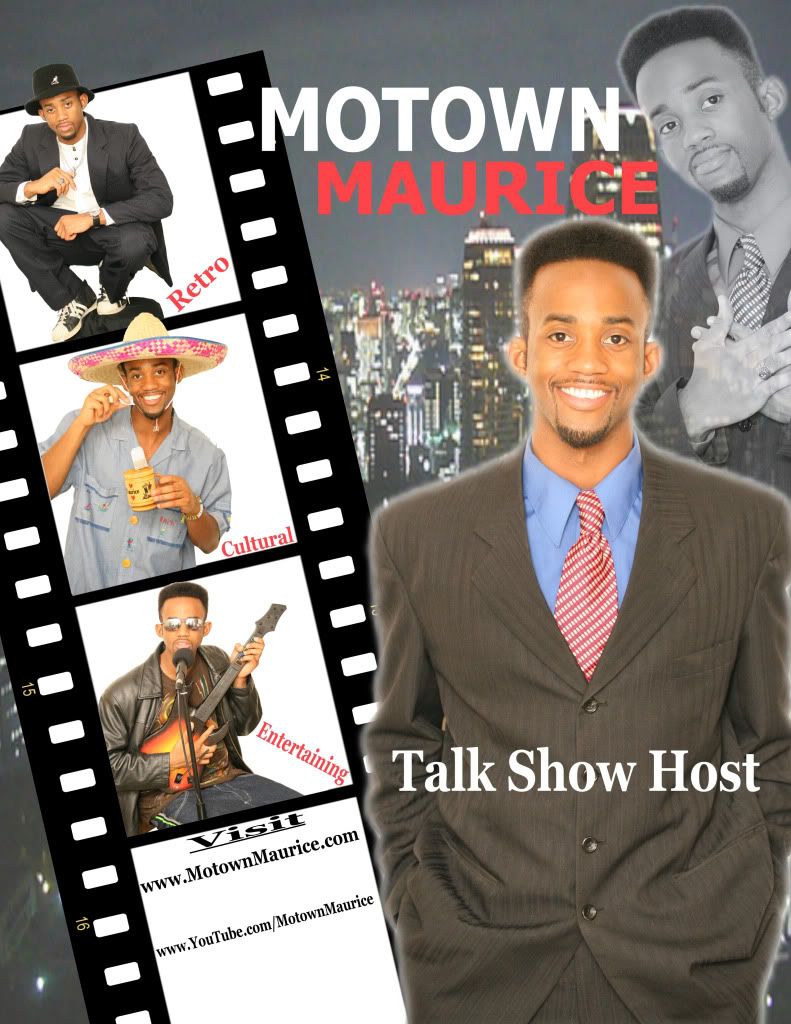 Motown Maurice talk show host flier from 2009
Upon realizing what I wanted to become, the flier above was one of the first designs into formulating my identity. It also braced the front cover of a portfolio I presented at the open call. The only thing I knew about "Chance" was that it would be a
lighter version of the popular ABC show Shark Tank.
I gave my spill and I remember the Caucasian lady reshaping my pitch by saying, "So you want us to give you money so you can be a host like Ryan Seacrest?" When it was over I received a phony smile, handshake and a "thank you." The fact that I practically had to force her to take my portfolio was enough to know that they wasn't interested. While waiting for my ride I requested to wait inside and away from the hot sun. After a short moment, I was asked to leave the building and as I left, I left the opportunity behind me.
----------------
In 2009, I was looking for a way out, Hollywood was far from a definitive destination. Ironically, the show "Chance" was a working and later premiered as Bank of Hollywood.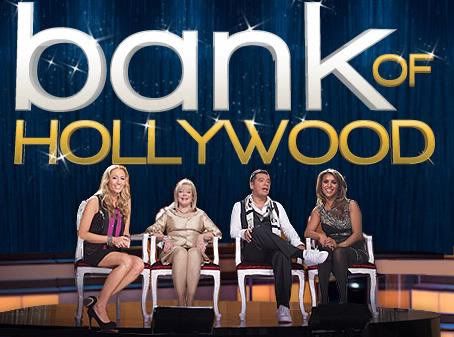 Executive producer Ryan Seacrest's Bank of Hollywood.
Project Summery/Evaluation:
This pursuit was the beginning of a plethora of Hollywood disappointments, hence the shows name. The pinnacle lesson from this experience was realizing in the mists of the audition that no body is going to give me anything. Not even a show that claims it could in its description. Regardless of all the people I may have helped with WaW previously, my story just wasn't television friendly enough. My journey into late night was clearly my own burden. Upon arriving back from that trip, I continued on with my creative slump and by the end of September/early October, inspiration for The Motown Maurice Show was conceived and a plan of action followed.
I never saw the show on television but while in L.A., I later found out that someone that I knew from college named Sandy Jean-Phillippe was a contestant on the show with her modeling troupe Evolution of Curves. Sandy and her troupe actually own a prize.
Evolution of Curves Related:
http://www.thicksational.com/2010/01/20/one-chance-entertainment-models-win-on-bank-of-hollywood/
Time Period:
April 2010
Contest Details:
Thank you for submitting your free enterprise story to the I Am Free Enterprise Video Contest. It's people like you—the dreamer, the believer, the advocate of free enterprise—who make this great country thrive through ingenuity, creativity, and hard work. We have reviewed your video and determined that it meets with the contest's criteria. Your video is now live on our You Tube channel - congratulations – you are one step closer to $50,000!
In order for your video to move onto the next round, it must be among the top 25 most-viewed videos in the contest. We encourage you to promote your video entry to friends, family, and colleagues - use e-mail, Facebook, Twitter, and other outlets and let everyone know that you need them to watch your YouTube video by April 16 to make the top 25.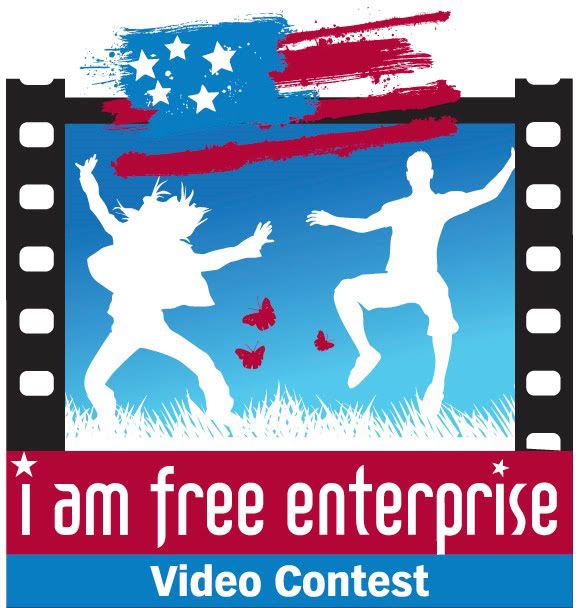 The US Chamber of Commerce presents I am Free Enterprise Video Contest
April 2010 Recap
Prior to April, my sacrifices finally caught up with me. I was nearing the last episode of The Motown Maurice Show and I was no longer able to afford rent in my apartment. My notice to move out of my apartment was put in writing and I was ready to live out of my car. Although, my parents lived in the same city and would welcome me back with open arms, I was determined not to move in with them. I was ready and mentally prepared to sleep in my car.
The plan was set. I would move my stuff into storage and sleep out of my car. Until one day I received a call from my show sponsor
Attorney Pamela Y. Robinson
. She would to check up on me like a mom as she continues to do today. In that particular call, she noticed there was something wrong with me based on the sound of my voice. I was reluctant at first but I shared with her the details of my upcoming situation. Her response was far from what I was expecting. As a matter of fact, I wasn't expecting anything in response. Her reply is paraphrased in these words "Well, I have a condo that I only use once a week. You can stay there for a while if you want." Its been over 2 years since Pam's blessing allowed me to live rent/utility free for 5 months and its still indescribable.
------
Upon moving in the condo, I was exposed to the "I am Free Enterprise" contest and it didn't take long for me to come up with a plan of action.
Below is an example of the email I sent out to my massive email data base to promote the contest.
April 12, 2010
Ladies and Gentlemen,
We invite you to join the first ever grass roots movement of a late night talk show.
National Syndication is only 9 more steps away and we need your vote!
Accomplished
Step # 1: The completion of The first season of The Motown Maurice Show.
In Progress
Step # 2: Win The US Chamber of Commerce "I am Free Enterprise Contest"
The Motown Maurice Show is competing to win a contest that will help us create
jobs and we need your vote.
Please click, watch, and forward this link:
Important Guidelines
1. Viewing the video counts as a vote.
2. Vote today! The deadline is Friday, April 16, 2010 @ 6:00 PM.
3. The first round will accept the top 25 most viewed.
4. Please refrain from viewing any other contest videos to maximize our opportunity to win.
5. One viewer vote per computer.
6. Please share this email with your family, friends & co-workers.
Thank you in advance for your support.
We look forward to creating jobs for you.
I am Free Enterprise submission video
Project Summery/Evaluation:
At times, I spammed the heck out of people with this contest. I even recall someone calling me on the phone to tell me to stop emailing them. I needed to be in the top 25 to advance and I recalled being very very close. The problem at hand was that I found out about the contest close to its end. I didn't enter the same time as many others and I just didn't have enough time. I was completely burnt towards the end of this process. I saw "I am Free Enterprise" as my ticket to funding the second season of The Motown Maurice Show that never came to pass.
8. Oprah's Your Own Show Contest
Time Period:
April/May 2010
Contest Information:
"Your OWN Show: Oprah's Search for the Next TV Star" is a competition series that will premier on OWN, Oprah Winfrey's new network, in 2011. The winner of the series will host their own talk show produced for OWN.
FAQ's:
http://myown.oprah.com/audition/index.html?request=faq#1
April/May 2010 Recap
I remember receiving notification from a few team members about Oprah's Your Own Show contest. Everything about it seemed as if it was specifically designed for me. I literally just put everything on the line with my late night talk show and Oprah decided to launch a new network with the opportunity for someone to have their own show. There was no doubt in my mind that this wasn't for me. Myself among others close to me new I had this in the bucket. While waiting for the contest to start, I had already made a demo of my show and all I had to do was downsize it to 3 minutes.
Here's one of the emails I used to promote to my email data base for votes:
Motown Maurice is on his way to syndicate The Motown Maurice Show on
Oprah's new network O.W.N. With your support and votes we
can secure the deal.
VOTE! VOTE! VOTE!
http://myown.oprah.com/audition/index.html?request=video_details&response_id=358&promo_id=1
You can vote as many times as you want.
Vote at least 30 times a day.
Start now! The deadline is approaching soon.
Feel free to make wonderful comments about the video on the voting page.
Please share with family, co-workers and friends.
Oprah's Your Own Show Audition Video
Project Summery/Evaluation:
I entered the contest on May 18, 2010 and everyday after that I started to adopt a sense of doubt. The reason for the doubt was because I appeared over qualified among all the other competing contestants. Regardless of what I was sensing, I was still determined to make an impression. I planned for a trip to New Jersey on June 5, 2010 to audition in person. The thought of this trip was mainly possible because one of my members from The Motown Maurice Show worked for Jetblue and sponsored the plane ticket for me. Those plans were altered when I received a call from the contests producers a few days before. They were thoroughly intrigued by my submission and confirmed that I was in the running. Therefore, there was no need to go to the open audition anymore. I ended up using the free plane ticket to visit family in my birth town, Brooklyn, N.Y. instead.
Motown Maurice and his uncle Fimbar Benard Mitchell. Better known as
"Gifted" - Gifted From Grenada
Gifted from Grenada Related:
No Justice No Peace
(The music video was shot while I was in N.Y., June of 2010. It was edited and posted April of 2011)
Waiting for the results for this contest was the longest most depressing period of my life. My beard protest was growing and playing basketball, video games and Netflex were the only things that keep me sane. Spartacus was my Netflex favorite that summer.
-----
Exclusive Never Seen Before Footage From July 9, 2010
Definitive Purpose Revealed
I could write a book about this whole experience with Oprah's contest. Due to the fact this post is long enough already I won't. I will log the most important. Considering how great this opportunity appeared to be at the time, not being apart of it was the best thing that could of happened to me. Post the results, I found an agent and booked a one way ticket to Los Angeles, CA.
When Oprah launched her network in January of 2011, I watched the contest on television and I confirmed that my senses were right. I was over qualified to be apart of it. Everyone on that show was complete amateurs. The whole contest was lacking. The voting process wasn't well put together and the contest which aired on her network was kind of wack. To date, we haven't heard about any of the winning contestants. They were basically brief one time time reality stars like the rest of them. Oprah's network on the other hand is struggling today.
Of course if the opportunity was granted to me I would of took it with boasted enthusiasm. However, now that I am able to look back and evaluate, I'm glad I wasn't accepted. Being accepted for that contest would of clearly been the easy way out. We all know what happens when we take the easy way out. The path that was later revealed to me has clearly proven to be the best.
Oprah Contest Related Links:
http://myown.oprah.com/audition/index.html?request=faq#1#ixzz21pjGXeZJ
http://myown.oprah.com/audition/index.html?request=video_details&response_id=358&promo_id=1
Important Information Regarding Motown Maurice. Please Read
7. Expedition Impossible
Time Period:
December 2010/January 2011
Contest Information:
Expedition Impossible is a 2011 American reality television series. The series follows thirteen teams of three competitors as they "solve problems while racing across deserts, over mountains and through rivers" across the nation of Morocco. The first team to cross the finish line after completing the ten stages of the competition will receive US$150,000. In addition, each team member will win a new Ford Explorer. Created by producer Mark Burnett and hosted by wildlife expert Dave Salmoni, the series premiered on ABC on June 23, 2011 to mild critical response.
Expedition Impossible Audition Video
Project Summery/Evaluation:
One of Oprah's casting directors from "Your Own Show Contest" remembered and contacted me about 5 months afterward. The call extended a personal invite for a new reality show called Expedition Impossible. The direct contact made me want to believe that the opportunity was being handed to me. Was I wrong. They sure did take me through a roller coaster as many others did have.
This is one of the advancement updates I received upon the start of the 2011 year:
Congratulations on making it past another cut for "Expedition Impossible!" We've shown your tape to the producers, they like what they've seen and want to keep you in consideration to be on the show! So it doesn't mean you've made it on the show but you're currently at the best spot you can be in for the time being.
----------
So much of my story manifested during the production of Expedition Impossible. If I was cast, I would never experienced being homeless nor would have ever built a repore with many of my Lifebook classmates. Which means 6 through 10 would of never existed. Being homeless and going through those struggles was more important to my quest than most people could imagine. Again, now that I can look back and evaluate, I am thankful that I wasn't selected for this show.
Related Posts:
The Big 1 Revealed
6. Who is Most Loved By Animals
(Animal Planet)
Time Period:
June 2011
Pilot Information:
Full details were not initially disclosed because this project was in its pilot stages. What I did know is that is that is was a Japanese Style GAME SHOW casting. Plus, all participants must have an adventurous, up-for-anything personality. They must also have been in good physical shape, as in running, jumping, spinning...
Animal Planet Pilot Audition Video
Into The Phases Review
Unlike the all the other auditions and contests, this opportunity was a pilot. Which mostly means the margin for a big break in my quest probably was minimal. Nevertheless, my anticipation levels were heighten as they put me through a series of teasing developments.
Monday, May 16, 2011
CONGRATS! You have been chosen as a FINALIST (top 20) for the ANIMAL PLANET PILOT!!!
Unfortunately we are able to choose only 8 contestants (plus 2 backups) from this 20. The producers will be making their decisions within the next couple of weeks. We will contact you as soon as they let us know their choices. We will be calling to let you know, ONLY if you've made the top 10!! We will email you if you were not chosen but will for sure keep you for future projects!
REMINDER: The shoot dates are JUNE 29th, 30th and JULY 1st. You will be put up in a hotel, provided with food and paid $175/ day for your participation. Also, the WINNER, out of the 8 contestants, will win a GREAT CASH PRIZE!!!
June 2, 2011
CONGRATS! you guys have now made it one step closer to ANIMAL PLANET game show!! the network and producers have narrowed it down, but at this point would like to meet you in person... and i need to TRIPLE check everyone's commitment and availability!!! The pay rate is $175/day plus $$$ PRIZE for WINNER of GAME SHOW!!!!
Wednesday, June 29, 2011
Hello Alternate Contestant,
Thank you for auditioning for our pilot as we greatly appreciate your involvement. It was a pleasure meeting you and unfortunately, we will not need you to report to our set. If you have any questions, feel free to contact me. Once again, thank you.
Project Summery/Evaluation:
Again this was a pilot and the pay wasn't much. The opportunity to get away and stay in a hotel was one of the most rewarding parts. June of 2011, was the infamous period of Judgement. So just being apart of anything that could somehow alter my imminent homelessness path was encouraging.
Related Links
:
Animal Services Not Needed
5. Wipeout
Time Period:
October/November 2010
Audition Details:
Wipeout is a reality game show series in which contestants compete in what is billed as the "world's largest obstacle course".
Project Summery/Evaluation:
A few days before publishing this post. I spent time with someone I knew from Tampa visiting L.A. (
Week 99 - Thursday
). At one point of the conversation she said, "I'm waiting on you to be on the show Wipeout, I love that show." I shared with her a bit about my previous experiences and concluded that I was happy they didn't select me. Partly because that show is crazy and partly because I would preferably conduct those type of antics on a format that would benefit me more.
If I didn't learn anything from my auditions, I certainly learned something at the second phase of this one. Its at this audition were I learned that casting/Hollywood didn't give a damn about me becoming a late talk show host. I said, "I'm The Future of Late Night," in front of the camera multiple times and each time they told me I couldn't say that.
Related:
Wipeout Process
Wipeout Exclusive
Wipeoe Results
4. Born To Shine
Time Period:
May/June 2011
Contest Information:
"Born to Shine" Campaign Features Nationwide Contest to Identify Four Aspiring New Television Personalities. "Born to Shine" – a multi-platform marketing campaign dedicated to showcasing the impact African Americans continue to make within the entertainment industry and the community. The campaign features a national contest to identify four aspiring television personalities to host a "Born to Shine" talk show series, which will be available on Time Warner Cable On Demand this Fall.
Each of the winners will host an individual episode featuring African Americans who are paving the way in areas of pop culture, television, film, sports, music and the community. The guests will share their lessons learned and success stories for viewers to glean from to pursue their own personal goals.
For more information on the program, casting calls and official rules of the "Born to Shine" Contest, please visit
http://www.facebook.com/twcableborntoshine
.
Time Warner Cable's Born to Shine Talk Show Contest
Project Summery/Evaluation:
Time Warner's Born to Shine talk show contest certainly wasn't designed for late night television host but I certainly saw it was a potential gateway into it late night. It goes to show, although many athletes grow up playing multiple sports in high school, by the time they become professional their focus is singular. I love opportunities. Plus when your up against the wall, any opportunity sounds good. If your a visionary, potential is seen in any opportunity available. Last month, I saw a posting on Facebook for a search for new B.E.T. 106 and Park hosts and after a minute or two I lost interest. Over time and disappointment my focus has become more focused and sickening late night television only.
Related:
Time Warner Cable's Born To Shine
Born to Shine…Not This Time
3. Craftsman Screw*d
Time Period:
July/August 2011
Audition Details:
Craftsman is going to take one person. Someone that isn't so handy. And through a series of intense, even high risk tool challenges, put 'em through the ringer.
The goal: Turn that person into the ultimate handyman.
If you're not the greatest with a hammer and can't tell the difference between a wingnut and a lagbolt, submit your short video (2 minutes or less) telling Craftsman why you should be turned into the ultimate handyman.
Craftsman Screw*d First Audition Video
Project Summary/Evaluation:
When I received the results for the contest, I published a long evaluation that can be found in the related links below. As a result, I won't write an evaluation that will over lap it. I will mention a comment that someone told me post the results. I don't remember who that person is but I recall that person telling me something like, "Who would want to be in Chicago for 3 months." Again, I was in my homeless transitions around the time and leaving to anywhere sounded like a great idea.
As great of an idea as it sounded then, it really wasn't that great. Now that I can look back and evaluate, I am now happy I wasn't a part of it. It would of seriously affected the building relationship with my agent and contributed noting in development of my ultimate goal.
Related Posts:
Token Black Guy (Craftsman Screw*d Evaluation)
2. In Living Color Relaunch
Time Period:
November 2011/January 2012
Audition Information:
"Fox is bringing back its groundbreaking 1990's sketch comedy series In Living Color with the series creator and star, Keenen Ivory Wayans, on board as host and executive producer. Fox has ordered two In Living Color half-hour specials to air as part of the network 25th anniversary celebration in midseason with a series option behind them, meaning that in success, the reboot will join Fox's schedule as a regular series next season. The new In Living Color will be produced by his production company Ivory Way Prods. in association with 20th Century Fox TV.
In Living Color Character Reel Vol. 2
Project Summery/Evaluation:
This audition process with In Living Color certainly allowed me to end 2011 with a sesne of hope. I remained confident throughout the process and I'm sure my confidence is noticeable in much of my previous In Living Color related posts. Months later, I still contain the same level of confidence. I still believe I am qualified to be on a show like In Living Color but Keenen's system for choosing his talent doesn't compliment my type of talent. Keenen was looking for stand up comedians who can do impersonations and characters. I'm not a stand up comedian, which immediately makes me someone he's not looking for.
In many ways, I'm in a league of my own. A league in which I've created on my own. A league in which I'm going to have to keep creating until it collides with another big league that is run by someone who is like minded. Then we'll be able to create together.
Related Posts:
Hidden In Living Color Chapter Revealed
1. Doritos Crash The Super Bowl 2011-2012
Time Period:
September 2011 - January 2012
Contest Information:
The Crash the Superbowl contest is an annual online commercial competition run by Frito-Lay. Consumers are invited to create their own Doritos ads and each year, at least one fan-made commercial is guaranteed to air during the Super Bowl. In recent years, Doritos has offered bonus prizes ranging from $400,000 to $1,000,000 for any Crash the Super Bowl ad that can score a top spot on the USA Today Super Bowl Ad Meter poll.[1] The Crash the Super Bowl contest is the largest online video contest in the world. In the 2011-2012 installment, Frito-Lay received more that 6,100 submissions and paid our more than $2,125,000 in prizes.
Doritos Water Submission
Project Summery/Evaluation:
If it wasn't for this Doritos contest I would of never met
Kevin Boot
. Kevin's
equipment
played significant role in the production of my newest
late night pilot
as well as my friend
Cassandra's web series
. For the one reason only of meeting Kevin Boot, I am thankful for the Doritos contest.
Related:
Doritos Crash The Super Bowl 2011-2012
IN CONCLUSION
Each and every last endeavor listed taught me a valuable lesson, strengthened me and/or provided a missing piece of the puzzle I'm trying to solve. During the time period of each task, my desire to win was also personified by inevitable challenges that were fort coming. Challenges what would have broke most people and/or sent them on a one way ticket back home. As you can see, "I'm still strong. I'm still standing." As a matter of fact, I'm standing taller than I ever before.
This article is written in lieu of the results of a
festival I'm involved in
. A festival in which, I recently promised myself I wouldn't mention on this blog until I know the results. That's just the type of games I like to play to keep things fun. Furthermore, I've been working on this article for about two weeks now. I tried to complete it before but I'm proud that I got it done in my 100th week in L.A. This is also the same week I've calculated to receive some type of feedback from the festival. The inspiration from this article is making the festival anticipation even more exciting.
Without any question, all 10 anticipated big breaks listed prepared me to be where I am today. Today I stand as the creator of the greatest talk show pilot of all time. I passed each required test needed to get here and I am grateful. Without number 1 there wouldn't have been a number 5. Without number 3 there wouldn't of been a number 9 and so on. Disappointment never makes sense at first but considering where I am right now and the opportunity that lies before, it all makes absolute sense. Every last disappointing result in this article had its purpose which provided the next puzzle to advance to where I am now.
Its magically and amazing how these pieces come together. These experiences are priceless and have been vitally necessary. I am so graciously thankful and humbly prepared to receive the next puzzle piece that will lead me to the next puzzle piece.
Notable Mentions That Didn't Make The List:
Myspace - If I can Dream Audition Video
Myspace - If I can Dream Talent Video
Paradise Hunter Host Search
As the quest continues...
The Future of Late Night
Motown Maurice