Post Represents Friday, May 6, 2011
Time Warner Cable's Born To Shine Contest
Late one night last month, I was watching the second run of Conan around 2 or 3am and I saw a commercial about Time Warner Cable's Born To Shine Contest. It Immediately captured my interest. I've had my run with contests over the past year and in many ways I'm exhausted from them.
Oprah's Own Show Contest
, and before that there was
The Chamber of Commerce I am Free Enterprise Contest
. Not to mention various reality shows I've submitted for such as
Expedition Impossible
. These type of contests excite me the most and also wear me out the most.
The reason I get worn out from these contests is because I put some much time and energy into the video submission. I've made a sub pair vow not to submit videos for contests anymore. That vow won't last but then came Born To Shine. I was attracted to this contest in particular because it presented an opportunity for me to audition and interview in person. Indeed, I had the option to submit a video but I truly believe videos limit the full package of what I have to offer.
On upon seeing the commercial mid last month I did my research and realized that this contest is presented like none other that I've seen before. Each contestant is given an opportunity to interview a celebrity on a live set. I had to take advantage of this. Based on the information I found, its almost seems like they didn't initially plan to come LA. They might of added LA at the last minute. Either way I was on top of it. The location took place at The California African-American Museum.
Furthermore, I arrived in my one and only faithful black suit. I felt good all morning and as each moment went by I left better. I arrived at the start time which was 9am and there was already a line in progress. From a distance I noticed my Haitian Cultural Club friend from college Sandy Jean Philippe. We hooked up once on
day 29
but I didn't log that detail for some reason. We were so far part in line that looked in each others direction but wasn't sure if we were noticed.
Meanwhile, I was full of energy and I was in the spirit of making the most out of every moment. It didn't take too long for the photographer, Riccardo Suriano to pick up on my spirit. With his long lens I noticed him taking pictures in my direction from the corner of my eye. Without ever looking directly at him I struck multiple poses to keep in snapping pictures of me. It worked. A few people around me were laughing and I later had the chance to speak to photographer Riccardo Suriano and he expressed how much fun I was.
Motown Maurice strikes for the camera. Photo by Riccardo Suriano (Added 5-19-11)
Soon I decided I'm going to take a walk up and down the line and greet random people. Since my friend Sandy was near the front of the line I approached her first. When I got to her she wasn't sure if I noticed her or not and she said she was talking about me before she noticed I was there. I believe she was wondering if I was going to be here cause she knows this is my type of thing. A young man confirmed she was talking about me and we all broke into conversation. After a few minutes of talking, the organizers finally came out to share the instructions and hand out the applications.
Sandy Jean Philippe & Motown Maurice
Since I started a conversation with the few people around me I felt no need to go back the place I originally was in the line. (Pay attention to the details I'll explain later. There is something very significant to me skipping the line.)
Right before I got into the waiting area someone asked me if Motown was my real name because they weren't using nick names. I told them of course it is. Its sometimes so hard for people to believe Motown is my first name. As I waited, one of their reporters approached the person next to me for an interview and interviewed me afterward. Lets just say I lit it up. Everything happened so fast but I know as a fact all eyes was on me. My energy was high, I was engaging and I said a few things that prepared me for the real interview.
Motown Maurice's Pre-Born to Shine Interview. Photo by Riccardo Suriano (Added 5-19-11)
As we waited, they told us that the first couple of groups will be interviewing Tatyana Ali for the first hour. Then just like most contestants there I got on my phone and did some basic research.
Tatyana Ali meets Motown Maurice for the first time.
After a decent amount of waiting my group which was the 2nd group got called into a line and we waited some more. Shortly afterward my friend Sandy came out of her audition/interview and she expressed how great of an experience it was. I listened they went back to reciting my intro over and over to perfection.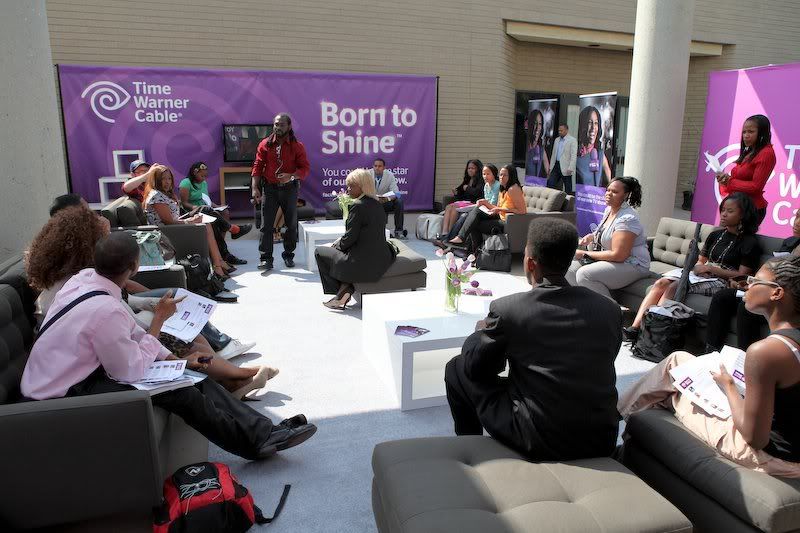 Motown Maurice is Born to Shine. Photo by Riccardo Suriano (Added 5-19-11)
Finally it was my turn to go in. I was guided in a dark studio area. A moment or two before I went behind the curtain I took a peek in and noticed Tatyana Ali wasn't sitting on the interviewing sofa. It was Ruben Studdard, second season winner of American Idol. I quickly asked "Is it Tatyana or Ruben that I'm interviewing."
Motown Maurice & Ruben Studdard (Photo added: 5-11-11)
Then they revealed to me that they just switched it up. I had to quickly change up my mental questionnaire plan. Strategically, I did research some information about Ruben before going in. They gave us a list of possible celebrities that we may be interviewing and I looked him up just in case. When I was on line filling out my application I did see him walk in but I was almost certain I would be interviewing Tatayna because it was still early.
Ruben Studdard meets Motown Maurice for the first time.
From the moment I walked in and told Ruben my name he fell in love with it. He shouted, "Motown Maurice, I like that. Every time you walk into a room they should sing I got Sun Shine On a Cloudy Day..." There was an instant connection just because he liked my name. From a short distance was Tatyana Ali sitting in as a Judge. To the left of her was Tammy Mac. I never met Tammy Mac before I heard on the radio a few days before about an event she was having. I was mostly interested in that event because
Mr. Executive
's name was mentioned in the radio spot. I immediately knew I had to attend. I paid $10.00 online and took things a step further by requesting her friendship on Facebook. She accepted my request and replied to my message by saying she's looking forward to seeing me at her event also.
Her event is planned for almost 12 hours after Born To Shine. I had no clue she was going to be a judge at this. So when she saw me, she spoke to me as if we new me. The first thing she said was, "Is your real name Motown. What does is say on your drivers license?"It was all said with smiles and laughter of course.
Finally, I got my chance to do my interview and I came up with this intro. "Greetings, my name is Motown Maurice and I was born to shine because on the day I was born the doctors told everyone in the emergency room to wear sun glasses because they were expecting a healthy and bright baby boy. Welcome to born to shine..."
I know its a bit much but I new I would get some smiles out of doing it. The interview with Ruben was going pretty well until the power when out. Literally there was a power shortage and everything when black. Someone was like, "Motown your so electrifying you short circuited the power." I think the power going out went completely in my favor because it gave me a chance to interact with all the judges and Ruben a lot more.
After a few minutes I was told to start over and I was able to complete the interview with Ruben and close out by saying, "Thank you for tuning into Born To Shine, the only show that requires you to where Sun glasses. Once the interview was over, I received feedback from Tatyana and Tammy. Tammy said I sounded a little bit preachy a some points but other than that I was great. Tatyana said she would mirror what she said a bit and she also added that I had a fun side about me and I should continue to bring it out more.
The feedback was great and I had a post interview on camera outside the room that also went well. I also took the time out to interact with a few people. Photographer Riccardo Suriano from earlier was in the room and told me I really did an awesome job in there. I few people asked me for some advice and I genuinely shared my perspective to help the others. Ironically, I turned around and Tammy Mac was behind me passing out fliers to her show. I didn't make anything of it until I saw some people that questioned how I got in the front of the line. I was like, "What had happened was..." Then one person brought to my attention that Tammy left for the day and if I didn't skip all those people she would of never got a chance to judge me. She left the same time I did.
Motown Maurice & Tammy Mac
Before or after I took the photo with Tammy she told me, this time in person how great of a job I did.
Other contestants in the waiting area
Motown Maurice & one of the contestants. I think her name is Ebony






Motown Maurice & Jameela aka: J Starrs
Final Thoughts
I don't know if going to get selected or not. To be honest with you I have barely been thinking of it since. I do know I gave my best. Of course I realized a few places where I could of done better but I got a lot of feedback and I was clearly noticed that day. At this point, its up to Time Warner to choose me.
I have to give a special shout out to my girl Sandy for being in the right place at the right time. I had no intentions of skipping but it just happened that way. Of course I am the best at skipping lines. The Last time I skipped a line was at the
X-Factor Registration
and that was also epic.
Without a doubt, Sandy was in the right place for me. If she wasn't there, I wouldn't of gotten to chance to interview early. I would of had to wait probably hours later. The line was moving very soon. Keep in mind each contestant was interviewing a celebrity for around two minutes each plus feedback. Tammy would of never judged me and probably not saw. Who knows if Tatyana or Ruben would of still been there. I would of missed an audition I had scheduled with my friend Ava for 3pm at the Hollywood Right Club.Once again thank you Sandy.
The results are unknown but regardless of their acceptance I was Born To Shine. Its just a matter of time. :-)
Next Related:
Born to Shine…Not This Time
As the quest continues...
The Future of Late Night
Motown Maurice