Tuesday, March 27, 2012
Today, I had the prestigious opportunity to interview for a
Upright Citizens Brigade
(UCB) Diversity scholarship.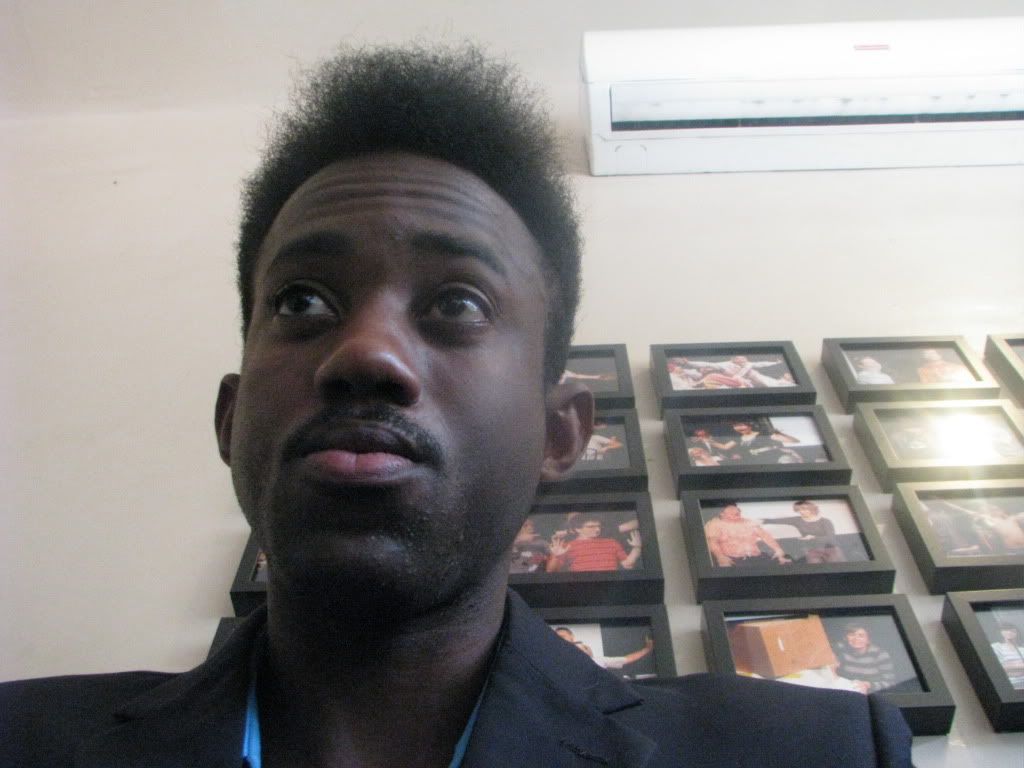 Motown Maurice waits for his interview for Upright Citizens Brigade's Diversity Scholarship.
Whether I received the scholarship or not is still unknown but how I was bestowed with this opportunity tops my 2012 list of amazing stories continuum.
It all started on
Wednesday, January 18 2012
(Must read post for previous details). Matt Shore advised me to contact someone at UCB to acquire an internship. After I sent an email to the appropriate person I was told I'm not eligible to intern because it requires that I'm enrolled in there classes first.
Shortly after I posted the scenario on my blog my long time friend and fan Raymond D. Sweet contacted me on Facebook. He read my blog and shared this advice.
Thursday, January 26, 2012
"...I know you are opposed to loans, but have you considered it at all for school. Especially going to UCB. That would be freaking amazing. Does UCB school qualify for like financial aide. Ok. Im going to look."
My response to him was as follows,
"I have the worst credit in the world right now and I won't qualify for nothing. Trust me on that. However, I'm sure the subject of UCB didn't come up in vain. You know my journey. Everything always come around full circle. There is much purpose with you bring up UCB and it will come up again soon. I've learned the patterns of my quest."
I figured the conversation ended there. I didn't expect Raymond to take his statement"Im going to look," literally and beyond. Completely upon his own account Raymond contacted UCB and found the email address to the person I previously mentioned. On his own account, without even acknowledging me Raymond sent UCB this email.
Hello.....
I am writing on behalf of a friend who I believe can learn a lot and add a lot to your program. I know on the surface you guys probably don't offer financial aide, but maybe there is something deep down that I don't know about that could assist him attending your school. Or even a work trade situation. Maybe he can clean up the place at night or file papers and actually he is a terrific videographer and editor. When I worked at Verizon Wireless he created a couple of videos for us.
I know you get these requests everyday and everyone is special and brings something amazing to the table and has a sob story, but please if there is any help I would like him to be able to take advantage. Perhaps he could work free first and then take the classes. He has a blog(who doesn't), but the point is he can help you with it on the site. He has his own equipment so he could load up some of the sketches online more timely.
......., I'm begging you to help me help my friend take classes in your program. He moved to LA like everyone else with no money no real connections and no where to live. But he is working hard at it and I believe you and UCB can be instrumental in helping him achieve his goals as he can help UCB with some of its goals.
Sincerely,
--------------------------------------------------------------------------------------------
The response to Raymond was...
We do have an internship program but students must be currently enrolled to apply. We also have a Diversity Scholarship (I don't know if this would apply to your friend), for more information on that you can contact ..........
----------------------------------------------------------------------------------------------
Who would of ever known about a diversity scholarship. I certainly wasn't asking the right questions but Raymond sure knew how to get it out of them. I can never ever say I don't have anyone in my corner. Raymond has been in my corner, in Tampa, FL since approximately 2006 or earlier. Back before I entered into the late night race. Back when I was doing my monthly discussion forums Raymond was a loyal supporter of mine. As a matter of fact Raymond was the main person, if not the only person to provide me with critical feedback of my shows and performances. While everyone else was patting my back and telling I did a such good job, Raymond was the sole voice telling me I could do better.
Beyond that, Raymond continues to call and check up on me continuously. His effort to keep in touch is invaluable. Especially since I'm not the best on making the initial phone call. Raymond, thanks to you, I think the interview went well. During the interview I was told that they narrowed a list of 200 and I was one of the 45 choose to come in. Knowing that alone is extremely satisfying.
Once the person informed Raymond who's in charge of the diversity scholarship, Raymond forwarded the information to me and I immediately sent the person an email requesting consideration. I sent the email on Tuesday, January 31, 2012. It took a while but finally on Thursday, March 1, 2012 I received a scholarship application through email. I filled out the application it by the 15th which was the deadline. Judging by they read on the application, I received the official invitation to come in for an interview today (Tuesday, March 27, 2012. )
Motown Maurice continues to wait for his Upright Citizens Brigade's Diversity Scholarship.
Final Thoughts
Overall, the interview went well. I was blunt but not overbearing about my quest to become a late night talk show host. I at least tried to keep the conversation balanced. They had questions for me and I answered. I had questions for them and they answered. I was suppose to find out something over the weekend but I'm sure I'll know something during week 81. Again, I was chosen out of 200 or more people. That's something to be proud of. Nothing of this would of been possible if it wasn't for my faithful friend, Raymond D. Sweet. Thank you so much.
Once I find out something you will be the first to know Raymond. I am truly blessed and this is another testament to all my continuation of amazing story added to my quest.
Raymond Related Post:
Week 15: Happy New Year Part 3 of 3 - TAMPA LOVES
December 26th & 27th 2010
As the quest continues...
The Future of Late Night
Motown Maurice