Post Represents: Wednesday, February 1, 2012
Video # 1
Some call us extras. Others call us background. They should call us waiters
since we have to do so much waiting.
Video # 2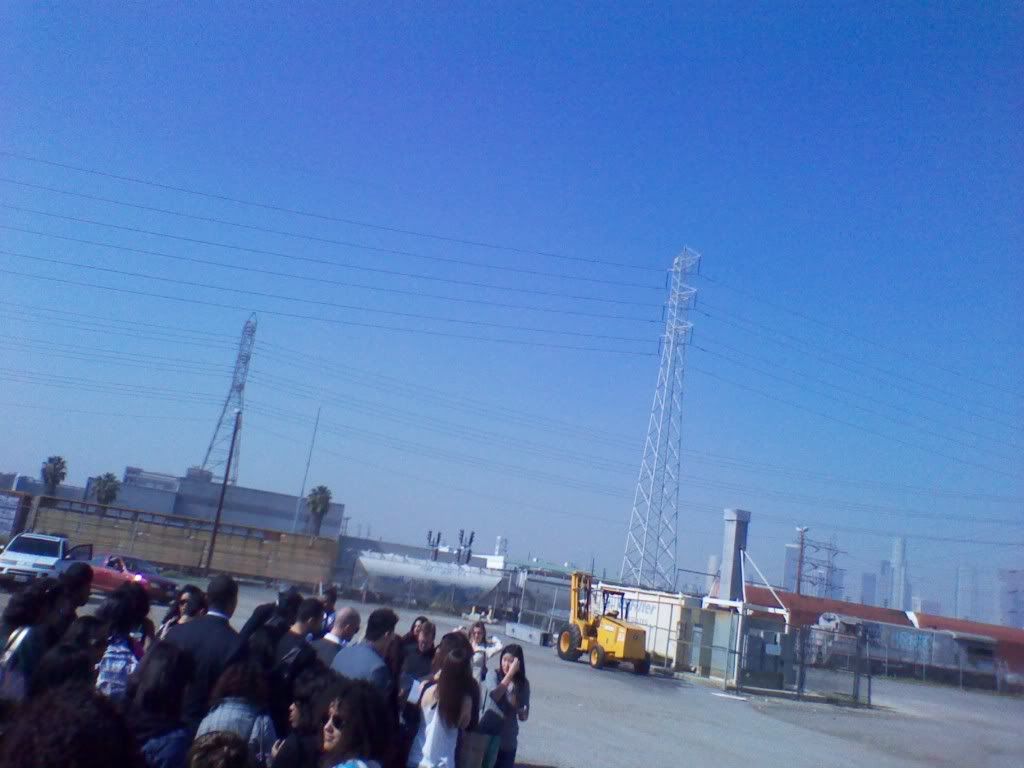 Where are we and where are they taking us?
Video # 3
\
We have no clue what to expect at this point.
Group by group we're getting picked up by a shuttle to the covert location.
Its as though I was set up for comedy. I arrived at the wardrobe table. I showed them what I brought with me and a young female stylist said, "You have to wear the blue blazer." Then she handed me a donkey's head. Do you even have to guess who became the instant Jack Ass? The said the mascot heads gets featured most. I would be surprised if I get featured the most. I was all up in that camera. This is what happens when you sign up for a music video. We sign up with little or no details. Everybody, I mean everybody (with the exception of Chris Brown & his crew) were wearing masks or animal heads.
What!? This is what you want me to wear?
You mean to tell me my face won't be seen in the video the whole time.
Video # 4
At this point of time I was sneaking these photos. I had to take them because this is the only way to prove that Horse Head is me.
You can't get any more democratic then this.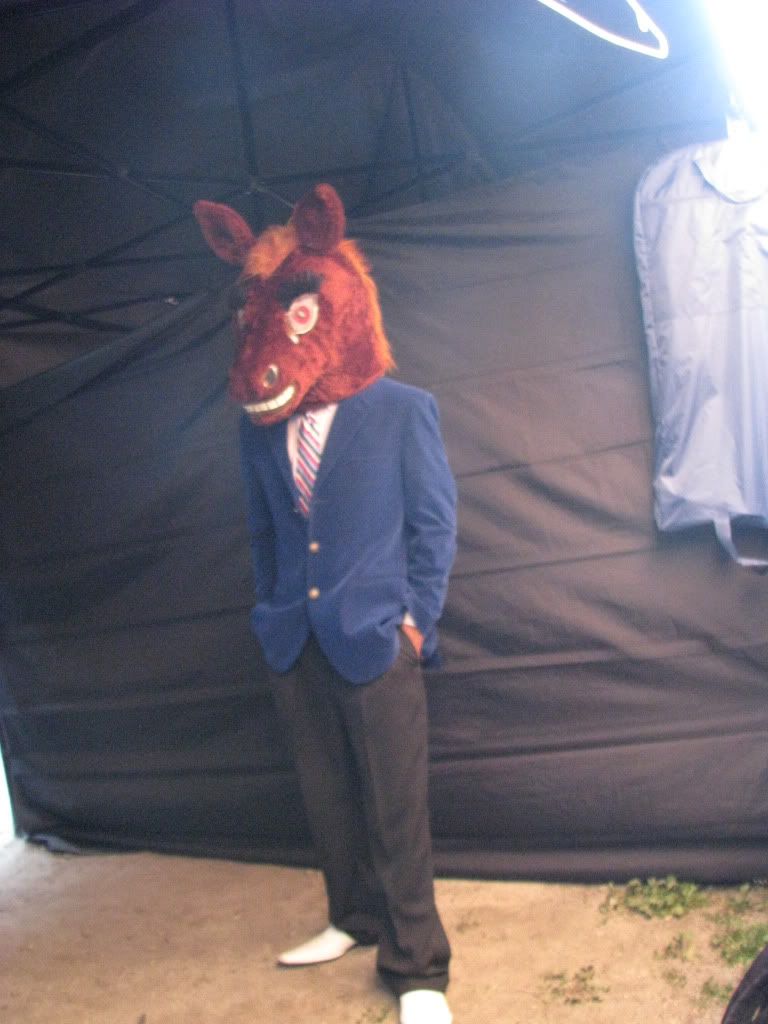 Guess who go mad compliments. Yup! That's right. Horse Head was looking smooth.
Finally towards the end of the night I got bold and started to take some photos with others. Staff didn't say anything. I knew it was only scare tactics. There was zero tolerance for cameras on set but away from the set they didn't say anything. I regret not taking some more photos with folks.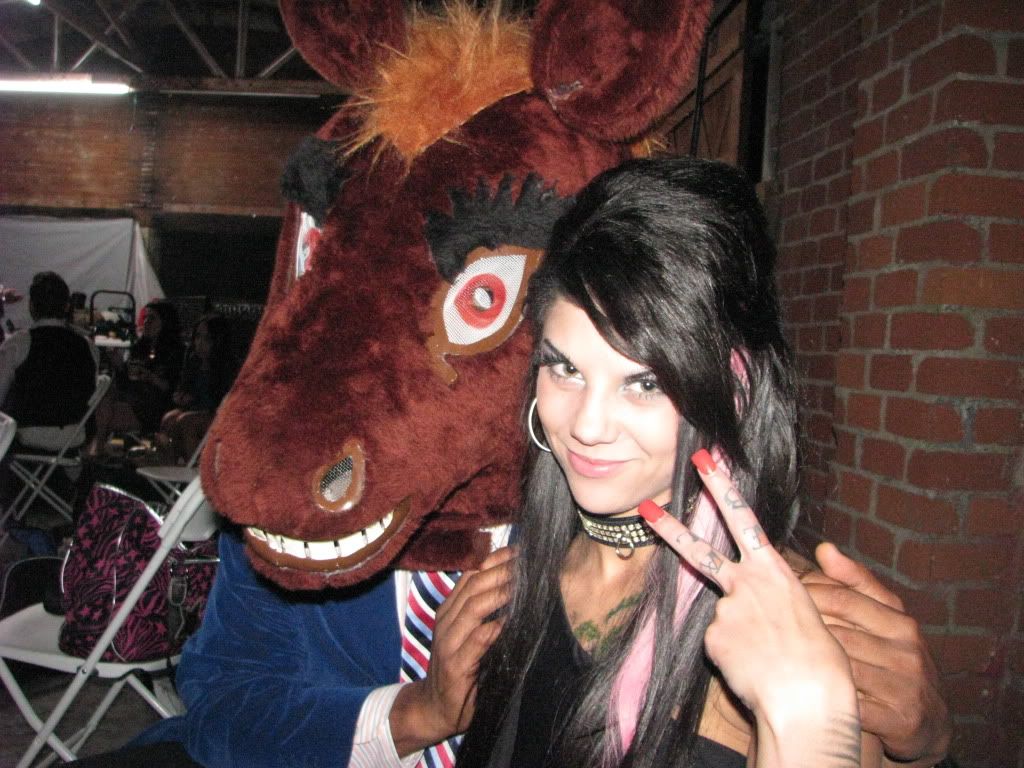 Motown Maurice and Bonnie Rotten, the porn star.
What do I say about Bonnie? For some reason we were pared up twice and based the responses from the extras and production staff, we made a memorable impression. After our second scene together, I was constantly being saluted by people. I totally wasn't expecting all that.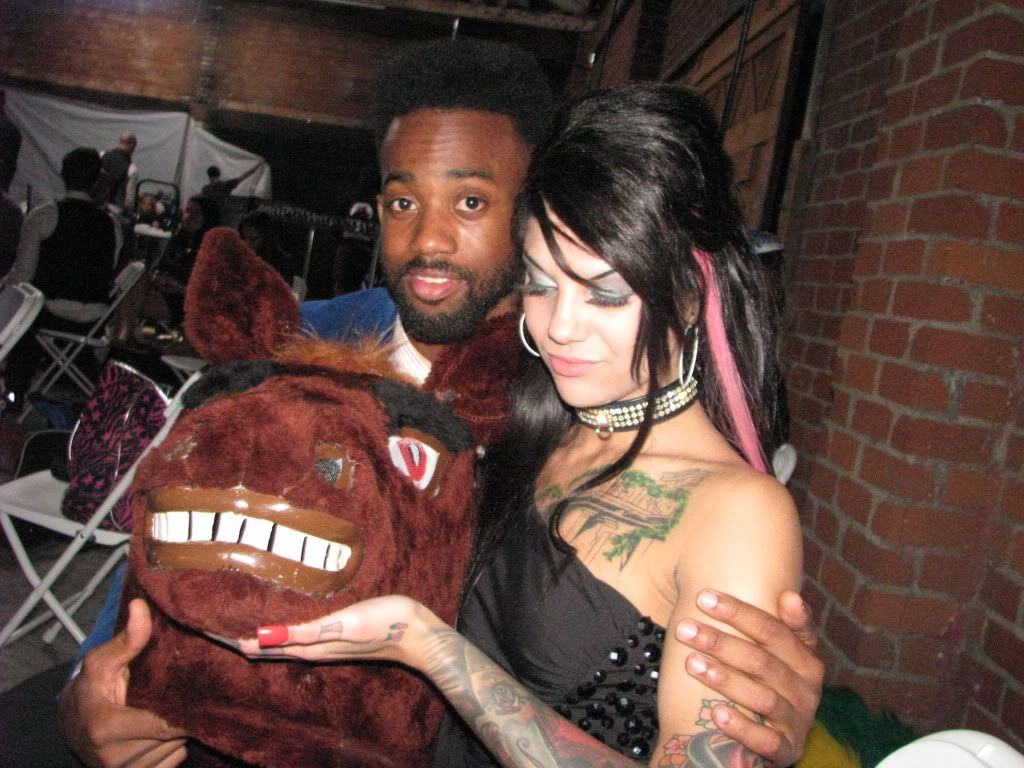 Motown Maurice, the donkey head and Bonnie Rotten, up and coming Porn Star
She has a thing for furries.
Video # 5
Video # 6
Video # 7
Final Thoughts
Believe me, Horse Head was an on going conversational piece for a long time. To bad my face won't be seen in the video. The release date of the video is unknown and I'm not even 100% sure what its going to be called. I think its going to be called "Tatum."
Of course I rather be doing featured work but there is purpose for everything I'm apart of either way. The person who cast me for this is named Dustin Blackburn. I didn't know at the time but he was at the
De LA Soul Music Shoot
. He was also at the
C
hiddy Bang "Ray Charles" audition (October 29, 2011).
He acknowledged me there and told where he met me before. Today he called me out by name.
There was a young who said to me, "You suppose to be in a
Operation Repo (August - Wednesday)
shoot last year. I canceled because it was way too far. She further told me that they were looking for a guy named Motown. She and everyone else was like, "Who is named Motown?" She told me was wondering what a guy named Motown would look like. Since she knew what I looked like now I asked her if she was disappointed and she said, "No." I thought that was awesome. Its been over 6 months since she heard my name and she remembered that situation from August. Now she was able to put a face to a name.
There are so many I want to write about from this shoot. So many memorable situations but there isn't enough time for me to document them all. I do want to mention this one about Chris Brown. This is my 3rd time appearing as an extra for his music videos. The first one was
Yeah 3X
and then
Look At Me Now
. This was the first time I witnessed him acknowledge background talent and it wasn't even genuine. During the first scene I was in he said, in a low non direct voice, "and I want to thank everyone for doing this. I really appreciate it." He didn't even look at any body in the face when he was saying it. He appeared awkward. I'm going to assume that someone in his camp advised him to start saying things like that. He seemed out of place at the moment if you ask me.
Unfortunately, Don Cornelius died today. May he rest in peace.
Next Related:
Turn Up The Music - Chris Brown
As the quest continues...
The Future of Late Night
Motown Maurice