Post Represents: Friday, February 3, 2012
This past Tuesday (January 31, 2012), I received a message on Facebook from a young lady named Breanna Rittman. She asked if I'm a FAMU Alumni and proudly I confirmed. Following that, we befriended each other and began to shared our Journalism experiences. Before we became Facebook friends I noticed she's currently a broadcast journalism student. This one common path opens a sea dialogue.
3 days later she informed me that she included my name in Wednesday's issue of The FAMUan. The title of the article is

Students Should Know Their History

.
Click here for the original link:
http://www.thefamuanonline.com/opinions/students-should-know-their-history-1.2693126#.TyuR3VyXSrl
Beginning as Negro History Week in 1926, Black History Week was officially recognized by President Gerald R. Ford 50 years later.
I'd like to take the time to thank Dr. Carter G. Woodson for taking the initiative to have African-American history recognized.
Although February is nationally observed as Black History Month, this should not be the only time black history is studied. We should learn about our history every month.
Not only should we know Rev. Martin Luther King,

Jr

., Rosa Parks, Frederick Douglass and Harriet Tubman and their achievements, we should know people such as Garrett Morgan, Marie Brown and Sidney Jacoby. Who do you think received patents for keeping us safe on the road and in our homes?
Ladies we should give thanks to Annie Malone and Madam C.J. Walker, who paved the way for many hair products for African-American women. Despite how our ancestors were portrayed, they have done great things.
Earl Holmes, Andre Dawson and Althea Gibson excelled in the field of sports. Pam Oliver and Mitzi Miller have done well in the field of journalism with Oliver as a sportscaster and Miller as editor-in-chief of Jet Magazine. Motown Maurice is making his mark as a late night talk show host and we know actress

Anika

Noni

Rose from her role in

Dreamgirls

.

T'Keyah

Crystal

Kemyah

, who many of us have seen on That's So Raven is an actress, writer, producer, dancer and singer. For those in

SBI

, they can look at John W. Thompson as motivation.
What relevance do these people have to you? They are all alumni of Florida A&M. That means you, as a Rattler, can and will make difference.
As African-Americans and students of

FAMU

we have a lot to offer to the world. You already have examples of prominent African-Americans who are alumni of our great school. So educate yourself about your history every month.
By
Breanna Rittman
Published: Wednesday, February 1, 2012
Updated: Wednesday, February 1, 2012 02:02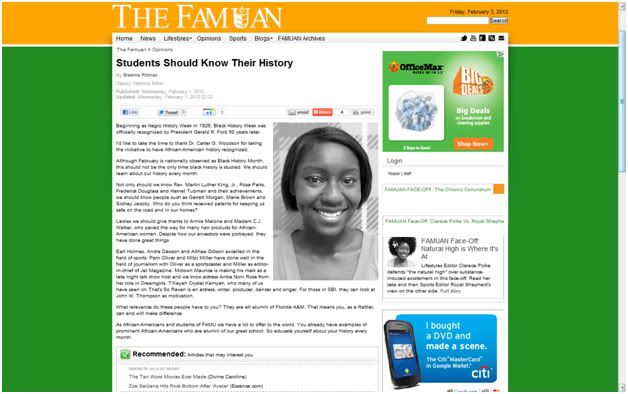 Black History in the Making by FAMU Journalist Breanna Rittman
Final Thoughts
I've been in the newspaper several times so this is really no big deal right? Wrong! My name is in the same article wit

h

Dr. Carter G. Woodson,

Madam C.J. Walker, Dr. Martin Luther King and several more. Breanna published these words, "

Motown Maurice is making his mark as a late night talk show host

." Which in insinuates that I am making history. What Breanna has actually done is officially listed my name in the records of Black History. I'm making the marks and Breanna has began the engraving process.
I remember back in 2006 when I debuted my first documentary, Echoes of a Dream The Historical and Spiritual Perspective of the Civil Rights Movement starring Dr. Walter Smith, FAMU's 7th president. I anticipated so much FAMU support for it. That never happened and I just moved on to other projects. I did learned one thing from that huge endeavor. I learned that I'm not fond of creating documentaries. That took a lot out of me.
Furthermore, the listing of my name is this article is significant and I believe it will pave the way for several more. My love for FAMU grows day by day and I look forward to becoming a proud representative for my Alma Mater.
Breanna Thank you. I commend you and your efforts to bridge and maintain the ever challenging relationship between students and alumni.
We're all in this together. She started a Wikipedia search that ignited a Facebook search and message that lead to this special engraving.
This special connection personifies the element of reward bestowed to voyagers who take on epic journeys. You can ask for things (support) like I did with the documentary, then not get it. Thus, as long as you continue to persevere,
support and many other blessings will arrive when you least expect it. February 2012 will forever be my favorite Black History month.
Despite
the lost of the great Don
Cornelius on February 1st. His legacy will not go in vain nor will his spirit ever
vanish. His journey and path to
syndicate Soul Train has many similarities
paralleled
to my own quest. Let his smoothness, intelligence and
courageous
spirit forever live in me for the purpose of creating g
reat black history.
As the quest continues...
The Future of Late Night
Motown Maurice