Extra Mild Sauce Presents Soulnic 2012
Ladies and gentlemen we're here to announce that it's ON once again. Make sure to mark your calenders so you can kick off the summer with some SOUL as the EXTRA MILD SAUCE family takes over Griffith Park for the most anticipated house music picnic in Los Angeles.
SOULNIC is a family-friendly, DJ driven event that showcases soulful house music, deep disco and soul classics. There is no cover charge and it is open to the general public. Bring your family, friends, games and your barbecue grills because this is an all day event. Griffith Park does not allow the consumption of alcohol on park grounds and due to the nature of this event (dancing and children being able to run around freely), we ask that everyone leave their pets at home.
This year a portion of our efforts will go to support a local children's charity - A PLACE CALLED HOME. This non-profit youth center in South Central Los Angeles founded in 1993 provides educational programs, counseling, mentoring, music, dance, art classes, and fitness opportunities that encourage and empower youth to take ownership of the quality and direction of their lives (
www.apch.org
).
Click on the link for our signup page
http://eepurl.com/ipVUs
And check out the video highlights from last year
http://youtu.be/M9U5Y-osy2Q
The Extra Mild Sauce Family
Sponsored by
CATCHSOCIAL | FUSICOLOGY | WEST COAST SOUL EVENTS
NEW BREED ENTERTAINMENT | HEAVENLY HANDS MOBILE MASSAGE
AT THE PLAYGROUND | M.O.C.I.T.I.
For more information about Soulnic visit:
www.ExtraMildSause.com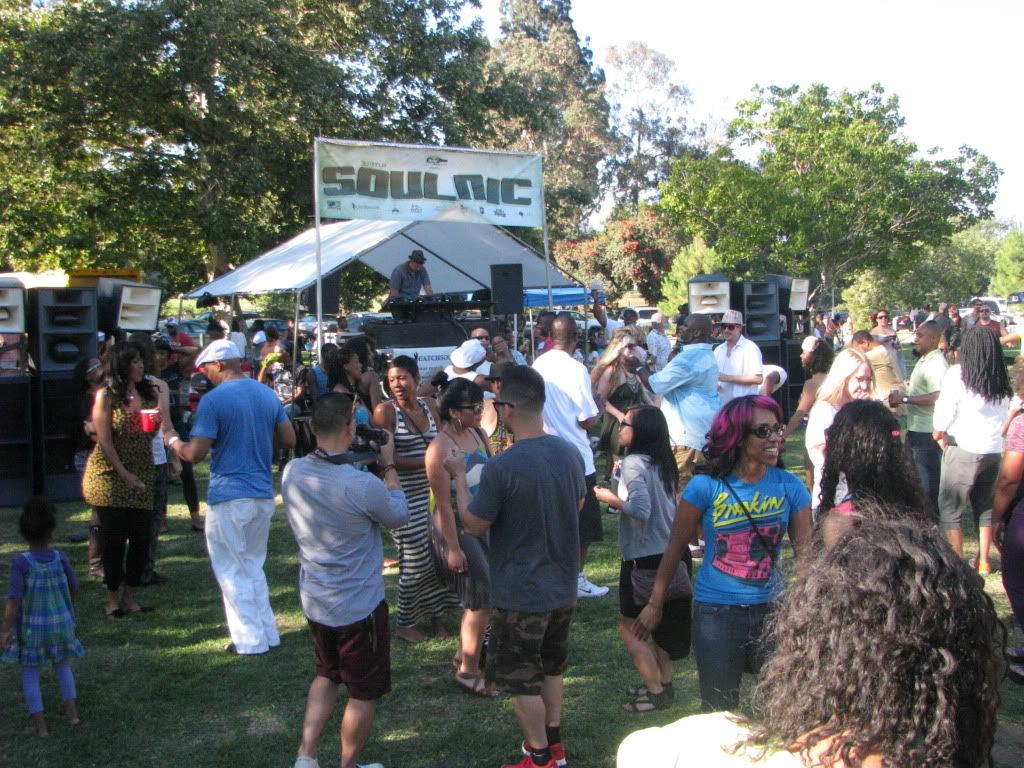 Soulnic 2012 at Griffith Park
Video # 1
Soulnic 2012 at Griffith Park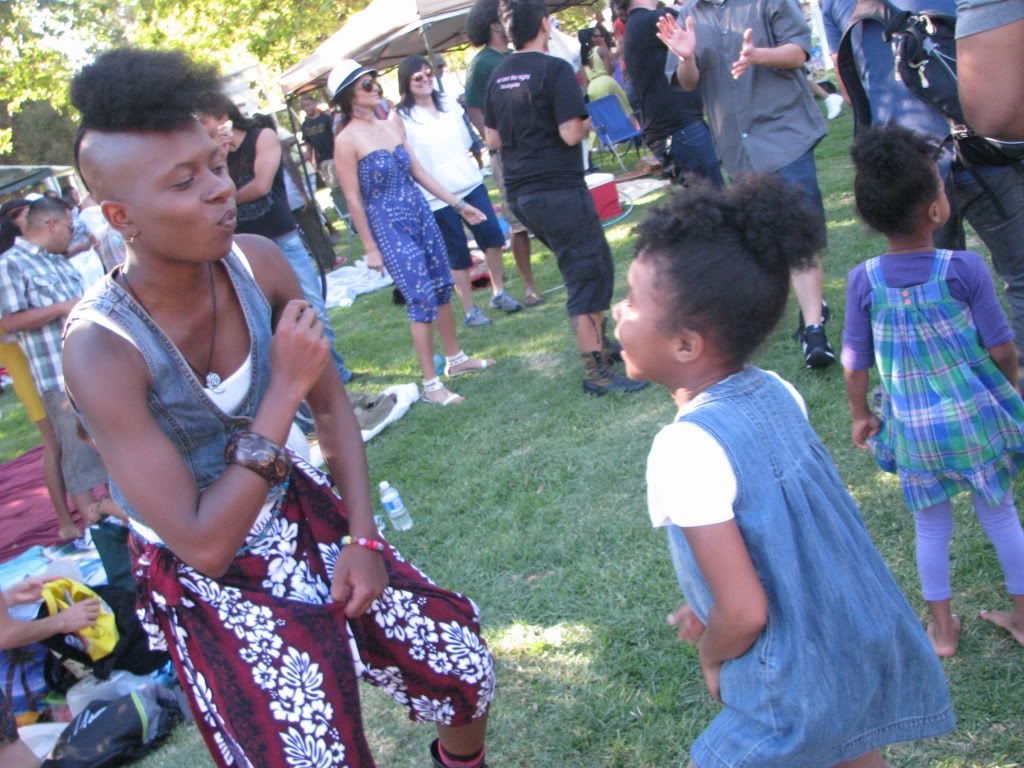 Janet MC getting her groove on.
Janet Related:
Who is Stooshe?
Soulnic 2012 at Griffith Park
Video # 2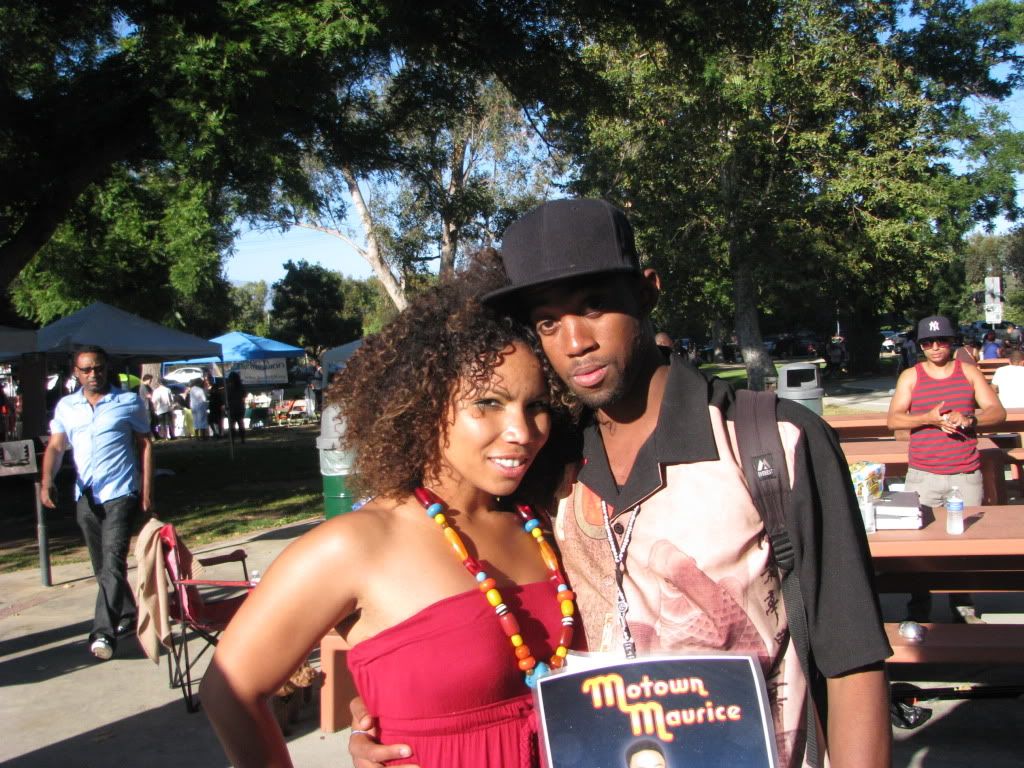 My-Ishia Cason-Brown & Motown Maurice
My-Ishia Cason Related:
New Media Vault & MT's B-day Celebration
Video # 3
Video # 4
Zsanaé Davis shining her beautiful smile.
Zsanaé Related:
Million Hoodie March in LA for Trayvon
Martin
My-Ishia can get down.
Video # 5
Video # 6
Video # 7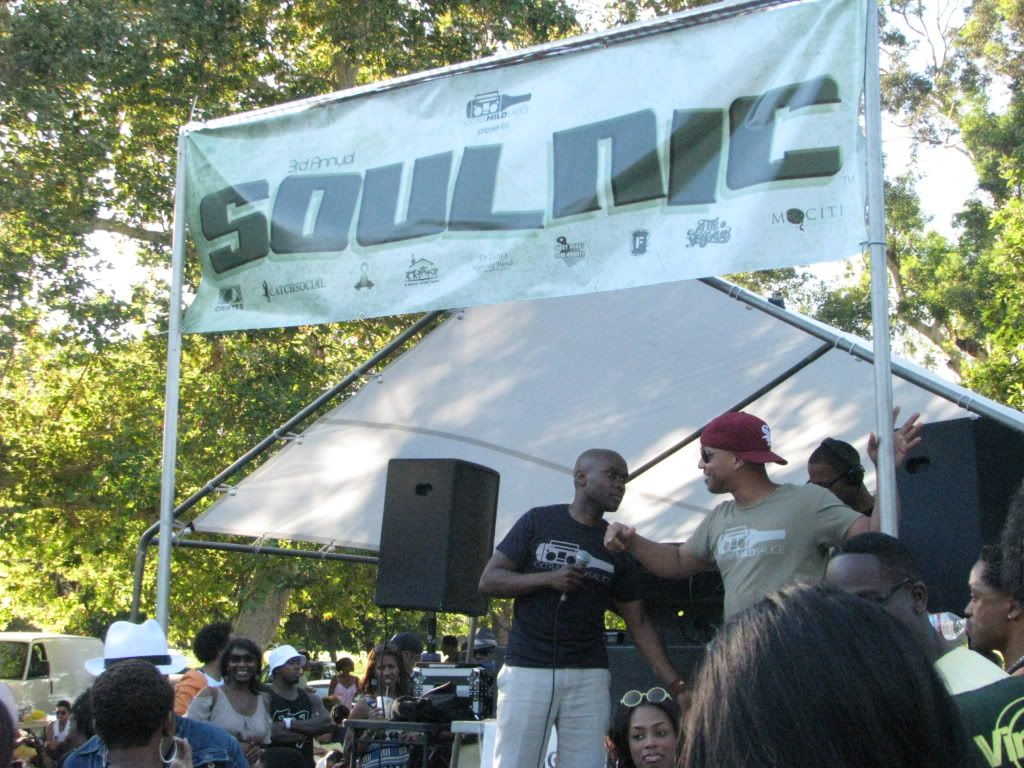 Chevez Frazier on the left.
Chevez Related:
Million Hoodie March in LA for Trayvon
Martin
Jerk to the Bone - The Best Jerk Chicken In Town
Video # 8
M.O.C.I.T.I Men
M.O.C.I.T.I Related:
Visionary or Dreamer?
Event the animals come out and dance.
Video # 9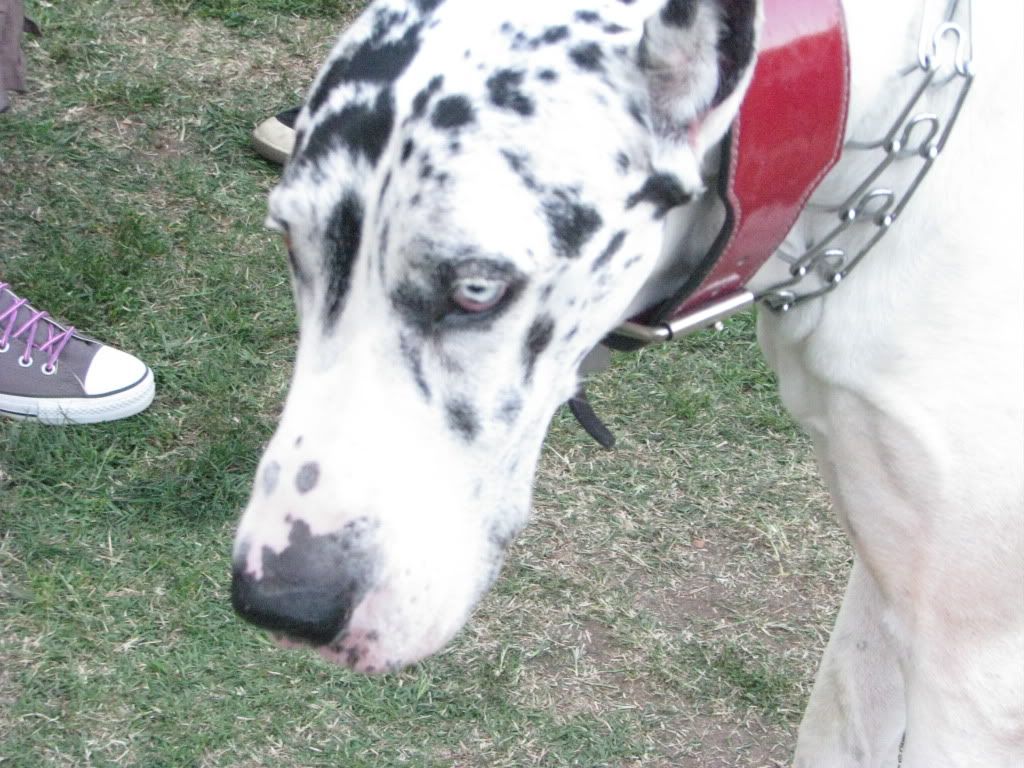 Marmaduke is in the park.
About 30mins or more before I made Video # 10, I noticed a very familiar face. That face was Deon Cole, who is a very prominent writer and actor on Conan. From a distance I crossed him a few times but never enough for him to notice me. If I was at an immature state of my quest, I would of walked up to him and told him, "I'm The Future of Late Night." Then comically taunt him and Conan. My imagination took me there a few times but I know better than to do that. Deon came to the event to have a good time and relax, not be taunted. Besides, there is an old saying, "Never come to the kings table. Wait for the king to come to you. I'm not saying Deon is a king, I might be saying I am the king and he should come to me. :-)
Write/comedian Deon Cole from Conan
Furthermore, I never made an initiative towards him. I only wondered if he noticed me. I was walking around with a huge poster of myself around my neck (see photo below). Or if one the people that entered his circle mentioned me. I noticed one person in his circle that very well knew of me. By the time I made video #10 he was far from my mind. As seen in the video, I was in the zone. My eyes were closed and I took off into space. Then sporadically, completely off of pure impulse, I opened my eyes and looked over to my right. Behold he was right there crossing my path. He was less then an arm's distance away. I gently nodded and he walked past. It didn't seem as though he nodded back but we definitely looked at each other eye to eye. When you see me open me eyes in the video below that's me looking right at him.
There is little doubt that he didn't notice my poster hanging across my neck. Yet, that's basically all I could ask for. I'm sure we'll cross paths again and he'll remember the name. They all remember the name.
Video # 10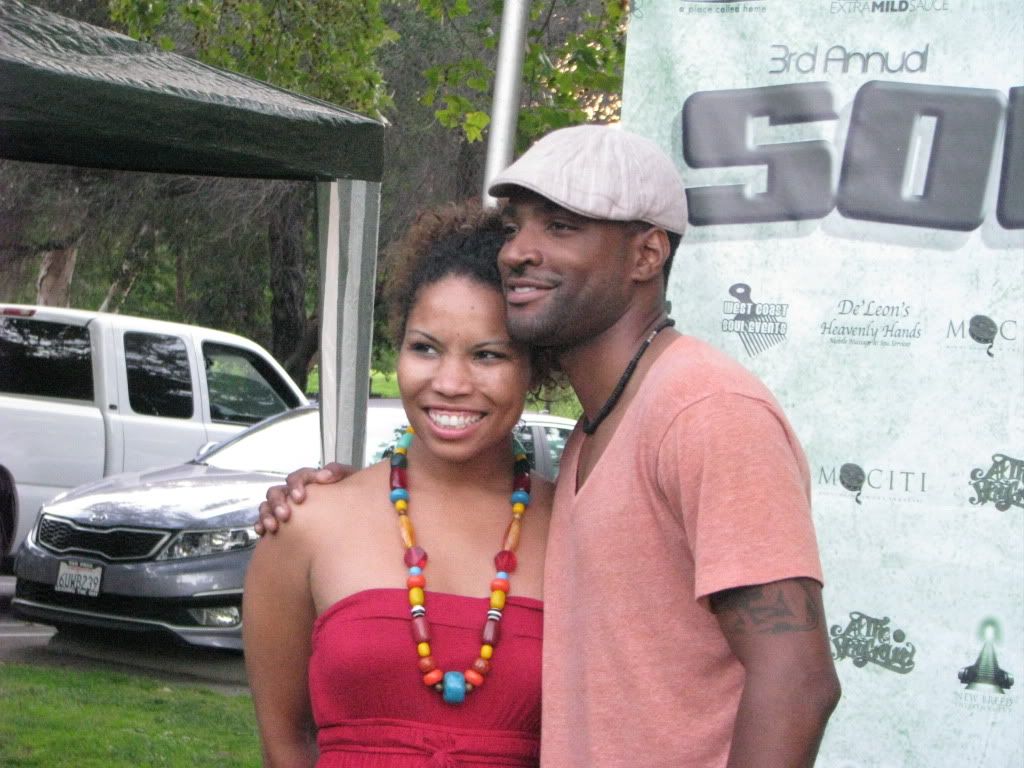 My-Ishia Cason-Brown and friend.
I was in my zone once again and this time when I opened my eyes a young lady named Mariko Passion was looking right at him. She smiled and signaled for me to come to her. I believe her first comment was,"You really don't care if any thinks your crazy do you." Indeed I was well aware that a lot of people probably thought I was crazy but as I said to her and a few others, "The prophecy must be told about the future of late night." Today, I was only a messenger. I wore a hat in attempt to disguised myself but I don't think that worked. Moreover, I can't force anyone to receive the message but they can't say they wasn't informed. The truth must be told.
Our conversation took the direction of life coach as I encouraged her to be bold in singing career as she indicated she once was in the past.
Motown Maurice & Mariko Passion
Mariko even wrote down some of my quotes and posted it on Facebook. Mariko asked,"So HOW do you create a following in LA if you don't have one?" Answers(Motown Maurice) By any means necessary I decided, remember?
Motown Maurice:
"Boldness has a sense of magic to it. It doesn't matter if people think you're crazy if YOU KNOW THE TRUTH."
Mariko:
And now one more person (me) has learned his name as a result of his bold action.
Photo taken by Mariko Passion.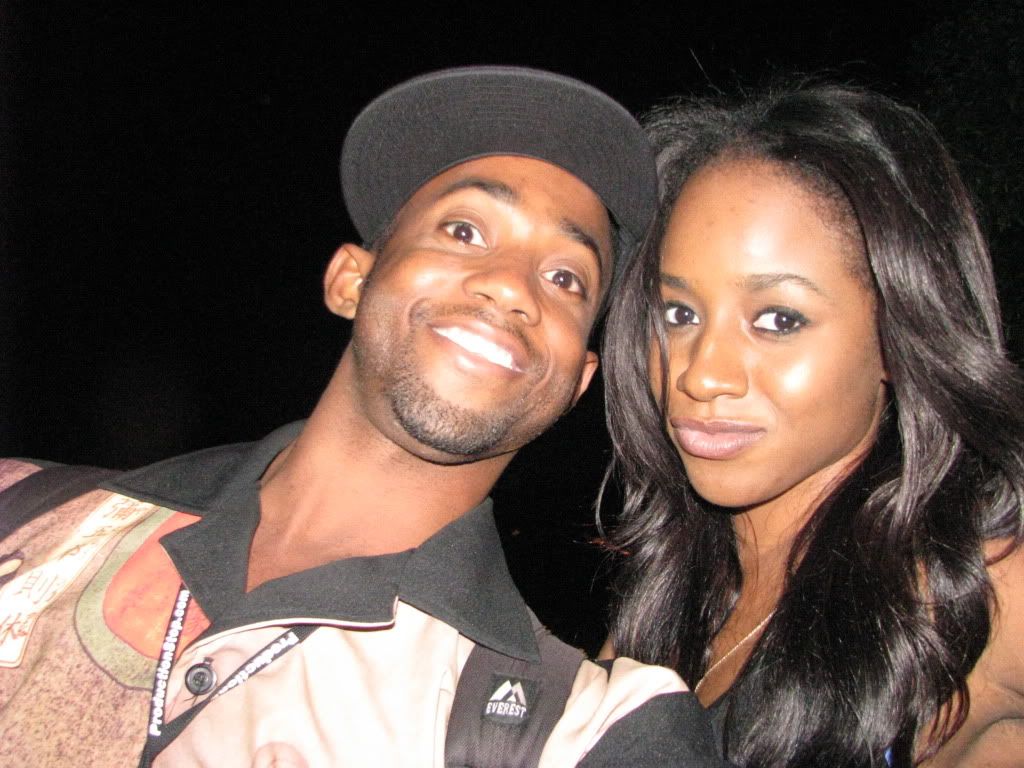 Motown Maurice & Helen Banks
Helen Related:
h.e.b Studios Launch
Video # 12 - Dance off Part 1
Video # 13 - - Dance off Part 2
Video # 14
Video # 15
Final Thoughts
The walk wasn't that bad. It was kind of fun. When I got the bus stop, I was so tried I started to dose off a bit. That caused the bus to almost past me right by. Thankfully, I was able to wave down its attention and the rest of the night was smooth sailing.
Next Post:
Preparation is Key
Previous Post:
Shoes in my bed
As the quest continues...
The Future of Late Night
Motown Maurice