Post Represents: Friday, January 6, 2012
Quest Status: On Vacation
Location: Tampa, FL
I considered leaving for Fort Lauderdale today but I'm glad I decided to leave on Saturday instead. This extra day became special because I spent most of it with my parents. My ma, papa and me. The're the primary reasons I work so hard. They are also the reasons I turned out to be a funny guy. They can be hilarious at times. Especially my father. The're not comedians but its the subtle things they do in addition to some of their interesting habits that makes them so funny. Somehow I absorbed them and they translated into comedy. When I micro analyze my parents, I strongly believe I intercepted all of their good qualities. Everything else somehow ignored me.
I'm laughing right now because they like to team up against me about my facial hair, my hat and how I dress. My father, "You have to shave and be clean cut in California." They never stop. Multiple times I had to explain to them that I'm on break. I spent the last year shaving and looking clean cut all the time. Can't I relax from shaving for the holiday's? Ma knows how clean cut I've been because she follows my blog and my videos yet she responds upon what she see's now. I'm forever trying to get my parents to understand what they gave birth to an artist. It will take a little more time before they realize I'm also a genius. Its going to take time but they will soon understand and loosen up from their conventional ways.
When I'm home, they always find useless ways of worrying. Some of them I understand. Parents will be parents. Other times the're just ridiculous. Moreover, we spent a portion of the afternoon at IHOP and it was really nice. I always learn something new about us and my childhood when we talk. We're going to write a marvelous book together one day.
Motown Maurice & his mom at IHop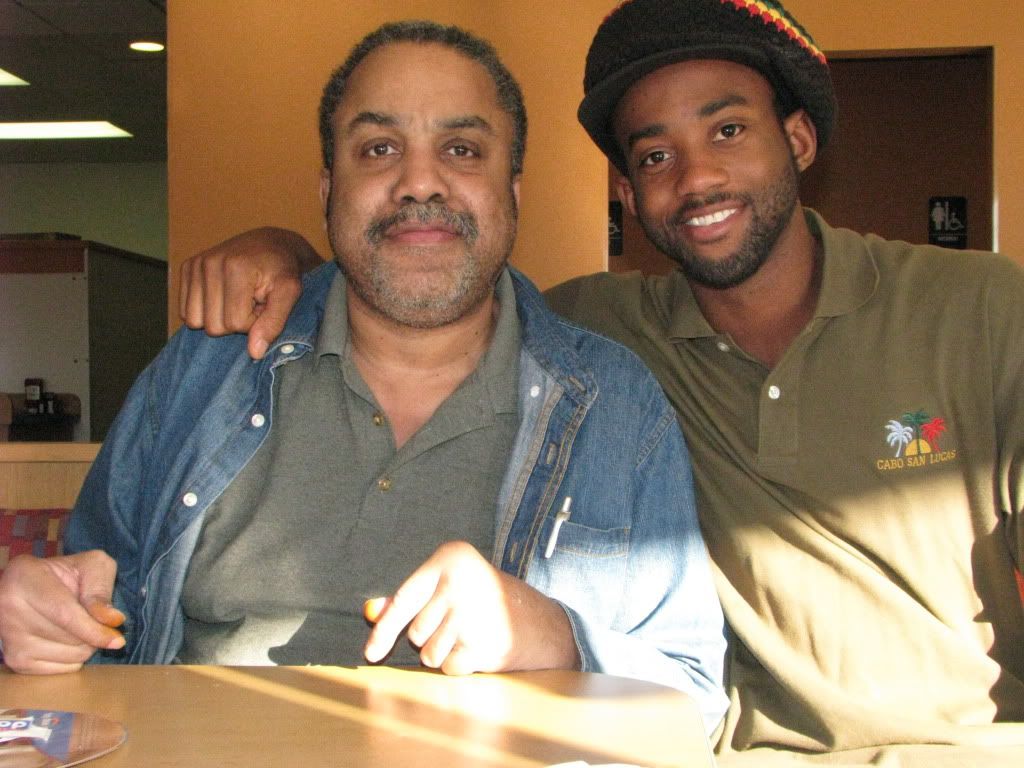 Motown Maurice & his Papa at IHOP
Ma's chicken sandwich and fries.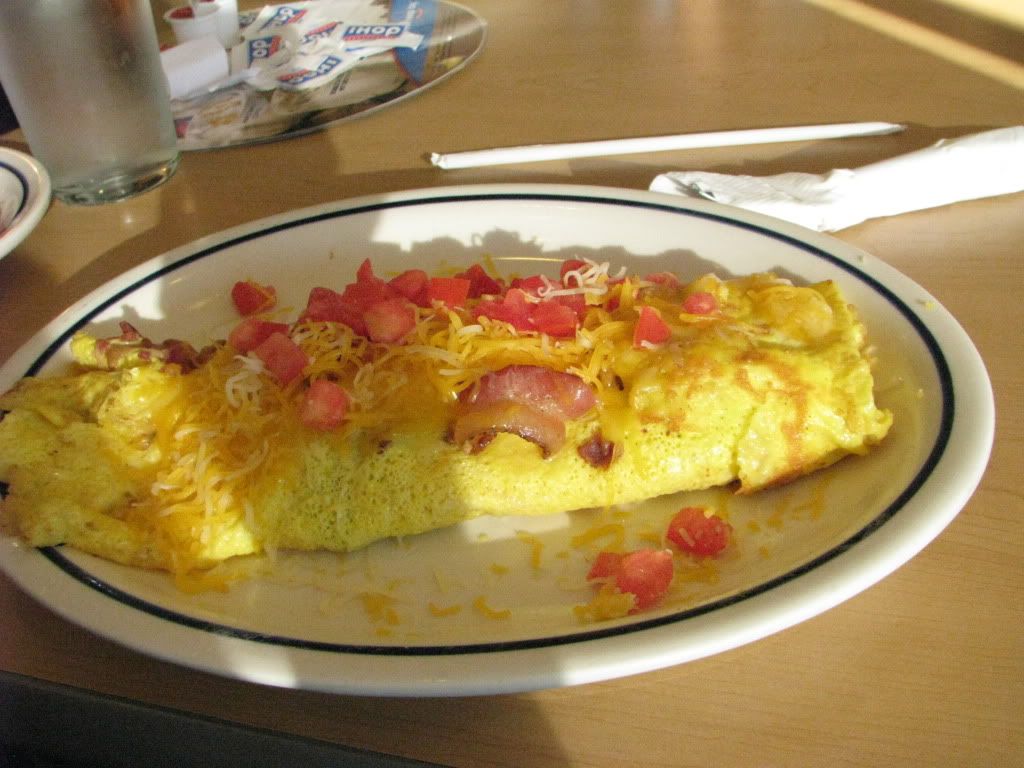 My specialty bacon omelet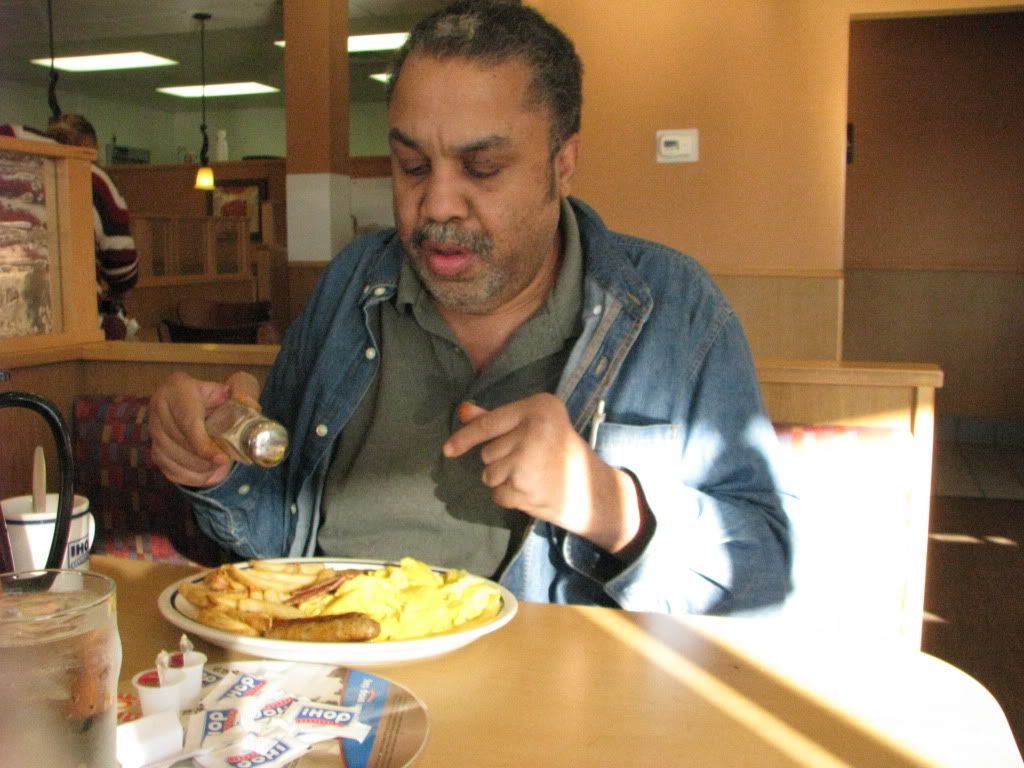 Papa and his little bit of everything breakfast special.
Ma aka Sister Prayer Warrior Joan, Motown Maurice & his Papa
Final Thoughts
My father and I barely talk on the phone. He's really not a phone person but when we're around each other we have great conversations. When we do talk on the phone he always fit in this exact statement, "Stay out of trouble. Keep away from The Bloods and Crips." This is funny to me because I've never ever caused my parents any problems. Better yet I've never caused myself any problems. When I was growing up as a kid I often felt like they wanted a child that caused problems based on their response towards me sometimes.
I know my parents intentions are good and they have always been good because they did a magnificent job raising me. Nonetheless, there is much change needed in my families life. Its a full task to prepare them but it will happen. At one point of the conversation at IHOP, I tried to advise my father about one of his bad habits and in response he said, "I raised you and your telling me..." Too funny.
Other than my fathers stubbornness, he's been loosening up his tight pockets lately. He sent me a few dollars not too long ago while I was in LA. He gave me Christmas money, plus he put a few more bucks in my pocket before I left. He even gave the IHOP waitress a $5 tip. Indeed his monetary gifts to me are genuine but he's also noticing through my ma all the traction I've making in LA. He's now trying to put in so he can get a little return. Too funny. When we talk about becoming successful, he says, "Don't forget about me. All I want is the pocket change."
My parent's don't ever have to give me a dime again and they will still be blessed when I'm blessed. What they don't realize is, when their blessings come in, it must also come with significant and needed change. When I'm around my parents, I listen and take note of many things. My mother and I have plenty of conversations towards provoking change. My father on the other hand, is extremely hard to talk to because of his stubbornness. In the mean time I'm waiting for the right timing.
My parents deserve the Good Life. They have been through a lot and I'm doing all that I can to make their lives better. I want to start by getting them a new house. Its time. Its either they win the lottery or I break big. As far as I'm concerned we can do both but I plan to break big first. First and soon.
Related Post:
Christmas 2010
As the quest continues...
The Future of Late Night
Motown Maurice