Final Revise On:
July 4, 2011
The Rolling Stone chapter begins now, yet I am not flustered by this temporary alignment. For an unknown period of time my stone will be rolling, which means some days I'll sleep here and other days I'll sleep there. Nonetheless, it is only a transitional phase into the next chapter of my quest. The key is patience. Not even an inkling of my energy is going towards worrying about where I'm going to sleep the next day because that's the least of my concerns. Things always work out one way or another. It always does.

Two of my friends that don't know each named named Dionna and Kim have been so concerned about me since I joked about being homeless in the past. In their own genuine ways, they have offered to help and assist. Dionna among a few others in the past, have suggested that I find a job. They only make that type of suggestion because they don't know the full power of my choices yet. Or maybe I should say they don't know how stubborn I am yet. Than again even if they knew, you can't stop the caring power of a woman. Most of the advice given by them is good, but most advice rarely ever applies to me. The love of course is appreciated.
Despite the circumstances I feel at peace. What I'm going through right now is all about patience and timing.
Around this time last year, I was a finalist in Oprah's Your Own Show Contest but I wasn't accepted in the end. This week I was an alternate of a new show on Animal Planet and found out this past Wednesday that I wasn't accepted. As for the contest is concerned, I made it much further with Animal Planet. I met the executive producers and I went for a medical test. Those are two steps I didn't achieve with Oprah's Contest nor have I achieved that with any other show I've applied for before. After that Oprah disappointment passed over last year, I found an
agent
which now represents me and later
moved to LA
. This took place in the matter of 2 months.

Now! I know better then to gauge what happened last year for this year. I'm done trying to parallel the past with the present, however, I do know the sun rises after the storm passes. As I stated, my living circumstances may be uncertain right now but I am over 100% at peace.
Day 280 Sunday, June 26, 2011
Day 281 Monday, June 27, 2011
* The realization of the end was in full affect today. My roommate and I picked up a Uhaul and I began helping her move all the big pieces of furniture. After that, I felt bland and lifeless but all I needed was a nap and some food. I think I went to Sizzler and regrouped.
Day 282 Tuesday, June 28, 2011
* For a moment, I was a little frustrated about being an alternate for The Animal Planet show today. The main reason is because I was restricted from making certain plans until 7:00am Wednesday passed. Moreover, I started watching an Oprah repeat of the episode about John of God appeared. It later impelled me to meditate. I laid down on the furniture-less floor and tempted to focus on good thoughts and bringing positive energy/things and towards me. I think I might of gave God a little shout out.
Meditating is great but the only problem I have is I always fall asleep. That's exactly what I did here. After who knows how long, my meditation/sleep was interrupted by a phone call. To my shocking surprise it was a producer from the show
Excused
. This is exactly what he said. "I just got off the phone with the executive producers and they said we have to have this guy back." They want me to come on a second episode of the show. They made it clear that very few people ever appear on the show twice. Did I mention this will appear on CBS in the fall? This is big. This is my opportunity of redemption. Stay posted. Much greatness ahead.
* After that phone call I got an email about a new show called The Great Escape. It took me 15 seconds to come up with a mastermind idea. I sent the email and the immediate next day I got the phone call. Stay posted great things are on the way.
* I purchased a storage space today. Its the home of all my belongings during my Rolling Stone chapter.
Day 283 Wednesday, June 29, 2011
* The Great Escape phone call come in... (Stay posted)
Day 284 Thursday, June 30, 2011
* I asked the landlord if we could move out 3pm tomorrow in stead of today and he approved the extension.
* The follow up phone call for Excused came and confirmed a date.
* Attended Lifebook Class. See pictures
here
.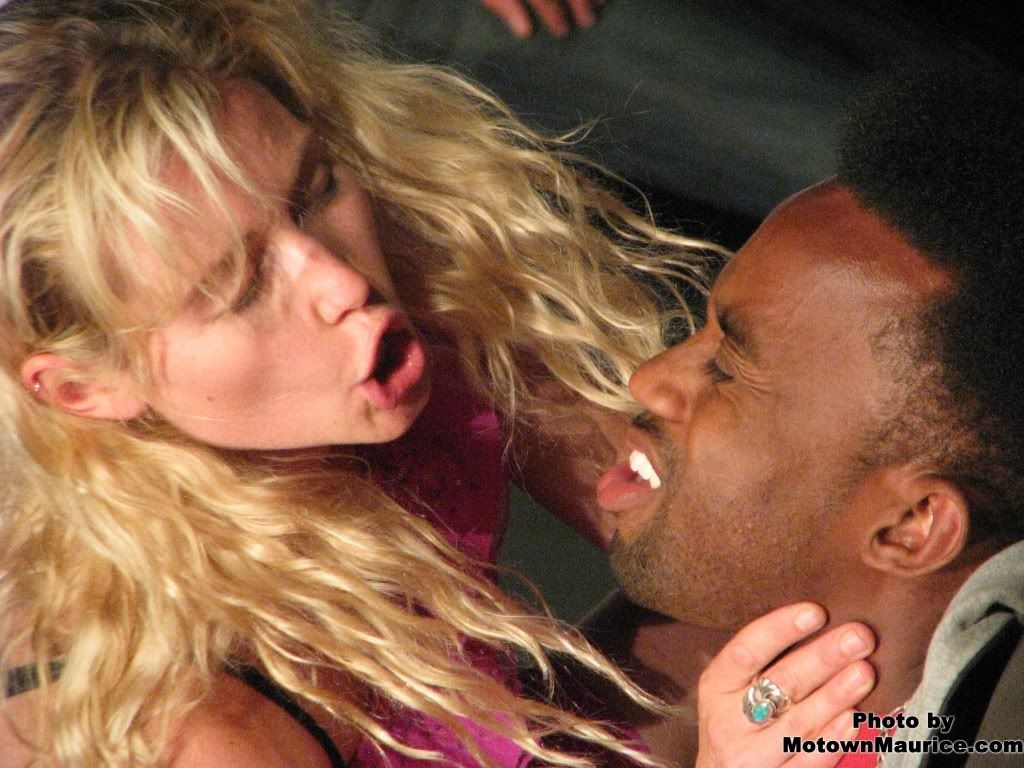 Motown Maurice is either about to get kissed or choked.
Day 285 Friday, July 1, 2011
* I was suppose to spend my time cleaning and packing but I spent most of my time in the empty apartment working on my blog. I had all intentions to finish the remaining
5 Video Blog Monologues
I promised myself to complete but a surprise email derailed my plans.
Almost two months ago, I noticed a reality show posting on Craig's List that would require me being in a mansion for a whole year. I debated but concluded that I was interested. A video submission was required to be considered. After some time passed I sent an email to make sure the contest was still in affect. I never a received a response so I didn't bother anymore. To my surprise they finally returned my email today and telling me to "send a video and follow the instructions." The deadline was for the next day so I wasted no time, to come up with an idea and send it in.
* I officially moved out of my apartment that I've been in since
September 19, 2011
.
* I received a notice for either a call back or to be on the avail list for the audition from
Day 275 Tuesday, June 21, 2011
* The inevitable has happened.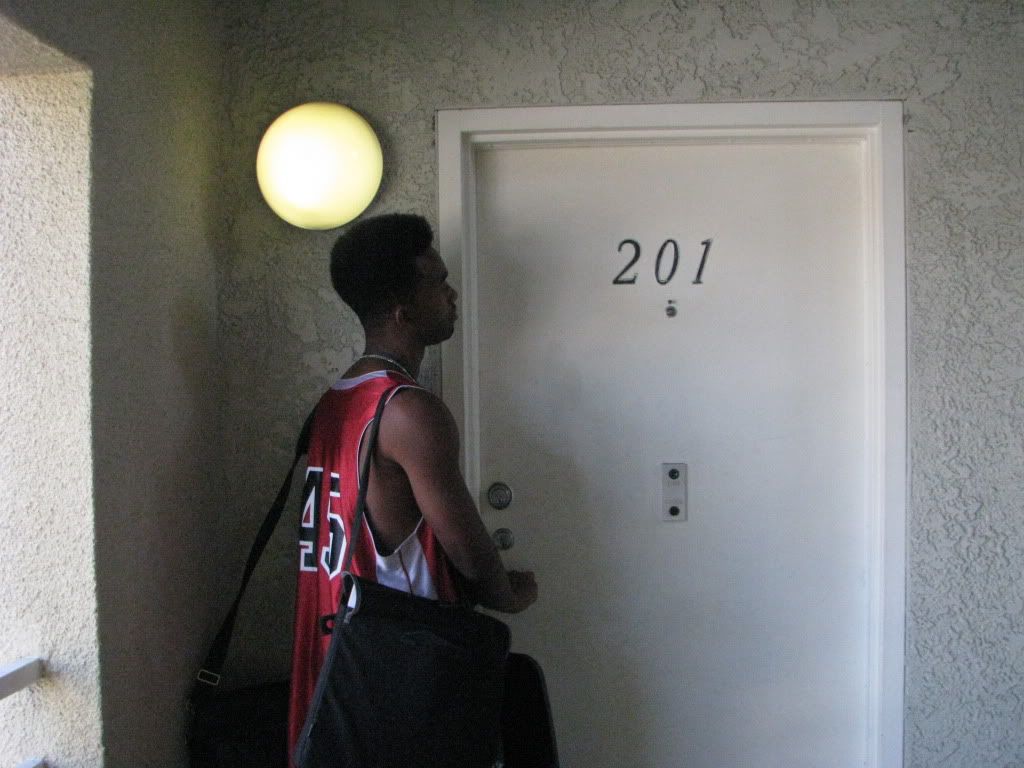 Motown Maurice closing the door for the last time.
* The first stop after living my old place was my new storage room.
Day 286 Saturday, July 2, 2011
* Went to Starbucks two blocks away and replied to an email response for a reality show looking for a bachelor. Sounds like the prefect role for me.
* I made my first clothes change in my storage room.
* Attended Nate's birthday dinner in Westwood,
Planning and Storage
My life is definitely not as convenient as they use to be but I'm makings things work. The biggest challenge is knowing how to plan a head. My storage is open from 8am-6pm Monday-Saturday and 8pm-3pm on Sunday's. Those are the only hours of access for all my clothes and belongings. Which means I have to truly plan days a head but other than that I'm excited about the new challenge.
As for all this homeless talk...
In my
2011 Mid-Term Evaluation
I gave the story about wanting to experience homelessness. Man!!! I've been under the weather/sick since Wednesday. On Friday, sneezed more than I have ever sneezed in my life. This was not the week to experience all that homelessness. Thank God for the The Gift That Keeps on Giving.
The Gift that Keeps On Giving
My roommate is The Gift hat Keeps on Giving. During the day on Friday, my sleeping status for the night was unknown. Later in the day, my roommate offered that I stay the night at her new place since her new roommate isn't moving in yet. In the morning she informed me that her new roommate isn't moving in until Tuesday and I can stay until Tuesday morning. What a blessing. What a gift she has been to me. Thank you so much.
Maybe It Was Meant To Be
Yeah not being apart of the Animal Planet opportunity was a disappointment but look look at all the things that I took place since. If I was apart of the Animal Planet pilot I would of been out of reach for 3 whole days. I don't know if you noticed but a lot has happened since Wednesday. Most of the opportunities pending is significantly better than Animal Planet's pilot show. I mean significantly better than the animal pilot.
Final Thoughts
Despite the circumstances I feel at peace. What I'm going through right now is all about patience and timing. I can confident write that my next two week reviews will bring forth some of the best news that has ever been inputted into this blog.
As the quest continues...
The Future of Late Night
Motown Maurice