I am a few days behind on this post but for all fantastic reasons. An unforeseen hand of Craftsmanship has recently created a new path for me. It all started with this submission:
Craftsman Screw'd Reality Show Audition Submission.
Once I submitted that video, I moved on and barely even thought about it afterward. As graciously as the sun rises everyday, my hindrance of from the shadows of "
they always go another direction in the end
," was rebuked. All in one week, I advanced from a top 20 finalist to a secure position in the top 5.
My intentions were to expound all the details that lead me to this position all in this post but I think it will be more exciting to tell the full story later with a theme of victory. For now I have to focus on defeating an old enemy of mine. Its been a whole year since we faced each other. That's right. You know who I'm talking about. I'm talking about that Evil Online Voting Process.
Twice, this time last year we faced each other. Both times the voting process exasperated me. First I had a intensive battle with
The Chamber of Commerce Free Enter Prize Contest
. Following that I had a short lived bout with
Oprah's Your Own Show Contest
. I won't necessary label them as failure because it ultimately lead me to The City of Angels.
Here I am, one year later, closer then I have ever been in terms of competing in a reality contest and "I Will Never Stay Never!!!"
Very Important! Please Read
!
What your about to read is a limited version of this weeks post. I intentionally took out all Craftsman Screw*d updates. Please See this weeks complete review here:
Token Black Guy (Craftsman Screw*d Evaluation)
Day 294 Sunday, July 10, 2011
* Blogging...


Day 295 Monday, July 11, 2011
* I finally visited the LA famous hot dog shop Pink's. I basically live across the street from them right now. I got a Jalapeno Hot Dog. It was very big but I still was hungry afterward.
Motown Maurice visits Pink's for the first time.
Day 296 Tuesday, July 12, 2011
* After leaving new barber I walked past last barber to get to my favorite pizza shop. To my surprize my last barber called me because he noticed me from across the street. I won't mention anything else but I thought it was partly funny.
Motown Maurice: "Its Pizza Time"
Day 297 Wednesday, July 13, 2011
* Cable man came to set up the TV today.
* I dropped off a cable box for my roommate and on the way home I walked into a barbershop out of curiosity called 215 Executives. I saw someone familiar but for some reason I thought it was someone familiar from Tampa. He told me his name was Jalen and shoot my hand. Not until I left and started walking a few feet did I realize he was Jalen Rose NBA analyst for ESPN.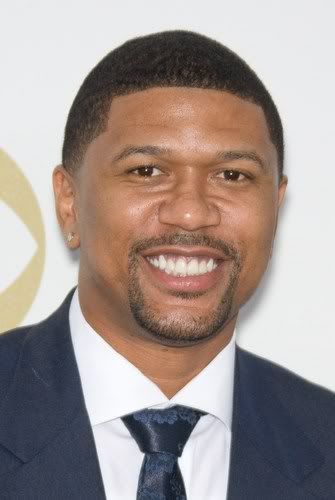 Motown Maurice meets Jalen Rose
* Changed clothes at my storage room.
* Received an update about the old school themed auditions from
Day 275 Tuesday, June 21, 2011. I forwarded the information to my agent for verification, she made a phone call and they called me shortly afterward. That's what you call power. Apparently its not a buyout anymore but I will get to feature at a decent price. It will be a one to two day shoot at the end of the month.
Day 298 Thursday, July 14, 2011
* Attended and took pictures at LIfebook acting class. See photos
here:
Day 299 Friday, July 15, 2011
Day 300 Saturday, July 16, 2011
*
I treated my roommate to In n Out Burger and I showed her some tablets I adore at Best Buy. Then we made it a Redbox with Beastly. Following that we watched Barbershop 2. Adam in my acting class gave it to me brand new on Thursday because someone left it in his car.
Final Thoughts
As I write, I'm in the 3rd day of week 44 (Wednesday, July 20, 2011). I'm very aware of what lies ahead. There are several challenges. It also appears my
Rolling Stone
will resume again soon. Most importantly, the supreme wave of triumph awaits. I'm looking forward to the good life. Evil Voting Process!!! Bring it on!!
I WILL NEVER SAY NEVER!!!!!!!!!!!!!!!!!!!!!!!!!!!!!!!!!!!!!!!!!!!
As the quest continues...
The Future of Late Night
Motown Maurice