Last week, (
Week 39)
was grand. I had a bunch of auditions and I had fun at the same time. I had at least 5 auditions last week and I'm proud to say I booked one. I booked an internet barbershop commercial with
Pro Keds
. Since I booked it, I've referred to it as something small probably because it doesn't pay much and it won't air on TV. In reality, I shouldn't size it. I booked and that should be celebrated. Overall, the booking was good. The pay was only $100.00 but I practically did nothing but sit in a chair for a few hours. No more then 4 hours.
This week didn't have momentum comparable to last week, but that's the roller coaster of Hollywood. This week I had 2 in person auditions and 2 video submissions. Wow! I didn't realize I had that many until now. I guess I never really count the video auditions.
The slowness of this week affected my energy at times but by now I know exactly how to solve that short random occurrence. I simply grab a smoothie or a bite to eat at a restaurant then I'm back on my grind.
I'm glad I have learned important methods towards maintaining my powers and strengths because
I'm "Through The Wire" from this point on. This week was my last complete week of my blessed 9 plus month living arrangements. Regardless, of the projects I have pending a head, my life is going to significantly change in the matter of days. Week 38 is titled, "
I'm Ready for Change
." and week 39 is titled, "
It's Time to Break The Cycle".
I'm about to get what I asked for.
Day 273 Sunday, June 19, 2011
* While still in bed around 12:30pm, I got a text to audition as a host of a movie review show on Youtube. The time frame was from 1:30pm-3:30pm the same day. I had very little time to get myself together but I did. I also had to quickly put together a movie review and I choose a movie I haven't even scene. While at Sizzler yesterday I read a review on my phone about Mr. Popper's Penguins and it paid off. I think I did great considering I wrote most of it on the train ride there. I didn't get a call back but I'm okay with that.
* Even thought I was just at Sizzler yesterday, I had a craving for that open salad bar again. I celebrated a good audition by treating myself to Sizzler again and I liked it.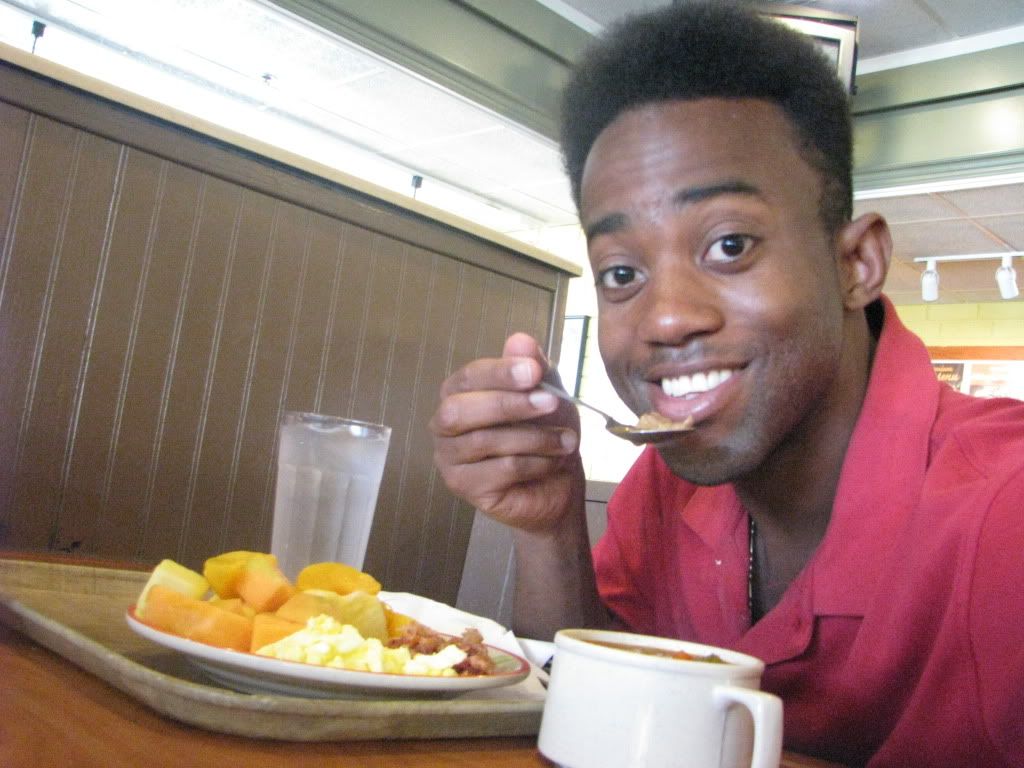 Motown Maurice enjoys Sizzler again.





* I partly watched the movie Yogi Bear from Redbox.
Day 274 Monday, June 20, 2011
* Took Pictures at the Monday's Lifebook Acting. See pictures
here
.
* Did some brief scene work with one of my classmates Sylvester.
* My energy was low so I tried I different brand of smoothie at Jamba Juice. I think I like Robeks better. I also used my
Dodger Baseball
ticket from last week to purchase a large box of Pizza Hut and got the other one free. They took a while with my order so I threw in some bread and soda. I had 2 large pizza to eat for the rest of the week.
* I took a chance and played some lottery. I won 3 dollars at first and lost afterward.
* Received a notice for a project related to 80's looks (tomorrow).
Day 275 Tuesday, June 21, 2011
* Welcome to the First Day of Summer:
* In my audition today they were looking for 80's type guys with a boom box and cool hair that could be a dancer. I'm not dancer but I tried it anyway. The actual dancing wasn't too bad. It didn't require as much movement as I thought. Nevertheless, as I was leaving there was a young man waiting to audition who had a high top fade. Honestly, his hair looked taller and was shaped a bit better then mind. While I was in the audition this lady complimented my hair then here comes this guy right behind me. I haven't heard back from the project but it shoots later in the summer. Who knows!
Motown Maurice looking old school for the audition.
* Read Post:
Baggage Clip Exclusive
Day 276 Wednesday, June 22, 2011
* Hustle & Shuffle interview with:
Joey-O
One of the things that inspired me to interview him was the honorable shot out he gave me in his Youtube documentary. Its called:
The History of Joey-O (in the making
) Looking for me at the 10:03min mark.
* A audition notice for a handyman reality show was sent to me an usual 3 times and I figured I would put something together real quick. It got rejected a few days later because it was 1 second over the limit. I ended up upload again the following week.
Read Post
:
Craftsman Screw'd Reality Show Audition Submission
* I got a hair cut & went to Wal-Mart/Sallys beauty supply. The electric shaver I got from Wal-Mart previously wasn't doing the job. I had to pick up a very expensive pair from Sally's. While at Wal-Mart a guy named Daniel remembered me from the TSAG potluck on
Day 230 Saturday, May 7, 2011
.
Later at the bus stop he noticed me and I got a free ride. That's one of those situations where its good to have a memorable look.
Day 277 Thursday, June 23, 2011
* I received communication from the Japanese Style Game Show I've been pending for. They needed my helmet size. Still no final word yet. Last time I heard from them was on June 16th. They asked for clothes sizes. They last time I recorded correspondence on my blog was on
June 10th
. Today's email gave me the impression that everyone is an alternate until the day of but I could be very wrong.
* Attended Lifebook Acting Class. See more pictures
here
.
Motown Maurice acts drunk in an improv scene.
* Left for a weekend trip to Los Vegas with a few friends from class. On the way there we made a stop at In-N-Out Burger. It was my first one and my first burger in a very long time. I enjoyed it.
Kelly and Motown Maurice at In-N-Out Burger
Motown Maurice is

in love with this burger
Day 278 Friday, June 24, 2011
* Read Post:
What Happens In Vegas...
Day 279 Saturday, June 25, 2011

Final Thoughts

Although this week was slow at times it was productive. I could do without any slow moments but I know its only temporary. For a period of time I looking forward to the Los Vegas trip and having extensive fun. I had fun a some moments but I'm just really not a party person. At least I'm not a party person yet. The Vegas trip also helped me realized how socially disconnected I am with women right now. Besides how boring I am, The MT experience was great. I don't want to blow the review of my Vegas Trip. That post is delayed but I will make sure its up soon.

With all the challenges ahead I would like to close by quoting the words of Kanye West from his song "Through The Wire".

But I'm a champion, so I turned tragedy to triumph


Make music that's fire, spit my soul through the wire.
As the quest continues...
The Future of Late Night

Motown Maurice