I want to start off this post by professing my break through. After over 9 months of battling with bumps on my face, I have finally solved my ingrown hair problem. Mixed with excessive use of real African Shea Butter and the recent purchase of the product called Tend Skin. I am now proud to say the war is over. The shaving area of my face is looking better than it has ever looked before. This is a great week for my face. Hip Hip Hooray!!!
In as much as I am happy about my face and its victory. Which I truly am. My face is my money maker. It really looked horrible at times and I spent a lot of money on different products trying to cure the condition. Moreover, I just would of preferred to be professing a breakout in my quest right now. Instead, I was introduced to the chapter of Hardships this week.
Thank God the hardship of where to sleep only lasted one day. Since Wednesday the most annoying remaining hardship has been trying to balance off the challenge of timing out arrangements back and forth to my storage room to change clothes.
Day 287 Sunday, July 3, 2011
* I took my usual trip to the movies and watched The Green Lantern & Transformers.
* On the way home, I received a phone call from the casting director of the bachelor's reality show application and I filled out last Saturday. We never meet but he's the link behind how I get connect with
Baggage
. The conversation was very insightful and it rejuvenated my energy even more. By the time I got off the phone I had a plan of action and an appointment set to interview for the reality show King of The Island.
Day 288 Monday, July 4, 2011
* I spent most of my 4th of July at Star Bucks using the internet to finishing up last week's 42 review. Last Saturday, I made a phone call to one of my Lifebook class members who offered to help me when the time came near. She returned my call today with what sounded like a promising offer. I was shocked with a sense of happiness and blessing.
Day 289 Tuesday, July 5, 2011
* I woke up this morning leaving my roommates home in which I thought was for the last time.
* Storage room visit to change clothes.
* I had an audition for a new game show called The Great Escape. The call came in on Wednesday, June 28, 2011. The call was triggered by a email submission I titled Team Rush Hour. Basically, my friend MT is Asian and I made up a story stating that people call us Team Rush Hour because we remind them of Chris Tucker and Jackie Chan.
I was told that I could come to the audition/interview with 2 extra people. I arrived with MT, Chuck and Dionna. Over all, our presentation had high energy and we made everyone laugh. In the end they didn't pick any of us. It was disappointing yet understandable. Applying for reality shows over time has made me a great story teller and I'm getting better at it. Nonetheless, there is a sense of realness that can't be faked in front of the casting directors.
Of course I'm use to results like this but there was one person who came with me, whose name I won't mention. That person was completely negative about the outcome. Stating things like, "I knew this was going to be a waste of time. This reality show stuff is a waste. I need to focus on my craft and not on reality." I don't do well with negativity anymore and at the time I thought it was very ungrateful for the person to say such things.
Shortly afterward, I made a partially conscience decision not to communicate with that person anymore. The next day that person called and left a sincere apology message. I haven't called back yet but I will. The message was noble at the same time I'm still trying to rid myself from that negativity.
* 2nd storage room visit to change clothes.
* Audition notice from agent for Go Daddy commercial tomorrow.
* I went to the Pico library in Korea town to use the internet. I didn't feel like bringing my laptop around with me everywhere I went. I had to fill out an online application for King of The Island. The public computers only allowed 15mins each setting. I got to the very end of the application with 1min to go but it wouldn't submit and I ran out of time. I lost everything. After a moment of grief I was smart enough to ask about the process of getting a library card. I was doubtful because I didn't have a California's license but they gave me one with lesser privileges. I'm now able to use the computer at any library in LA for extended periods of time. I think I'm even able to check out one book at time. I'm very happy about that.
I filled out the application for King of the Island right before they closed. After that I needed to eat a full meal. I journeyed throughout the whole day without any place to rest so I had to get some food in my system to keep my immune system strong. As a result, I made a stop at Denny's.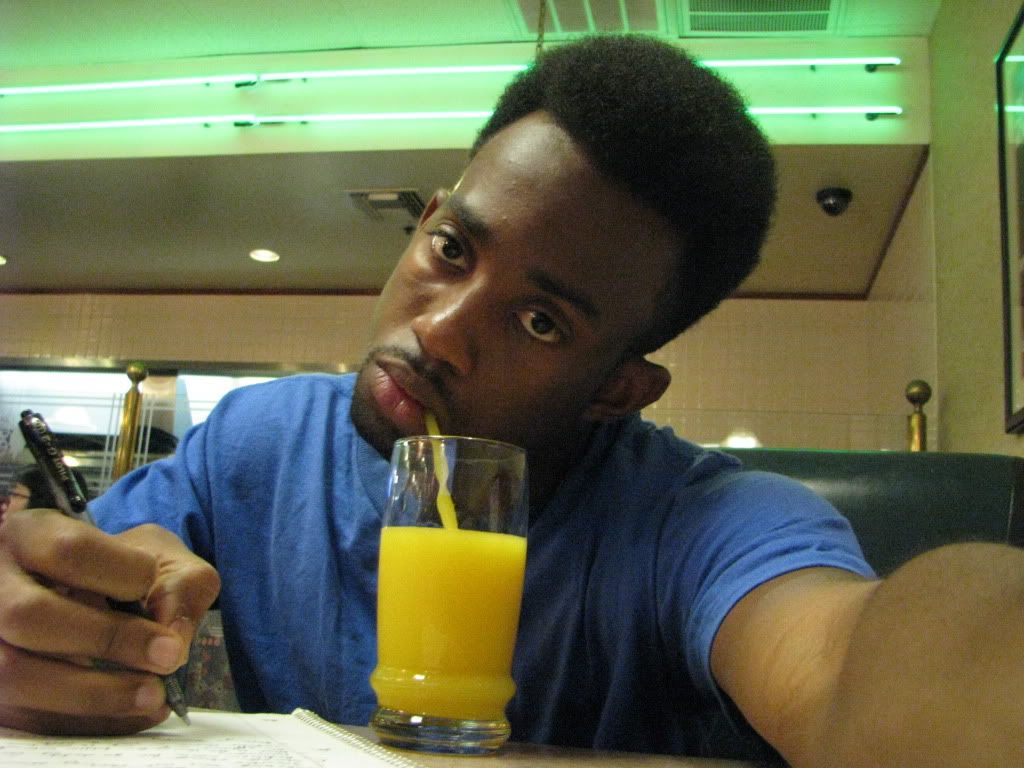 Motown Maurice purchases Orange Juice for the needed Vitamin C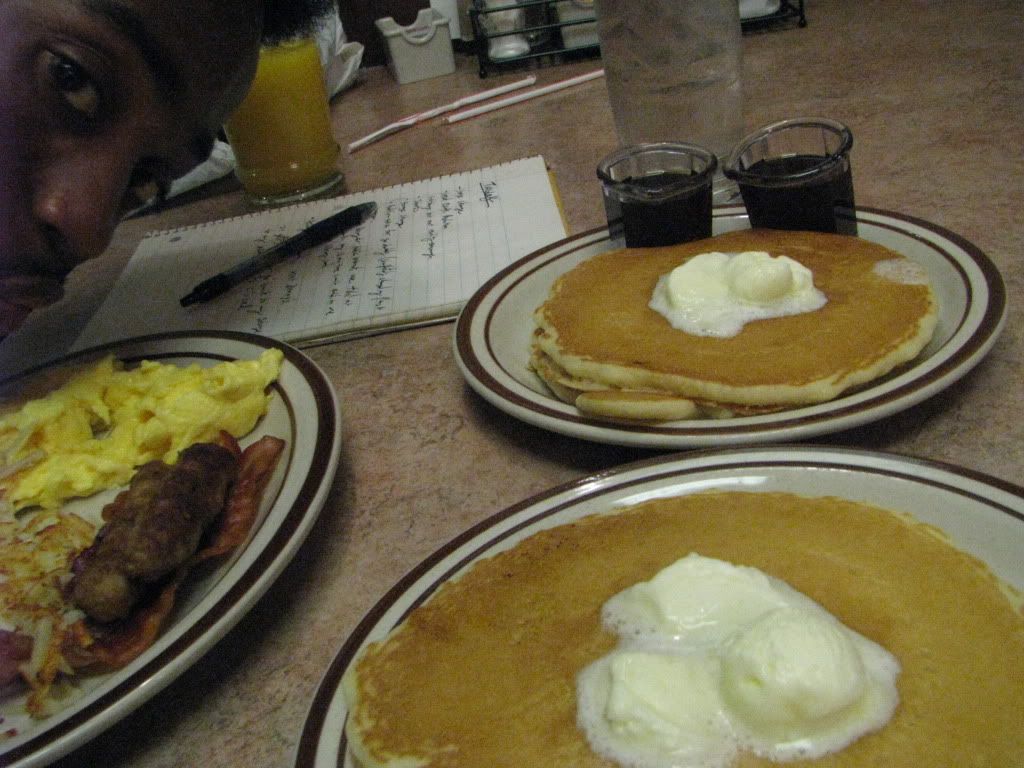 Motown Maurice eat a grand slam plus to sets of pancakes.
* After Denny's it was already late in the evening and I could only wish for access to my jacket. It was cool outside. Unfortunately, a simple wish like that isn't an option for me at this time because my storage room closes at 6pm.
* I took pictures of the Tuesday night Lifebook class. See photos here.
* My true hardship began tonight with my uncomfortable sleeping condition.
Read Post:
This Is Not Comfortable!
* Right before I called it a night in my undisclosed sleeping location around 11:03pm, I received a call from one my agents staff Scotti. It's the 2nd time he called me late and he says he doesn't call anyone like that but he's obviously excited about making things happen for my career. He says he rarely come across someone like me that has as much passion as I do. I haven't even met the guy yet but he's full blast 100% on board to help me out. I can't help but feel good when ever I receive a phone call like this from anyone in my agents office. The phone call was powerful and very momentous.
Day 290 Wednesday, July 6, 2011
* Woke up from my undisclosed sleeping location with no where to shower.
* Storage visit to change clothes.
* Auditioned for the Go Daddy commercial. It was very simple. No real talking involved. They will most likely pick based on looks.
* King of the Island interview. If I get cast for this show I'll be on a island for 30 days with 10 beautiful women. Its suppose to be a edgy spin off of the bachelor. With that being said, you can only imagine all the interesting and personal questions they asked me.
* 2nd Storage room clothes change.
* Received a audition notice from my agent for a car commercial with Samsung tomorrow.
* Called my Lifebook classmate as planned in regards to arrangements she suggested that could help me but but no return call.
My Interim Guardian Angel strikes again
As I was waiting for the return phone call I went to Starbucks to kill time and use the internet. I was so tired from the whole day I fell asleep at Starbucks for God knows how long. Then the phone rang. It wasn't the person I was expecting but it was my Interim Guardian Angel. My recent former roommate. It's only been one day now since we've been roommates technically but it was her. First she called and left a message and I called her back.
She called to check up on me. She convinced me to tell her where I slept last night. Immediately afterward, she told me that her new roommate won't be moving in until the end of the month. Then she offered I stay with her at her new place a little bit longer.
Since my call was never returned my only option was to sleep in that same place from last right. I am so grateful for this offer from my roommate. She really is my Interim Guardian Angel.
Day 291 Thursday, July 7, 2011
* Storage room visit to change clothes
* Audition for Samsung. Its a commercial based on changing looks and appearances of people through the times. Its only suppose to air in Korea. At first this felt like a definite book but there is no telling. I'm not even sure if their time line is going to make it past the 1970's or not.
* Made a visit to my potentially new barbershop and picked up some Tend Skin.
Day 292 Friday, July 8, 2011
* Very sluggish and low energy most of the day. Before I left the house I medicated and yelled to the universe for power and results.
* I went to In & Out Burger to boost my energy with some food but it didn't work.
* Went to the Library off of Sunset Blvd to use the internet.
* Arrived home to slept off my low energy and depression.
Day 293 Saturday, July 9, 2011
* Went to the Lifebook Play House to assist as the stage manager.
* When I got home I got notification from my Gmail account about the
Craftsman contest
. This contest was the last thing on my mind. I wasn't even paying attention to the details. I'm currently in the top 20 and they needed me to fill out more information and get one sheet notarized by tomorrow. I wasn't sure if I was going to get it notarized in time but my research found a UPS store and I made it a happen for $10 on Sunday morning.
* Made it a Blockbuster Express night – Inception & Just Wright.
Final Thoughts
I am thankful that my
stone
is not rolling as much as I thought it was going to initially, My
Interim Guardian Angel
saved my life once again. I had a one day experience of the rolling stone life that I was anticipating and its rough. Its hard enough going to my storage room once or twice a day but always having to be thinking about where to sleep is exhausting.
Its one thing to be homeless and be mostly in one place. Its another thing if your homeless, have to prepare for auditions without a proper place to rest and wash up. Not to mention how much harder and costly it is to eat well always on the move. This week was rough. I don't want to live like this. I know I've paid my dues but where is my break through. My face got its break through but what about my whole body, mind and soul.
Last week I wrote in good faith that something great was going to happen with in the next two post. Yes, my great Interim Guardian Angel saved me again but that's not what I had in mind. I'm in the top 20 for Craftsman contest but I've been in the top 20/finals several times before. I need a fabulous breakthrough.
From time to time, someone suggests to me the option of getting a job. When I think about doing that I think about death. Not only am I not hire-able I wouldn't even waste the time of the employer. As a business owner myself I respect the business very much.
Upon arriving in LA I stated that I have no plan B. As a matter of fact is in my blog synopsis.
"After much success and disappointment from hosting live talk shows in his hometown Tampa, FL, this seeker relocated to L.A. on September 19, 2010 to begin an epic journey that does not consist of a plan B...."
Those words are real to life. I haven't been seeking any plan B and I don't plan to. All I can do is take it one week at a time but I have to be honest to myself. I'm getting tired. I'm not giving up but I am getting tired. I don't want to live like this anymore. I need a better life and I want it now.
As the quest continues...
The Future of Late Night
Motown Maurice