Post Represents: July 12, 2011
I met a barber named Orlando at the
Pro Keds Barbershop Internet Commercial.
He showed me a picture of a High Top Fade he use to have back in the days. Plus he recommended the product
Tend Skin
that cleared up my face from ingrown hairs. As a result, he gave me enough confidence to have him cut my hair. I gave him a try today.
The last barber I tried was better then the previous ones, but I'm still on a search for that barber that compares to my
barber in Tampa
.
Motown Maurice before his hair cut.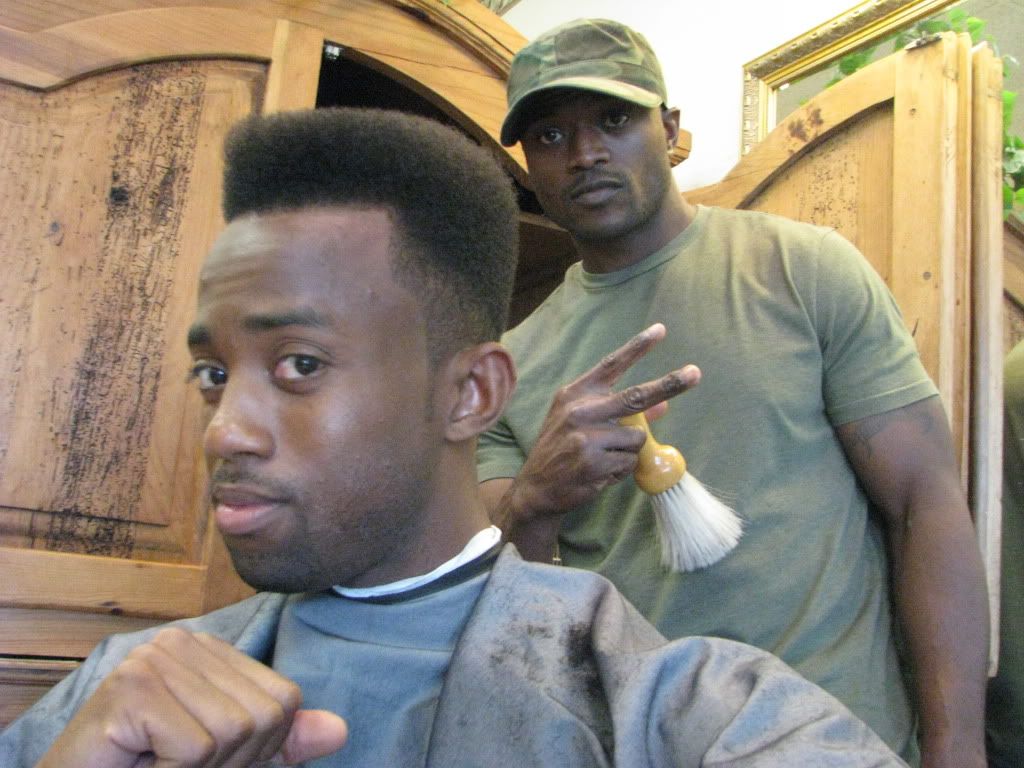 Motown Maurice & Orlando after the cut up.
I left fairly content with the way my hair was looking. Its more boxy then usual which provides a different feel for me. Its not yet at the size I desire, but its been a long year trying to get it right again since my
High Top Meltdown
.
I left feeling a new breath of life in my High Top and that was most important to me. On the way home a girl yelled out of her car, "I like your hair." As I was crossing the street she keep saying I should get some parts, lines and stuff in it until her street light turned green. That was encouraging and I see the possibilities of becoming 100% satisfied soon.
Moreover, my hair cut has little to do with the moral of this post. It has something to do with what my barber Orlando said to me. The few times we spoke he's encouraged me to pick back up on my photography skills or to get a job so I can bring some money in. All of his advice makes sense but today I explained to him that I don't give money that much power. I also pointed that I'm all about the risk with no plan B available. In a few words I told him I was crazy.
Respectfully, we ask each other whats going on career wise and I told him about the
Craftsman Screwd audition
in which I am currently a finalist for. Overall, my report of recent develop was good and I told him I know something is going to pop soon. I was positive, but towards the end of the conversation I selected a few poor choice words that was immediately correct by him.
At one point of the conversation I told him I've been a finalist several times in other contests but they always go another direction in the end. That's when Orlando cut me off and correct me. He's said, "They always went a different direction in the past." I immediately agreed with him.The main reason I agreed with him so fast is because I know better than to say things like that. The direction that those shows have taken is my past and it doesn't represent my future. His correction triggered a chemical reaction that quickly began to spread through my body.
Later that night I started to research the
Craftsman Screw*D contest
with passion. Part of me felt like I shouldn't put that much energy into it yet but the other part of me overcame that feeling. When I'm excited about something I fully engage. Truthfully, I wasn't even thinking about this contest until I received an unexpected email over the weekend, followed up with a phone call on Monday that started to redirected all my energy.
Then today happened. Orlando corrected my poisonous choice of words that I have been using on my quest. Several times this year I've said, "I know how to get to the finals but they always go another direction in the end." I can't keep saying that because if I continue to do so, those words will take a life of its own. Yes, they have taken a different direction in the past but not anymore.
Later that night, as I indulged myself in research about the show I thought about everything that happened today and repeat events in my past. Then I made a bold decision to win this contest. Yesterday, I was informed through email that I am in the top 10. Now they are in the process of picking the top 5. Once the top 5 is selected the voting doors are open to the public. Votes by the public will then determine the winner.
Now...I'm not very fond of contests that includes voting but if I am selected as the top 5 I'm taking home the gold. Mark my word! I will win this contest. There is so much more to reveal about the excitement that is building inside of me. Indeed, I will share in time. As for now, I'm just patiently waiting for the word of advancement. Once its received, I will achieve.
As the quest continues...
The Future of Late Night
Motown Maurice