In the blink of an eye is exactly how quickly someones life can be altered, delayed, extended, adjusted and aligned perfectly back in the appropriate path. While simultaneously reaching the pinnacle of advancement in a reality contest (
Craftsman Screw*d
) I am faced with my toughest adversities. This can only mean one thing. I am getting closer and closer to achieving my ultimate goal.
I know this because history continuously repeats itself and taunts all great men with similar trials and tribulations. I've read about it. I've witnessed it. I've been there, done that and I'm back in the fire again. Sometimes I wonderful if I go through these challenges again and again because I know so much. Hence, more and more I'm learning the language of the universe. The parallels of difficulty that every great man has ever experienced are no different than mine. Which an only mean my hard work and devotion will manifest into a remarkable testament used to make the soul of the earth happy and motivate millions upon millions of people.
If you are trying to identify the tone in which I am writing, its from my reading of the The Alchemist. A story of a great seeker that I could of easily of been in another life time. I am certain my spirit accomplished great things in another lifetime. As for my current life, I have a story to write. I'm writing and experiencing my story at the same time. Its an in and out of body experience at times.The experiences you are about to read about below are enough to make one human quit. As for me, its just another obstacle I'm proudly looking forward to leaping over.
Important Notice:
Week 44 continues here:
Token Black Guy (Craftsman Screw*d Evaluation)
For the 2nd week in a row, I'm leaving out all the details of Craftsman Screw*d contest. Currently, I'm in the top 5 and in the blink of an eye the results from this contest will instantly change the course of my life. For that reason, once my victory in my contest has been announced I will pour all the details
in one single post (generally).
Day 301 Sunday, July 17, 2011
* Today confirmed a second table read since (
From the Table to the Stage
). A few moments before arriving my agent (Cynthia) called to inform me about a hosting audition for tomorrow. Well aware of my Craftsman obligations the timing worked out perfectly. After she poured the details about the hosting audition, I began to share all the details about Craftsman that she didn't know yet. She remembered reading about the contest and as usual she expressed sincere joy and excitement towards me.
When the conversation concluded, all I could do was think whether it was possible to be a host of a new network and be apart of the Craftsman contest. I was informed that The Network Project was playing $4,000 per week which doesn't sound bad. For a moment I doubted the possibilities of getting both until I had a reality check from my table read partner Raewyn. I new better but some times even the greatest of men misuse his selection and the power of words.
* I took this photo below because I was feeling good and building confidence of my new no facial hair style. There was a point in time when I couldn't live without my goatee. Now I can't stand my facial hair. Not only am I not having ingrown hair problems from shaving anymore, everyone thinks I'm in my early 20's. Since I moved to LA I've going through a few growing and reestablishing pains. I've basically been through a handful of transformations. In another words... 30 really is the new 20.
Motown Maurice without facial hair and he is loving it. That's a first.
Read Post
:
The Electric Carnival with guest host Motown Maurice
Day 302 Monday, July 18, 2011
* After my Craftsman my contest final process I ventured towards the Project Network hosting audition. Although the pay is $4,000 per week the duration is only 3 weeks. There is a possibility I could do both but I'm sure everything will happen for the best. I performed my best and I left the experience behind me.
Day 303 Tuesday, July 19, 2011
* (Craftsman Screw*d development. Look for links above and/or below)
Day 304 Wednesday, July 20, 2011
* Craftsman Screw*d voting begins.
Read Post
:
Motown Maurice is Screw*d - Please Help!
Day 305 Thursday, July 21, 2011
* Skipped acting class and decided to attend LA's Largest Networking Mixer XIII (www.LAMixer.com). My approach was very passive and I just walked around and around. The suddenly one after the other people started to approach me with divine interest. Its as thought people can sense my greatness. The principle of favor is active and radiant. These was once Jewish man in particular who asked me several questions about my quest and how I'm going to accomplish it. He even suggested I go to Oprah's office and stand out and wait for her. In the he said, "You definitely have the personality and I look forward to seeing you on television one day."
LA's Largest Networking Mixer XIII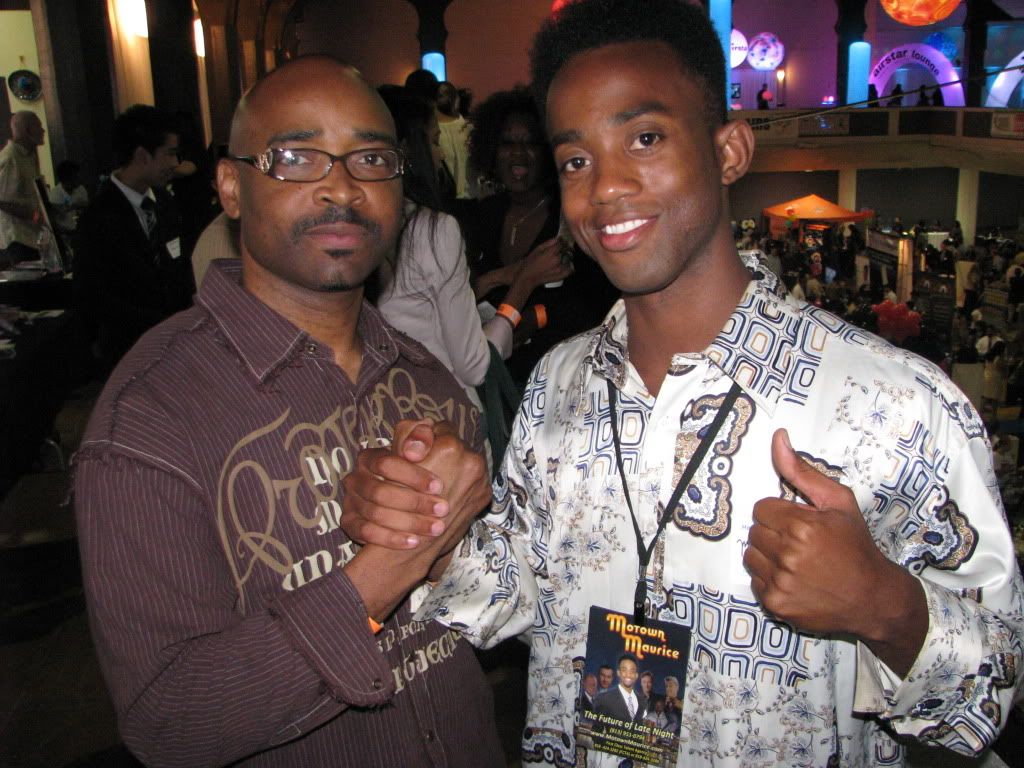 Motown Maurice is making contacts. The can feel the greatness.
LA's Largest Networking Mixer XIII
They asked me if I had a manager.
Day 306 Friday, July 22, 2011

* Began focusing on The Reading of Alchemist….

* Watched The Adjustment Beauro with my roommate (Our last movie viewing night)


Day 307 Saturday, July 23, 2011
* In the blink of an eye I went from freeloading into a nice apartment...
Motown Maurice living good near Melrose & Santa Monica
Then in another blink I was homeless.
Motown Maurice is homeless on Pico & Normandie
My new roommate seems quiet at the least.
Motown Maurice's new roommates
*
Read Post:
Life Styles of the Storage & Community Housing
*
Read Post:
Peace Surpasses All Understanding
Final Thoughts
The stakes are high in each corner of my life right now.
As the quest continues...
The Future of Late Night
Motown Maurice