Post Represents: Friday, April 17, 2012
To think I almost didn't want to do this shoot. Which is not like me to pass something up. It must of been meant to be. I intentionally decided not to go to Monday's audition and oddly enough, later that evening they sent out another notice for the same audition for the next day. An audition experience from the week before also probably contributed to me getting cast for this. During the
The Hair Factor
, I flatted my hair by default and copied the same style today. I'm near certain I would not of been cast as Brandon Simons with a high top.
I really enjoyed this shoot. Prior to the shoot I didn't read the attachment they emailed me and I spent the morning researching court cases online to add material to my improv presentation. Moments before I left I checked the attachment and realized they sent a full outline of my case. I had to pack up my tablet with me and from that point on I was thoroughly studying the case on the bus ride there. I had plenty of time to also rehearse in a private waiting area when I arrived.
I got their before 1:30pm and the shoot ended around 5pm. The shoot took about 30mins and the remaining time was spent studying the outline. Overall, I memorized it pretty well and I left feeling very content about my performance.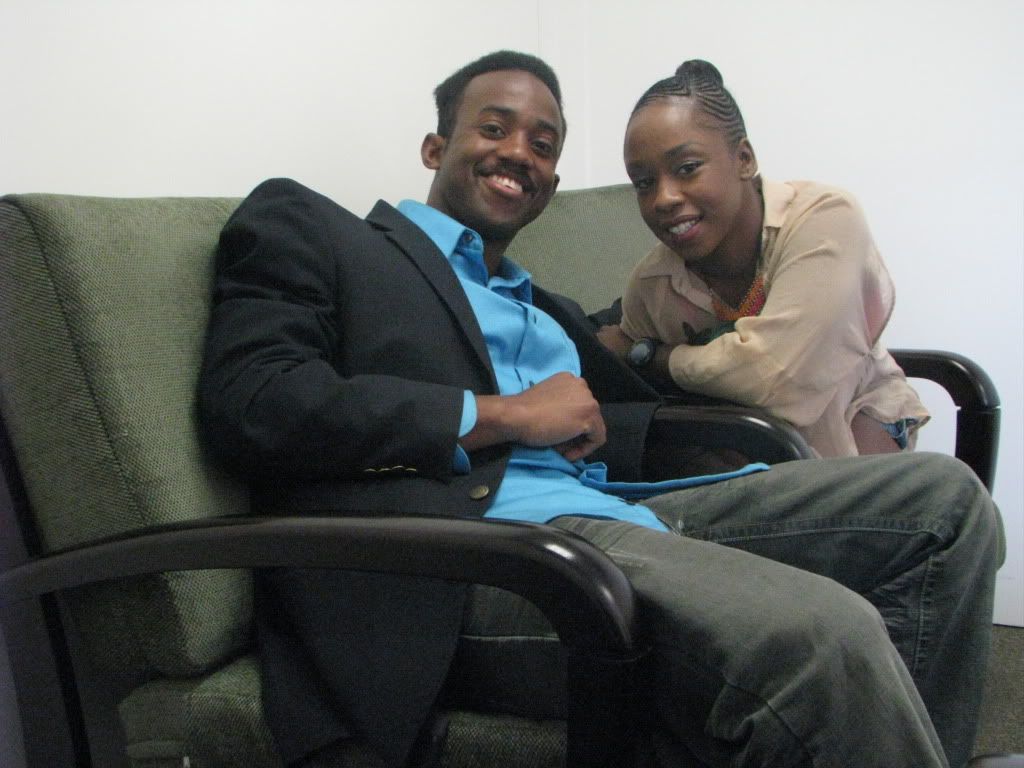 Motown Maurice aka Brandon Simons and Brandi Holloway aka Tamara Lewis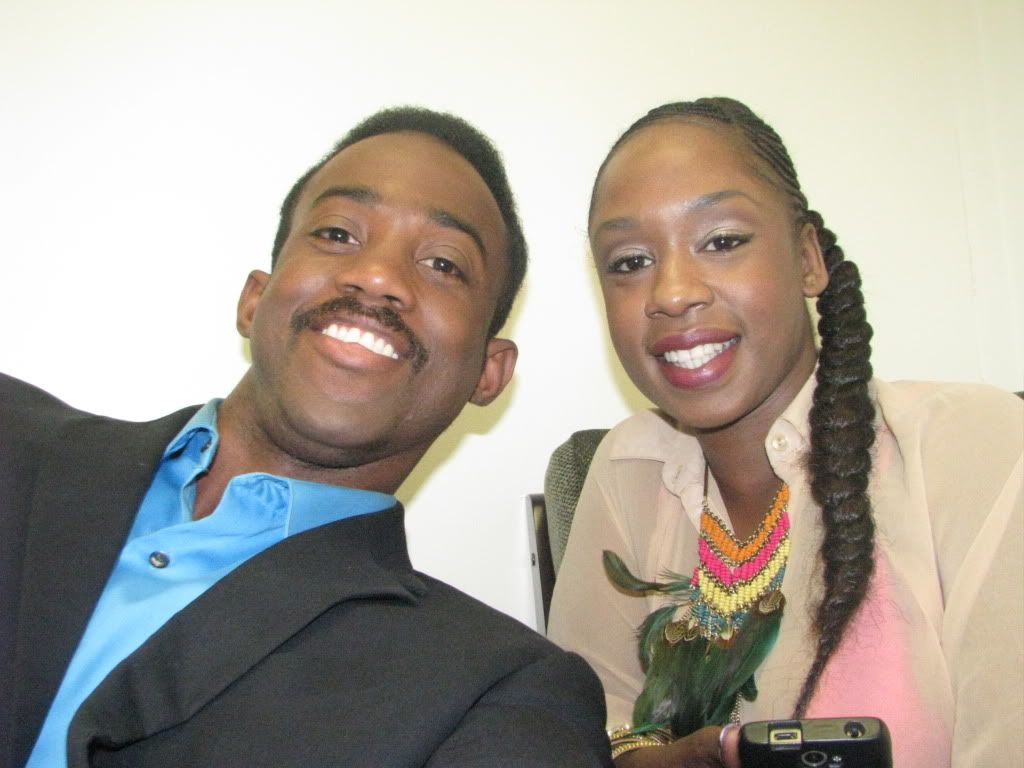 We're happy now but for how long?
We The People behind the scenes.
Favorite Moment Number 1 & 2
My first favorite moment was when one of the producers told me that she remembered me for Tammi Mac's One Minute Microphone Mixer. I was shocked. Almost a year ago on
Friday, May 6, 2011
, I attended that event and shook hands with several people in casting. Apparently, I connected with a lady named Ally in which is the lady I'm writing about. She told me she clearly remembered me for that day. At the time she invited be to be apart of
America's Court
. I'm sure was I was indifferent at the time because of my previous experience with that audition, moreover; it was such a great pleasure to be remembered after so long. She was also very nice. She was so excited to see me and she told me she attempted to text Tammi Mac and let her know I that I was there.
After meeting Ally, she spent a good amount of time going over the script with myself and the other actor. Her pointers were really helpful. We rehearsed in a private conference room and had a lot of fun. There was plenty of laughter shared between us.
My second favorite moment was at the start of the show. The courtroom door was opened for me and as I walked down the stairs I began to sign a cross over my body. I blessed my head, shoulders and stomach. By the time I got to my podium the bailiff approached me and said, "You can't do that." The was a slight laugh awards. We had to start the scene over. That won't be broadcast but its a funny moment I won't forget.
Now I look like Cameo
On a regular basis I'm told I look like Fresh Prince, Kid and Play, even Steve Urkel. Now its Cameo. This totally hit me off guard. When I was escorted to the area of the court case I was introduced to the bailiff and the first thing he said was, "You look like Cameo." Not until now I'm realized I'm copying Cameo's mustache style. Cameo even had a significant high top most of his career. Little did the bailiff know that I also have a high top fade hidden.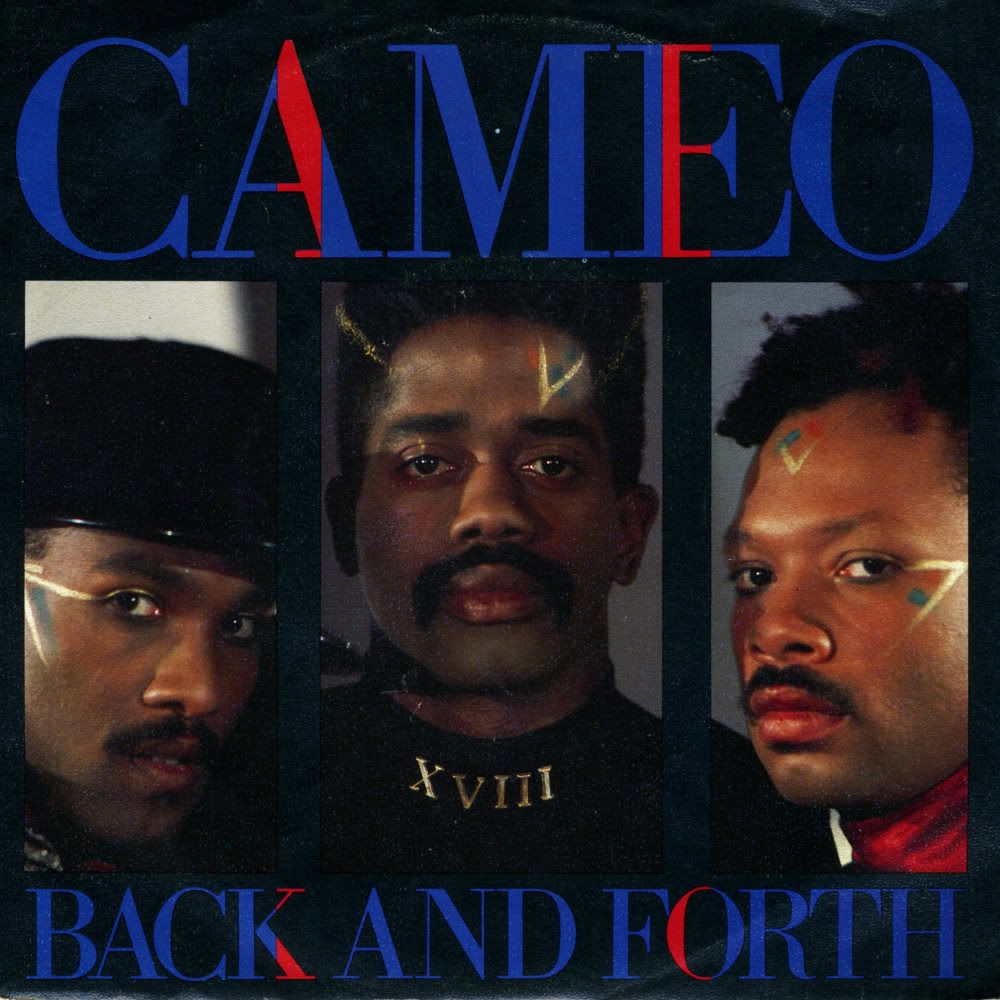 Motown Maurice now looks like Cameo. Word Up!
Final Thoughts
I'm overall very happy with my performance. I fumbled once in the beginning but that was it. Throughout the case I heard the audience laughing and I think I heard the production crew laughing a little bit also. When it was over, they approached us, said that we did great and that it was believable. I was happy with their responses but truthfully I was hoping to hear, "That was probably one of our best shows."
When myself and my ex-girlfriend (hence the case) had to do our final statements I did my in one take. Not much to brag about but I was delighted to see the producers pleased with the first thoughts that came right out of mind/mouth.
Just before the case started I saw Mr. Executive himself. Yup!. Byron Allen walked in. Before he walked in it seemed like he nodded his head towards me but probably not. It was his birthday and he was presented a cake by the staff. He also acknowledged the audience and introduced his wife and two little daughters. Then the shoot was over and I was on my way out and he was in an office just steps away from me. Not once did it cross my mind to approach him. I didn't even flinch. I attempted several times to get in contact with him last year but truthfully its his lost. About a year ago I would of went out of my way to shake his hands and tell him, "I'm The Future of Late Night." Now, he'll just find out the same time the world finds out.
Next Related:
Boyfriend Support - We The People
Previous Related:
Its a Convertible Vacuum
Byron Allen Related:
Seeking The Executive Part 1
As the quest continues...
The Future of Late Night
Motown Maurice