Prior to the results of the
Craftsman's Screw*d contest
I presumed the title of this post to be "Victory is Mine! Victory Today is Mine!!!" With a gamut of confidence and determination, I prophetically proclaimed this long awaited triumph. However, the universe clearly demonstrated that Craftsman's Screw*d contest will not be the path designated for me.
The exact path that will elevate me is still unknown but I already know there is something better out there for me. For the past couple of weeks it appeared as though that contest was perfectly designed for me in such great timing. Upon victory, I would of been sent to Chicago for 3 months with room and board taking care of. Not to mention a stipend of $1,500.00 a week. Also consider the fact that I don't have a stable living situation and I'm practically homeless there was nothing to debate. There was no doubt this opportunity was for me in perfect timing.
At least I thought it was for me. I wanted to this win badly and of course I felt like I deserved it. A part of me felt like I needed it. Nonetheless, I didn't win. What happens next is slowly revealing itself. Click here for
The Craftsman Screw*d story.
Believe me when I write this but there is something better waiting for me. Within the past year, there have been several opportunities I didn't succeed at. Each one seemed tailor made for me at the time but I soon after understood why I didn't achieve what I was working towards.
In the words of Bob Marley, "Where There's a "Will" There's Always a Way."


In the matter of a few days after the results of the contest I clearly started to understand why I didn't advance in the contest. 4 days after losing the contest (Sunday, July 31, 2011) I spent over 3 1/2 hours a very prominent news media reporter. We've been contact with each other for the past month and I haven't mentioned the up coming interview in my blog once. This interview was extremely significant and it helped me understand why things are they way they are right now. Since the interview takes place in the start of week 46, you will have to wait until then to read the full revelation of my new found understanding.
As you wait in suspense, the chapter of week 45 must be told. Upon posting this, I'm changing the name the name of the category on the blog that is called, "Bad days, Weeks & Fears." I don't have any of those and I never will. I'm changing the name the category to "Adversities." This has been the most adverse week of my quest and possibly my life. There is nothing comfortable about how I'm currently living. I live between my storage room and a community housing facility.
I wake up every morning on a bunk bed with two strangers below me. When I leave the facility I don't return until night. During the day, I'm hopping between my storage room to change clothes and various cafe shops to use their internet. I don't have the luxury of taking naps anymore. I truly miss my power naps. On one shoulder is my lap top and the other is a bag with spear clothing. It took me most of the week to realize that I didn't need the clothing bag everywhere I go. That was just extra unnecessary weight.
I bathe once every other day just because I prefer not to be using that community housing bathroom that often. Mostly I wear flip flops to give me feet the air it needs but in the latter part of this week I had wear some dress sneakers for some auditions. Those shoes has its problems and within two days I able able to smell my own feet through the shoes. Its hard to get access to clean socks as I desire. Nothing is really convenient for me right now but ta hell with comfort.
Pro's
The pro's of my current situation are since I spend some much time at Cafes like Star Bucks, Tullys, Coffee Bean and Cafe Novel I'm drinking a lot more tea. My mom has been encouraging me to drink more tea for a while and now its a part of my diet. Green tea and/or black tea is flows through my system.
Con's
The con's of spending so much time out and about is the amount of money I spend on meals. I spending close to $10-$20 a day on food easy. Eating healthy isn't a concern. I make great choices. What could be a problem is the amount that adds up. A part of me is conscience of this matter but the dominant majority of me feels rewarded from a good meal. Food has been one of those few things which has been making me happy for a while. I deserve to feel good after a meal. I'm not spending lavishly. I'm a fan of Denny's $2 $4 $6 $8 menu. A couple times this week I got $4 meals and I was content. Another few times got meals around $10. I liked it and I enjoyed it.
Day 308 Sunday, July 24, 2011
* Made a stop at my storage room.

* Rehearsed for the Sister/Brother


* Spent a few hours at Tully's Coffee Cafe using the internet.
* After a hard day of work, I had the joy of taking a bath a my new community housing facility for the first time. As you can see the pictures below is was a pleasant experience.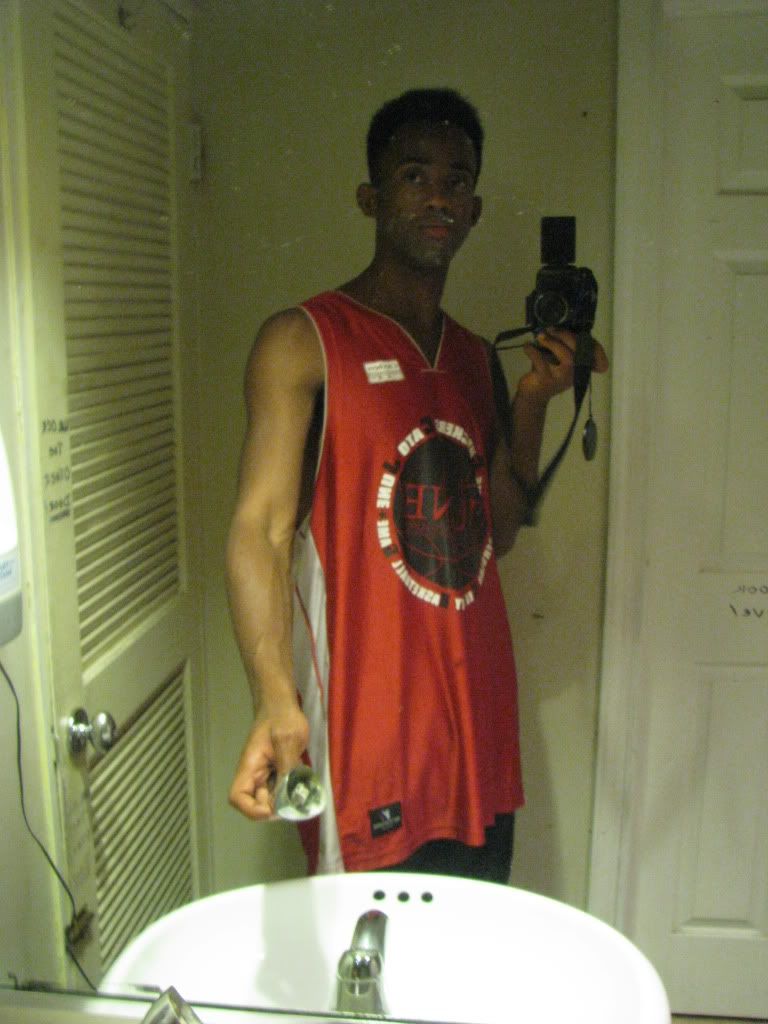 The sink handle is broking so I couldn't use it.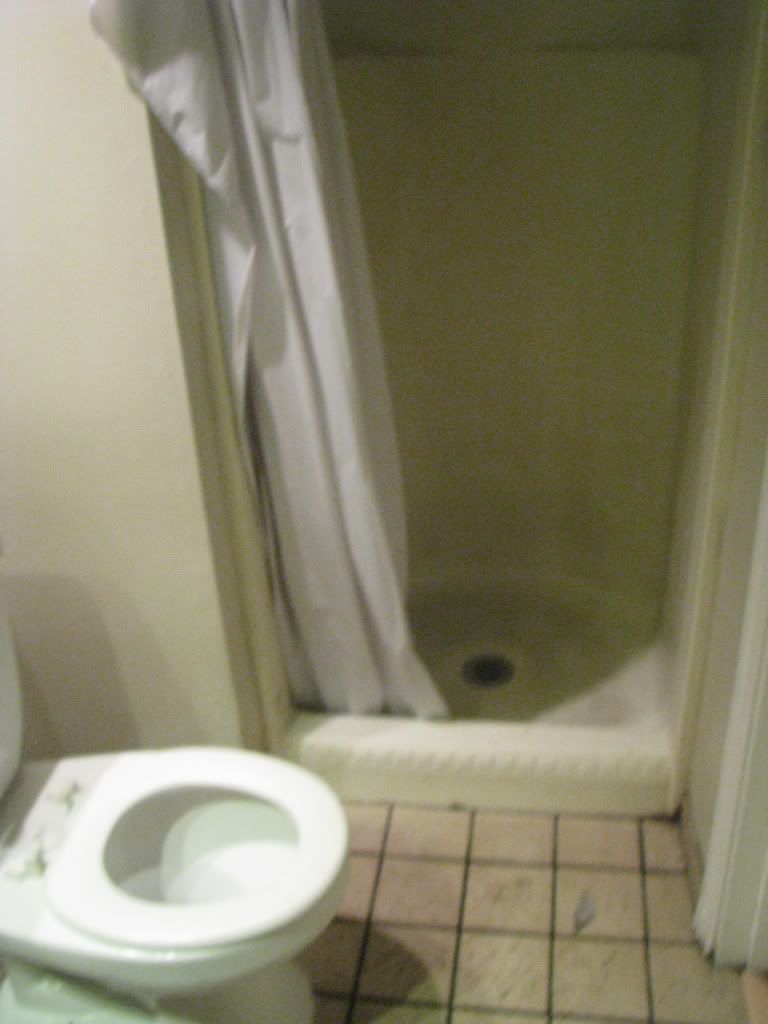 All this sacrifice better be worth it.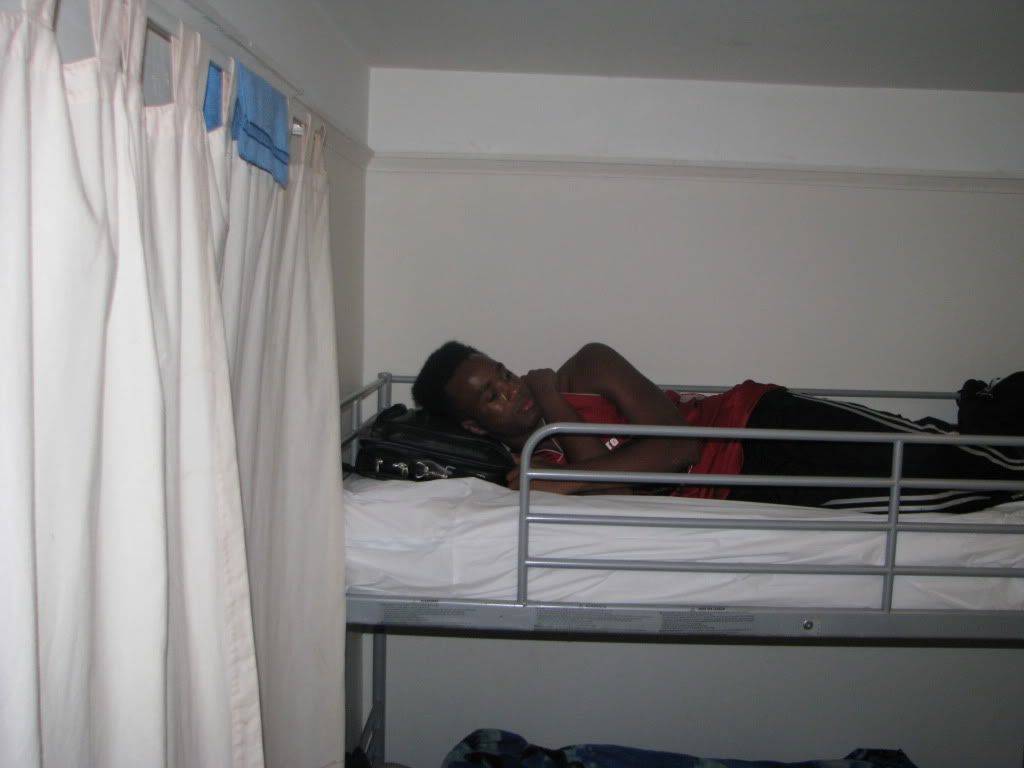 On the first two days I slept without a pillow or blankets
* Read Post
:
The Never Ending Intuition of God's Omens
Day 309 Monday, July 25, 2011
* Used the internet at Tully's Coffee Cafe in Korea town for a while.
* Later used the internet at The Coffee Bean in Korea Town near Wilshire.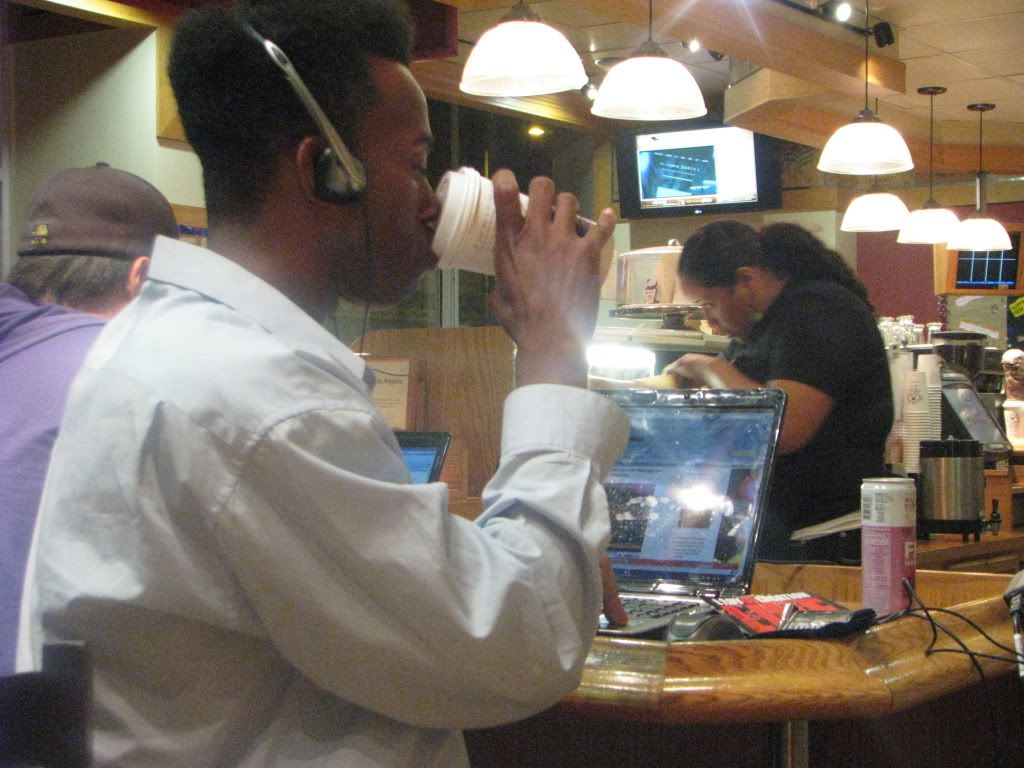 Motown Maurice at the Coffee Bean on Wilshire & Western
Day 310 Tuesday, July 26, 2011

* While at Tully's an amazing phone call came in. See Friday for more details.

* Rehearsal for Sister/Brother scene for acting class.

* Spent some time at the Starbucks on Sunset and La Brea before going to The Next Stage for Tamara's performance.
* To my surprise when I arrived at my bunk bed there was pillow and sheets waiting for me. These gifts wasn't placed by management. It was placed by the roommate in the bunk below place it for me. He noticed early in the morning asked me why I didn't have any and he took it upon himself to get me these things. This guy in particular has great conversations with me. Mostly because I'm a great listener. He's very intellectual and very well spoken. His social skills on the other hand could use some development. I've notice his interactions in the house can be antagonistic. I have more to share about my rooming experiencing in the future. Now, I just want to point out this thoughtful gesture from a person who I don't really know well and in my opinion doesn't socialize very well with others.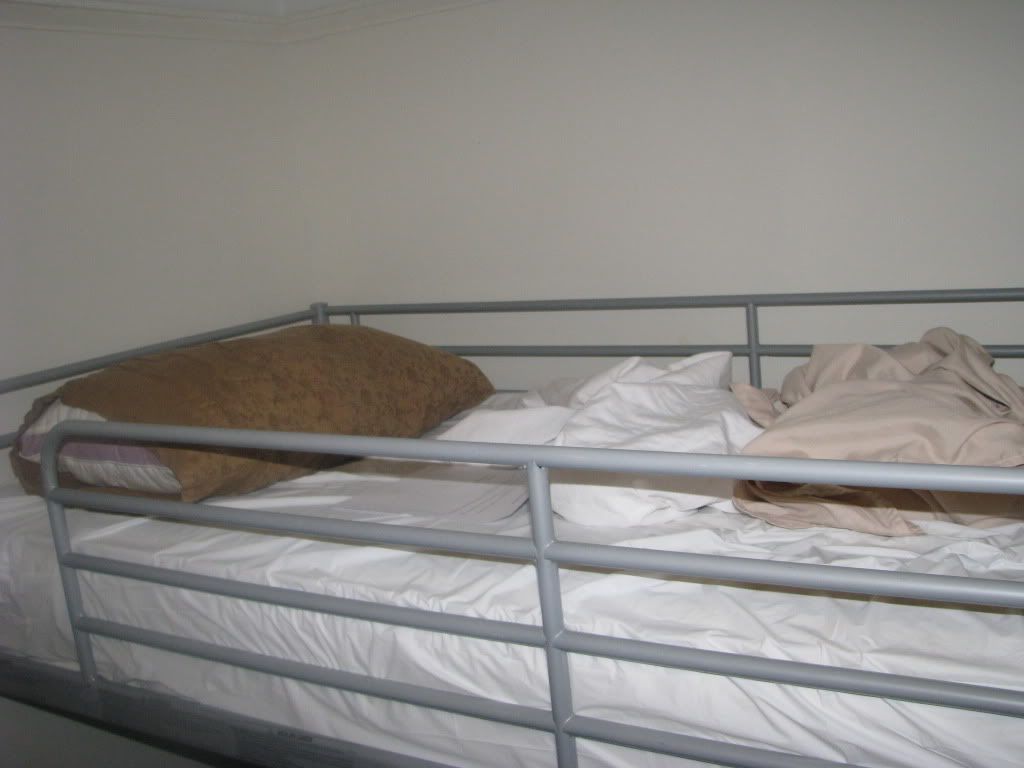 I've been blessed by bunk bed roommate with a pillow and bed sheets.
The next morning I thanked the guy twice and he never really acknowledged it but he did talk back.
Day 311 Wednesday, July 27, 2011
* Spent the morning at Cafe Novel on Wilshire & Western and fell in love with the place.
Motown Maurice begins his green tea campaign.
* Early at 10am I got a call from my agent for an audition for a new comedy show. It came last minute but I made it to my storage room to change clothes and made it happen.The audition at Castz Studios.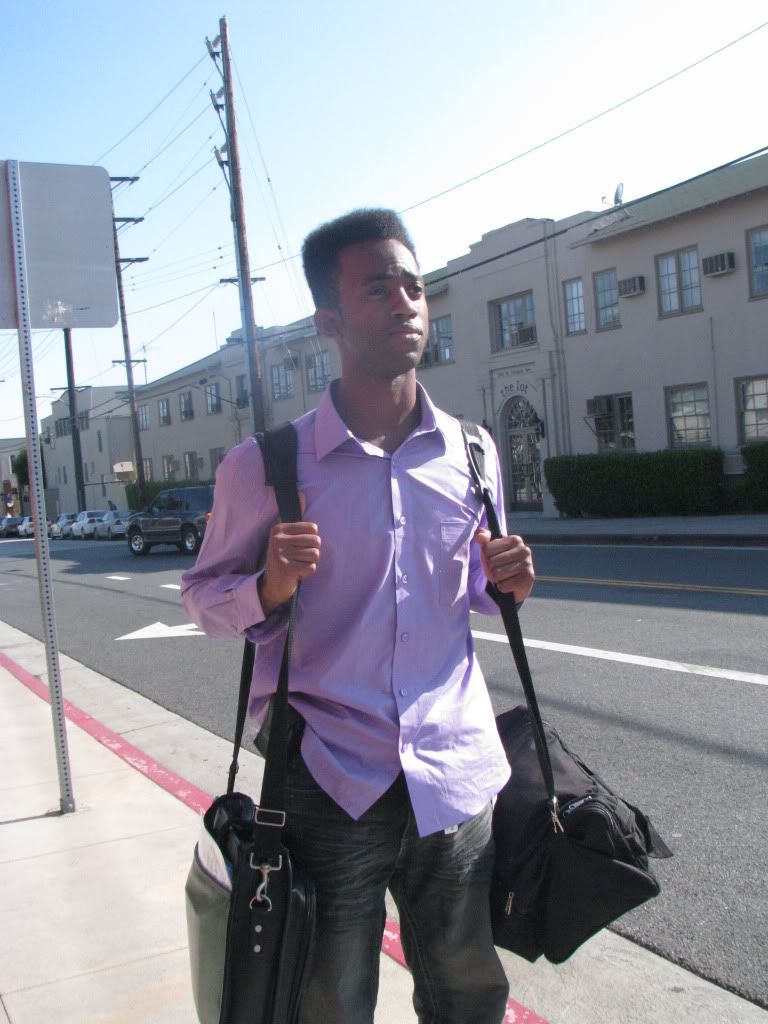 Motown Maurice leaving an audition from Castz Studios
* Received a notice for my agent for a Pepsi Max audition tomorrow.
* I love Cafe Novel so much I came back again later in the day.
Cafe Novel on Wilshire. Next to the Denny's I visit from time to time.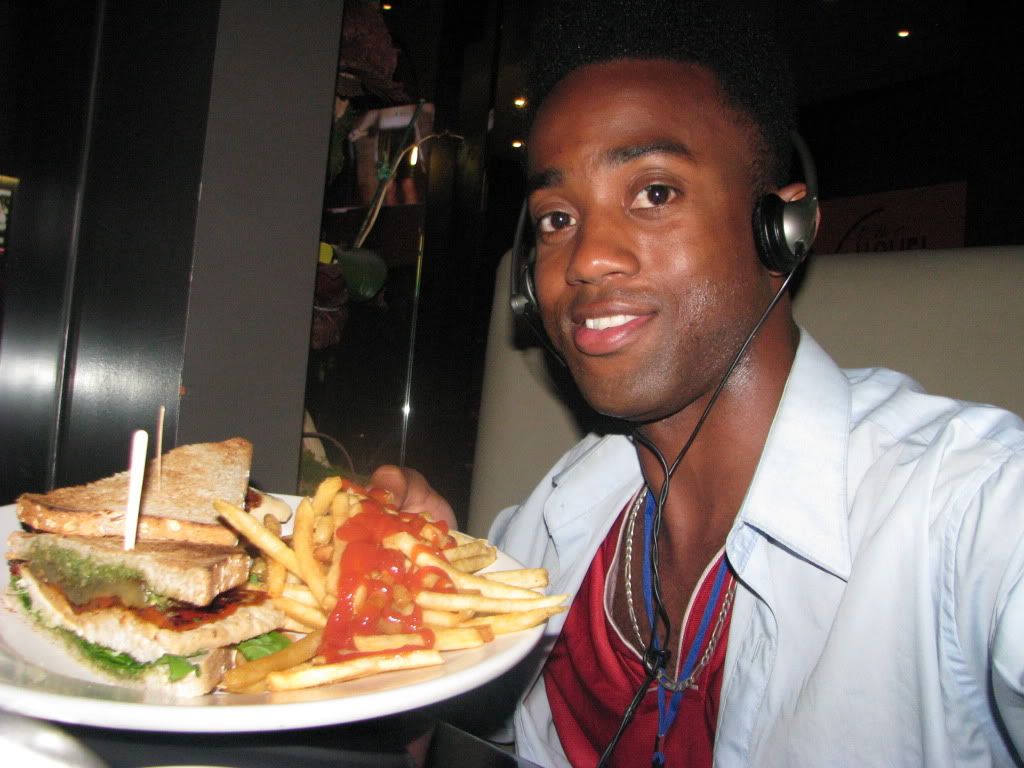 Motown Maurice eating a chicken sandwish. I deserved it.
Day 312 Thursday, July 28, 2011

* Took part in a Pepis Max audition at On Your Mark Studios in Sherman Oats. I interacted with who I thought was the best person I've interacted with yet in casting. They took a group of us and paired us in twos and when I introduced myself to my partner, the casting person over hear and shouted, "Motown! You better know how to sing." He was all over me from that point on. When my partner and I got called it felt like the casting director giving me special attention. He was really nice and took his time to try to help me.

After the audition, the person I auditioned with said, "He I think he really like you." Before the audition took actually took place that same guy that I was paired up with told me he recognized me from the Miller Lite audition on Monday.

* Conveniently my barber was down the street. I got my hair cut and used their internet for a while.
Motown Maurice after a hair trim, using the internet at Debi Lolray hair studio in Sherman Oaks.
* Made a stop at my favorite Pizza a few blocks down.
Day 313 Friday, July 29, 2011
* I attended Friday's Lifebook class. See photos
here
.
* On Tuesday, while at Tully's I got a phone call for the game show myself and 3 other people auditioned for brought on
Day 288 Tuesday, July 5, 2011
I was so dumbfounded by that call, I asked the person to repeat what he was saying. That was the last call I was expecting. They said they wanted me and Micheal for today. When I called Michael we both wondered where did that call come from.
Today was the audition and it when great. Another person in casting remembered me from the What's It Worth audition on
(

Day 233 Wednesday, May 11, 2011
). He mentioned how I made a scene and walked on top of the table.
Michael Tabuso & Motown Maurice after our game show interview audition.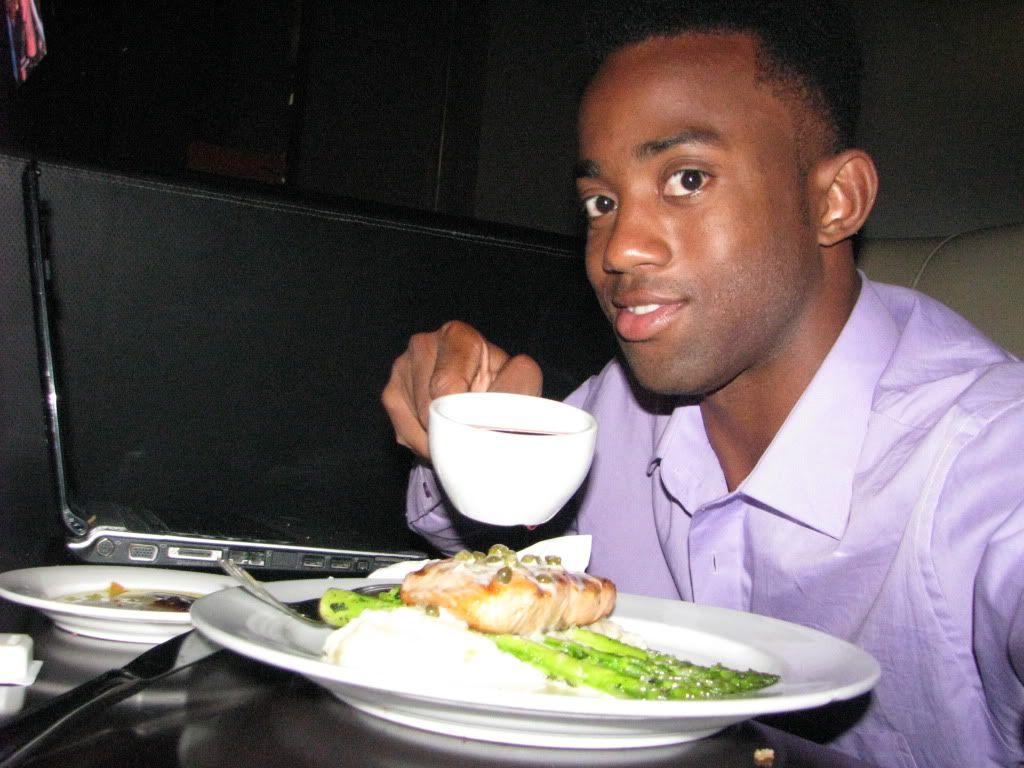 Motown Maurice eats Salmon to celebrate a great day.
*
Day 275 Tuesday, June 21, 2011
I auditioned for a commercial later and received a notice for as an avail then I got a phone call on
Day 297 Wednesday, July 13, 2011
asking if I'm still available for this day and tomorrow. Well... the weekend passed and I never heard from them. I could of waited a little longer to trim my hair.
Day 314 Saturday, July 30, 2011

* Ate at Denny's in the morning.

* Used the internet at Tully's for a while.

* I was suppose to meet with a news reporter today but we had to reschedule for tomorrow. I then made plans to go to the movies but I received a text requesting to hang with one of my Lifebook class mates. It was cool but I should of stuck with my movie plans.

* I didn't feel like being at my community housing facility so I took a nap at Lifebook Playhouse.

Final Thoughts

I don't write about my personal relationships or situations mainly because I don't have any. Its been a long time. Trust me it has. From a distance, as far away as Tampa, I had one ailing situation that was destroyed this week. Unfortunately, its a pattern I noticed in my life. I have been blessed many great women to help me along the way of my quest but the reality is that they were only their for a season. I now look back at them as gift givers. As a seeker, I grow at spiritually rapid rate. The average human does not have the desire to grow and prefers to live a comfortable happy life. Their heart is too afraid to move forward and/or take risks. Most women can't bare the circumstances and will seek to fulfill their emptiness with attention from whom ever available.

As unfortunate as this lost is to me, I've also noticed when ever someone looses them-self from my life or if I choose to cut someone off, it becomes symbolic of a break through. Certain ties have to be broken in order to move forward. Its a fundamental rite of passage. It was hard for Malcolm X but he had to break ties with the Nation of Islam in order for him to grow. Breaking ties is a parallel of every great person.

"The path of every great warrior is a solitary one."

Some of those broken ties may reunite or they may not. Again its unfortunate but the purpose must be fulfilled.

As the quest continues...

The Future of Late Night

Motown Maurice