Post Represents: Day 315 Sunday, July 31, 2011
On Saturday July 30, 2011
I briefly mentioned that I will be meeting with a reporter today. We met and spent over 3 1/2 hours together. I've been holding back on mentioning this one on my blog. I was well aware of the upcoming interview but I decided to wait. I've even delayed communication with the reporter for some time because I've striving to break big on a project so in can be a headline in the article.
The reporters names is Eric Deggans of the St. Peterburg Times. Last year, at the premiere of The Motown Maurice Show, he the followed me behind the scenes and during the show. A week later he wrote a feature story that appeared in one of the front sections of the newspaper. I think it was the metro section.
For your reading pleasures, I'm going to provide you the links. I'm reluctant about providing the links because there is one thing in particular I really don't like about the story. That's the improper referencing of my name. One person will look at it, reference me wrong and it becomes contagious. Its a huge pet peeve of mine. Moreover, here are the links so you can have some background on the first story and later compare with the upcoming follow up. Read with caution please.
Related Links
:
Local hero Motown Maurice debuts talk show really late tonight
Move over Leno? Motown Maurice talks a good game
He's been trying to follow up with me since last summer but I was fully consumed with depression and the growth of my bread during my bread protest. We played phone tag for a while but never connected. Then recently on June 8, 2011 he made another attempt to follow up with me. It just so happens that he's now in LA for a annual conference and we finally made the connection today.
I suggested my favorite cafe, which is Cafe Novel of course. He treated and I spilled out my story. He put a microphone in front of me to record me speaking and all. I later showed him the conditions of
Life Styles of the Storage & Community Housing
.
Since the day we met, the perimeters of the interview and potential of the story has been evolving. Before I mention anymore about it, I must share something ironic that took place during the interview. Not too long after I told the reporter that "I can't go anywhere anymore without someone noticing me from somewhere else," this happened. A waitress approached me with a small stabled sheet of paper and he told me that their was a gentleman sitting in the corner who just left and wanted me to have this.
This is what the piece of paper said.
Motown,
Call when your free, we met at your event at USF. Like discuss your career.
KJ Cash
BBT Agency
How odd is that? I later called him and he told me that he's from Tampa and he's been to one of my events while we were there. Wide aWoke Wednesday's to be exact. He said that he was impressed with the organization and structure of the event. Now he an agent and lives in LA. Not only did he notice me and over heard me talking with the reporter at the cafe. A few days before, he met someone on a production set and they mentioned my name. When he told the person he was from Florida, then mentioned that they met a lot of people from Florida and I was one of the names that came up. What a coincidence? I have no clue what this guy looks like yet he remembered me from Florida, saw me and reached out to help. He also offered to meet up with me to consider him as my agent. Of course I already have one, so that changed the course of our conversation. Towards the end he suggested that he might refer a few managers to me that he works with.
Now back to the actual interview/story. I came into the interview with no expectations. So far the results have exceeded anything I would of imagined. Somehow, he even found a photographer in LA to follow me during a portion of my schedule. Both Eric the reporter and Nancy the photographer attended my acting class last Thursday.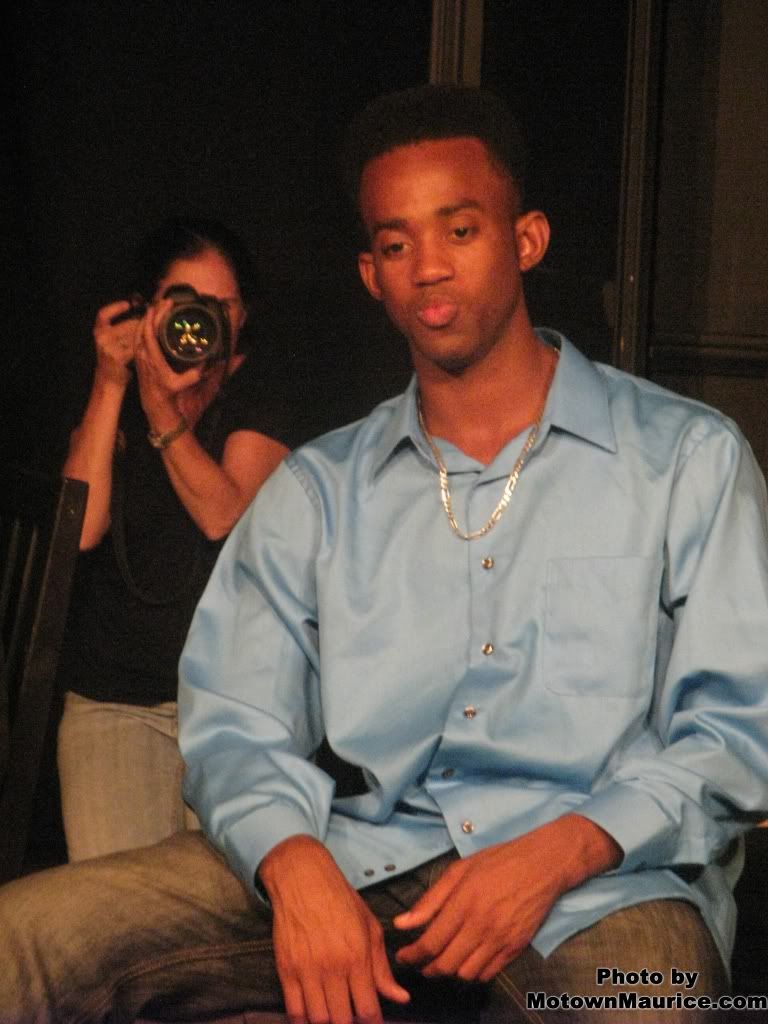 Motown Maurice is being followed by a news photographer on 8/4/11
My Thursday night acting class is just one of the events from my schedule I was followed at. I later told the photographer, "I've been in the paper several times in the past but I've never been followed liked this by a photographer before. Is this going to be a big story or something?" She told me that if a bigger story doesn't break, my story could hit the front page of The St. Petersburg Times. My jaw dropped immediately. I was not expecting that answer.
Final Thoughts
I still don't know what to expect out of this story but I can confirm that it will be in documentary style. Since June 8th when the reporter contacted me, I've been trying my hardest to break big with a gig so the story can deliver a successful message. I've had a few close calls. With all my heart I wanted victory in the
Craftsman Screw*d contest
to headline the story but that never happened. After I met with the reporter today, I realized that I haven't broke big yet, for the best. When the story is published the world will be able read a portion of my story in real time struggles. This part of my story must be told to the masses and it must be published. This interview experience has helped me understand why things are the way they are right now.
As the quest continues...
The Future of Late Night
Motown Maurice