Post Represents
: Day 310 Tuesday, July 30, 2011
On the first day of my introduction into Lifebook Acting, I was engulfed with a myriad of acting tips (
Acting and auditioning tips from Allen Levin
).
The tip that
stood out the most on that day was "
Be interested. Not Interesting. Its the first tip on the list and its the first tip that comes to mind when I think about that first class.
This is a very important tip most actors take for granted. Actors love to talk. Some honestly don't know when to stop when they get started. While in the mode of talking, automatically the take on the role of being interesting. I am confident that's probably a huge pet peeve of most producers and directors.
I strongly believe my natural effort to be "interested" and not over baring with previous productions such as
Excused
is the reason why I received a call back. At the same time I'm sure I was also "interesting." It helps to be both.
Not only is it important to be "interested" in the productions you are cast for but I think its just as important to be "interested" in the people you interact with. I've been attending Lifebook Acting Class for approximately 5 months now and the vast majority of the students in the class have no understanding of my ambitious past better yet what I'm capable of. Beside that, regardless of how well I promote myself, most of my classmates (among other people I meet) don't even know I have a blog or took a moment to visit it. I'm not saying they are suppose to but several conversations reflect the obvious. However, there are a few exceptions. In this case, the exception is my friend and one of my newest supporter Tamara.
To my immediate knowledge Tamara is the only person in my class that has ever taken the time out to post on my blog. Once again, I'm not saying anyone is suppose to post on my blog but the fact that Tamara took the timeout, read it and made a comment means a lot to me. Just by her taking a moment to be "interested" and post a comment represents a gift to my quest.
Comments on my quest are like fuel for my destiny. I like them. In the beginning stages of my quest I was getting 4 and 5 comments per post but now I'm lucky if I get one. I'm okay with that but when I do see a comment it makes me smile. Thanks Tamara.
A couple months ago I was aware that she was apart of a theater play. The same theater where I performed as Dog Boy early this year. I remember when she announced her performance in class and mentioned that nobody from Lifebook attended, I felt bad. Note, this was way before she made a comment on my blog. Afterward, I promised myself to show support in the future. Today I did and I must admit. The fact that she has been "interested" in my quest, very much encouraged me to be more "interested" in her theater performance.
As a result, of her support, I thought I would bless her with some photos. Tamara this is my gift to you for simply taking the time out to post a comment on my blog. I hope you like the photos.
Check out Tamara below in "Happily Whatever After."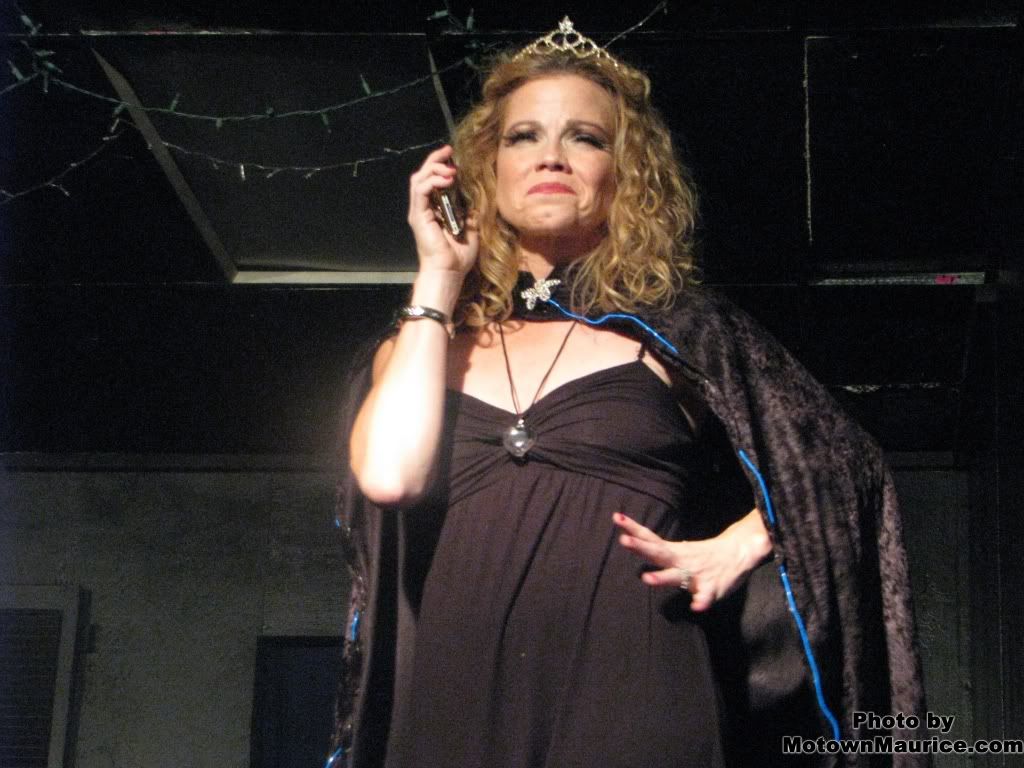 Tamara as The Queen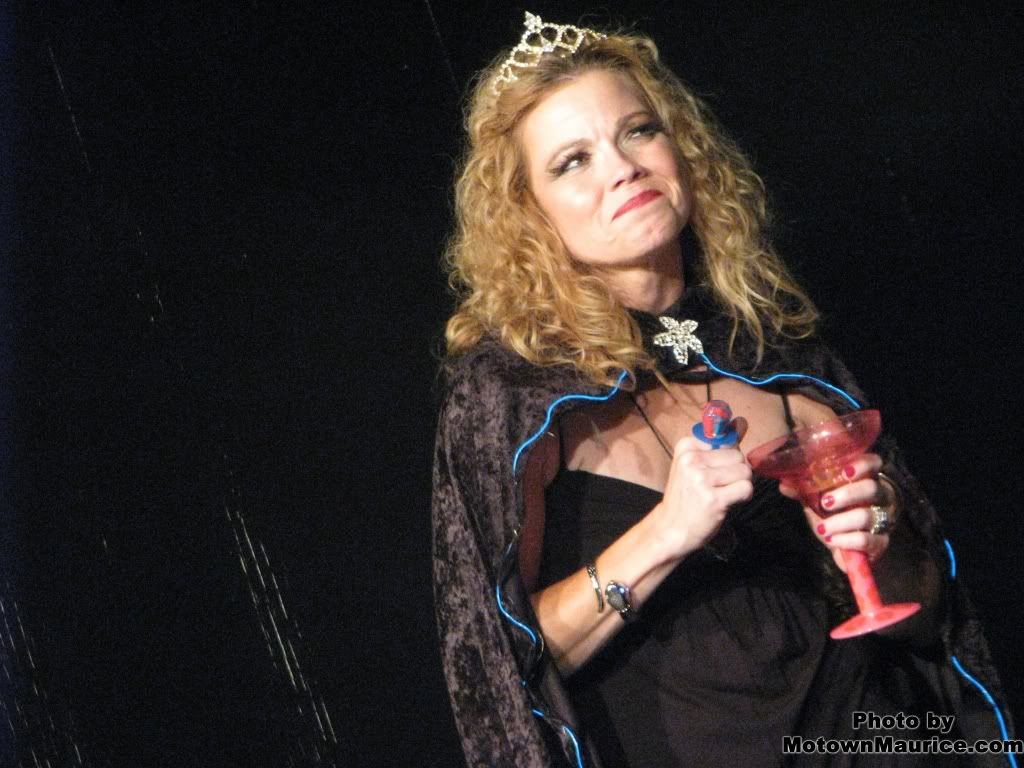 She up to no good.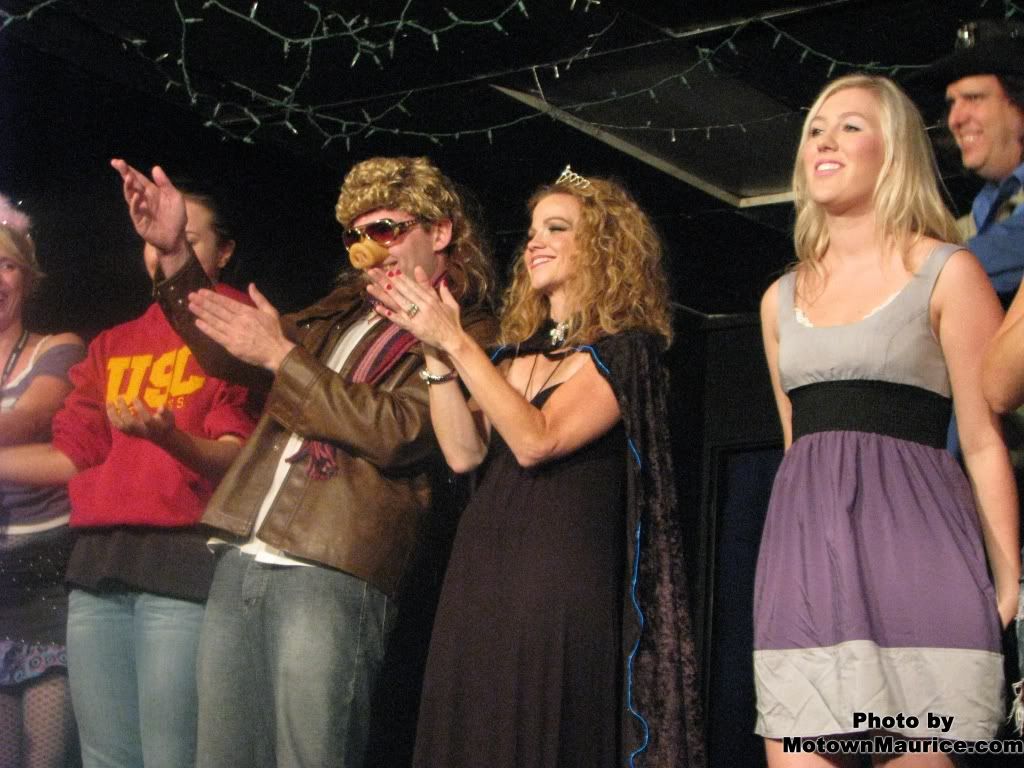 Go Tamara! Go Tamara!
Motown Maurice & Tamara
See more photos
here
.
Also check out this scene we were apart of last May (
F.R.I.E.N.D.S. I'll Be There For You...
)
Final Thoughts
Be interested! Not interesting!
As the quest continues...
The Future of Late Night
Motown Maurice