This week mirrors what I wrote in
week 33
section:
I'm starting to connect the dots...
However, you can take that energy and times it by 3. My brain is storming non stop and I can't stay seated. The visions are on its way and when it forms into a complete vision I will be ready.
Day 231 Sunday, May 8, 2011
* By the way the Lakers were sweep out of the playoffs today :-)
Day 232 Monday, May 9, 2011
* I followed up with the Transit TV representative I met on
Day 230 Saturday, May 7, 2011
.
The conversation went well and I hope to
follow up with him again.
Day 233 Tuesday, May 10, 2011
* Scene rehearsal for "Friends" at The Space.
* Scene rehearsal for "Rescue Me" at Anique's apartments office and The Space later in the day.
* I received a notice to become a contestant on a Japaneses style game show.


Day 234 Wednesday, May 11, 2011

* The original appointment for "What Its Worth" was for Monday but it was later rescheduled for today. I spoke about it briefly on
Day 227 Wednesday, May 4, 2011.
My self, Mr. Chill and Ava rocked the audition. If anything good transpires I'll be sure to share more.
* On
Day 125 = Saturday, January 22, 2011
I auditioned for a Cultural Talk Show Host gig. Today my agent forwarded me a message from them stating they are still working on the show and they were still interested in me. I didn't get that audition through my agent so it took me a second to wonder why they emailed my agent. Since I sent them a thank you post card afterward, I figured that's how they got my agents email address. My agent designed the post card.
Its still a non-paid gig but I was excited about doing it anyway. I just don't understand why they haven't contacted me back. In the email the asked me to contact them in which I did but they didn't contact me back. I don't get it. I called and emailed. I'm not sweating it but I don't get how humans communicate sometimes.
* Scene rehearsal for "Rescue Me" at Anique's apartments office and later at Micheal's house.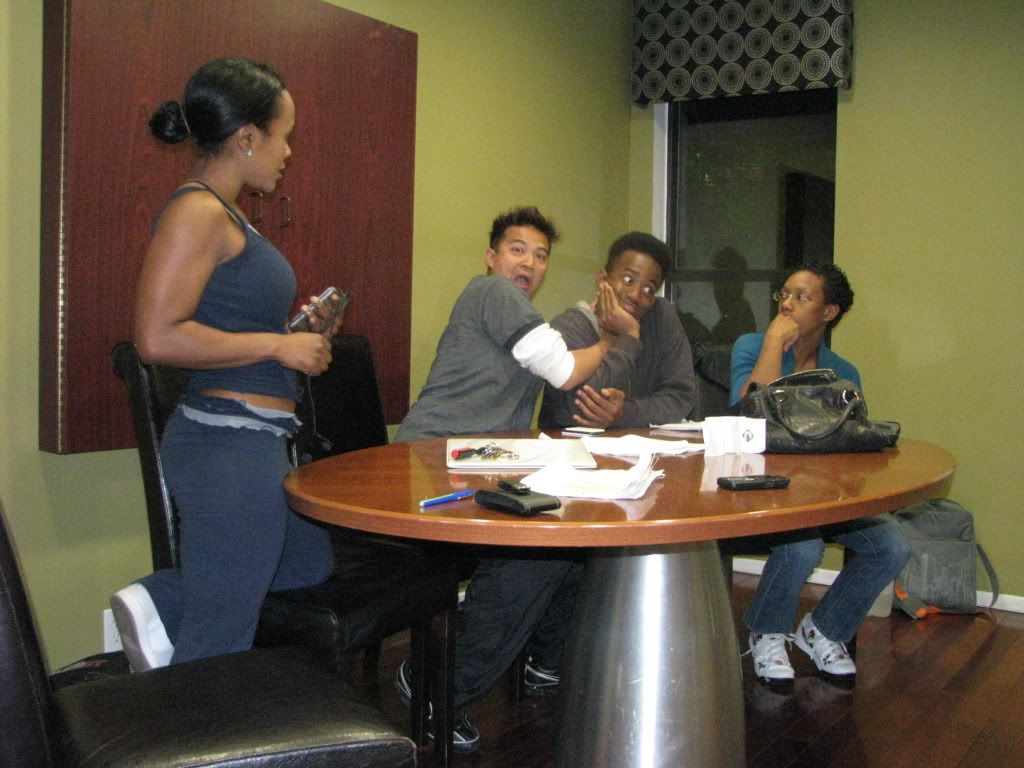 Anique, Michael, Motown Maurice & Linna rehearsing for the "Rescue Me" scene.
* I got a phone call from one of the organizers of the comedy show I hosted recently. I appreciated the conversation because he took the time out to tell me more about their vision and share that he recognized me as a visionary. He genuinely wants to help me get back in my television talk show element. He shared that not enough artist are marketing, investing and promoting themselves like I do. Which is why the new I was a visionary. My flier also impressed him because it also indicated vision.
* At the Snoop video shoot I met these guys (J.Cannon Events) and they called me today on the day of their event and asked me to take pictures for them. I'm not a photographer anymore but sometimes I talk too much about my past. For reason my small Canon Power Shot Camera is more impressive then I thought. I ended up agreeing to take pictures mostly to use as a tool of networking. I enjoyed myself and they said they are going to have me back next time to interview people on the red carpet. Seems like they have a good thing going.
* I submitted a video for the Japaneses Game Show and received a response the following day. Lets see what happens.
Day 235 Thursday, May 12, 2011

* "Rescue me" rehearsal at The Space.
* Finally after all the rehearsals for "Rescue Me" we finally did the scene. Plus we were able to do the scene in from of a guest manager.
Motown Maurice & Linna in the "Rescue Me" scene
Motown Maurice choking Micheal in the scene.
Anique, Michael, Linna & Motown Maurice
* After class I walked someone her car and she remembered me talking about my state of
Judgment
in the admin groups. To my surprise she made an offer to my be half. I wasn't expecting that but I was humbled...
Day 236 Friday, May 13, 2011

* On
Day 166 = Friday, March 4, 2011
I had an interview for a show I coded DS. Meaning a dating show. The real name of the show is called Excused. This is pretty big. More updates coming soon.
Day 237 Saturday, May 14, 2011

I spent most of the day at the movies. I saw Priest, Thor & Fast Five. This was my 2nd time seeing Fast Five. I first saw it on
Day 224 Sunday, May 1, 2011
Its a well put together movie. There are a lot of great moments. I specially like the ending. I now have one of the songs from the sound track on my repeat list.
Final Thoughts

Watching 3 movies straight was great. It was very relaxing and exciting. The feeling of getting back to a lone life afterward isn't as great. At that moment I wish I had plans to be out with someone or at an event. Hanging out with a young lady would of been ideal but its not my time. I went home and worked on my blog.

I'm not suffering from loneliness but every now and then the thoughts of hanging with someone on the same page with me would be nice. There are some opportunities coming up that might element my one life but for some time but...Than again its very difficult for me to find someone on the same page with me. I'm currently in exile and I have embraced it.

As the quest continues...

The Future of Late Night

Motown Maurice