Post Represents: Thursday, March 31, 2011
On Monday I received a notice to be apart of a music video. I have to be honest, initially I was debating on whether or not I wanted to do it. Yes, I did submit for it, but sometimes when you actually get a response it creates a chance of reevaluation.
There were 3 main reasons why I took so long to mentally confirm my involvement.
Reason number 1:
I had an appointment with some guy on Craigs List who wanted to feature me in a low budget documentary. However, I was iffy about him because of the lack of professionalism in his email and post.
Reason number 2
: I started my Life Book acting class on Thursday Nights with
Mr. Allen Levin
. I'm paying for that class now plus I enjoy it. I really didn't want to miss it.
Reason number 3:
The music video was titled confidential with no detailed information about who or what song. I wasn't sure what I was getting myself into.
I debated and debated until the casting department proactively decided to call me. Good proactive communication can get me involved almost every time. Its one way into my weak spot. By the time I received a second message from them I was hooked.
As usual, I over packed and arrived on time (8:30am) in an area I've never been before. I had to take two trains and one bus. This location was different from all the other locations I've shoot videos before. The video was shot in a mansion, indoors and outdoors. I later learned that the same mansion is rented out often and is sometimes used for porn videos (But that's completely different blog. lol)
Through it all, I have to admit this was my best music video experience. I am extremely happy that I decided to be apart of it. I've been apart of 3 music videos since I arrived in LA. Two with Chris Brown.
Yeah 3X
and
Look At Me Now
. Then there is a video with
Wilmer Valderrama and Columbus Shortt
. I have no clue when that video is going to come out. Wilmer and Columbus were very cool guys. They shook my hand in addition to the other extras. Chris Brown on the other hand, don't even look in the direction of the extras.
The star of this video's name is
Swift K.I.D.
. He's from
Montreal, Quebec Canada. I'm positive the entire United Stated of America will also know who he is soon. We laughed, we chatted and we had a great time. As a matter of fact, someone had the impression we knew each other before today. It was a sincere pleasure working with him. In his own words, he thanked me for being so cool
during the set and for making everything a lot more fun and comfortable. This was his first professional music video and I apparently helped loosen things up.
Its amazing what a little energy can do. I just realized something about myself. At a real house party or even at a club I'm never ever dancing. Seriously. I never dance at a party. I honestly prefer to daydream. I get some of my best ideas in a party environment. I'm 100% certain that anyone who was present at this music video shoot probably don't believe what I'm writing because I was the life of the party scene. The reason for that is because of the cameras. I'm a totally different person when cameras are rolling. I had mad fun during every aspect of the shoot and I showed it with my dancing feet. Each of my two left feet.
In the very first shoot scene of the day, the director came to speak to the extras between cuts. He directed the people around me then looked at me and said, "You already know what to do."
Another reason I'm glad I was apart of this video was because some of the unreliable extras that didn't show up. I ended up changing clothes and playing the role as the bartender in another scene. Without a doubt, I'm probably have a lot of face time for this video. I'm excited about seeing it when it comes out.
Now here is your chance to check out some of the photos I took behind the scenes of
Swift K.I.D's
New Video: Hey Hey Hey
Kelly, Motown Maurice &...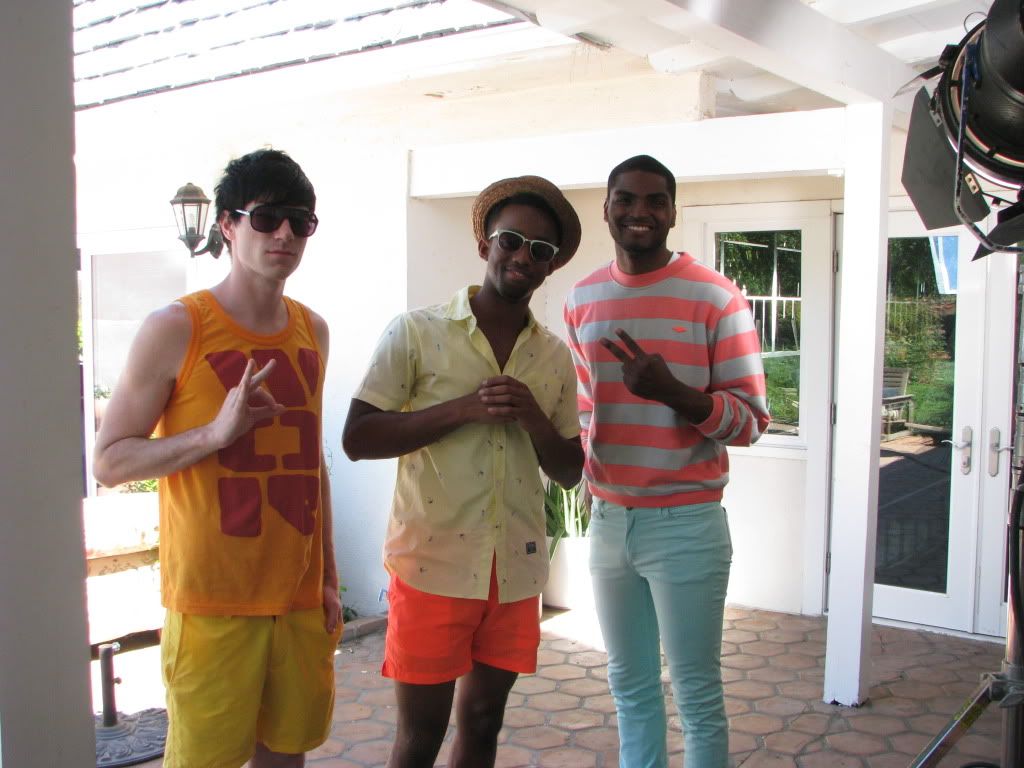 Mikealis Alan, Motown Maurice &...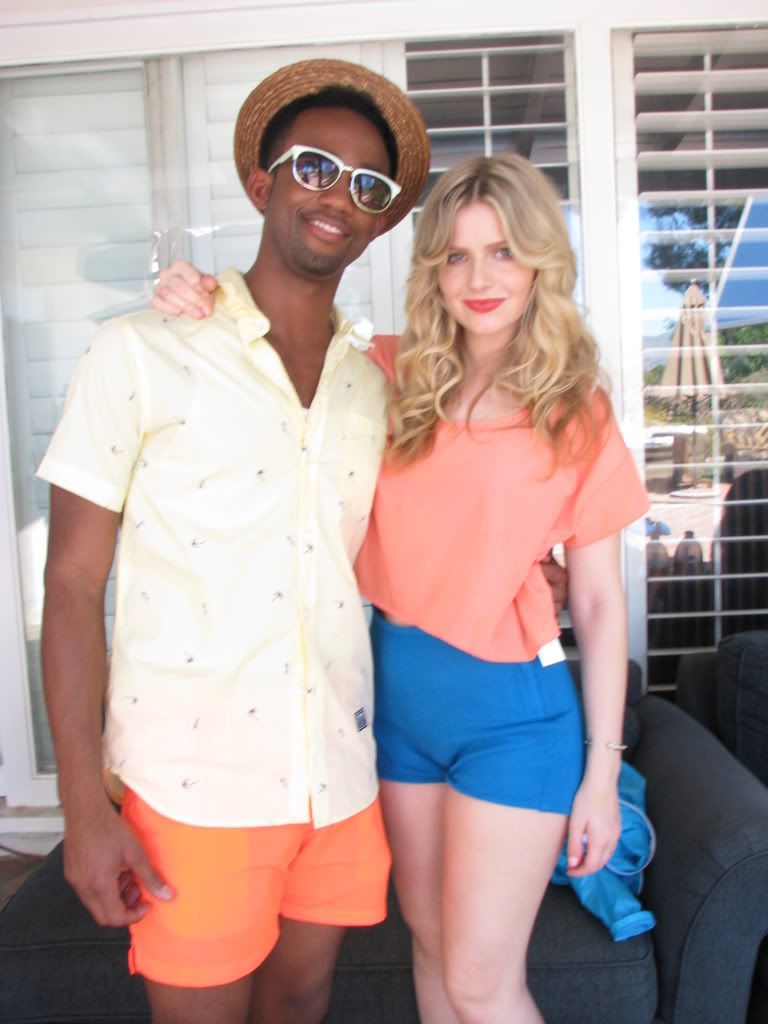 Motown Maurice & Chelsea G.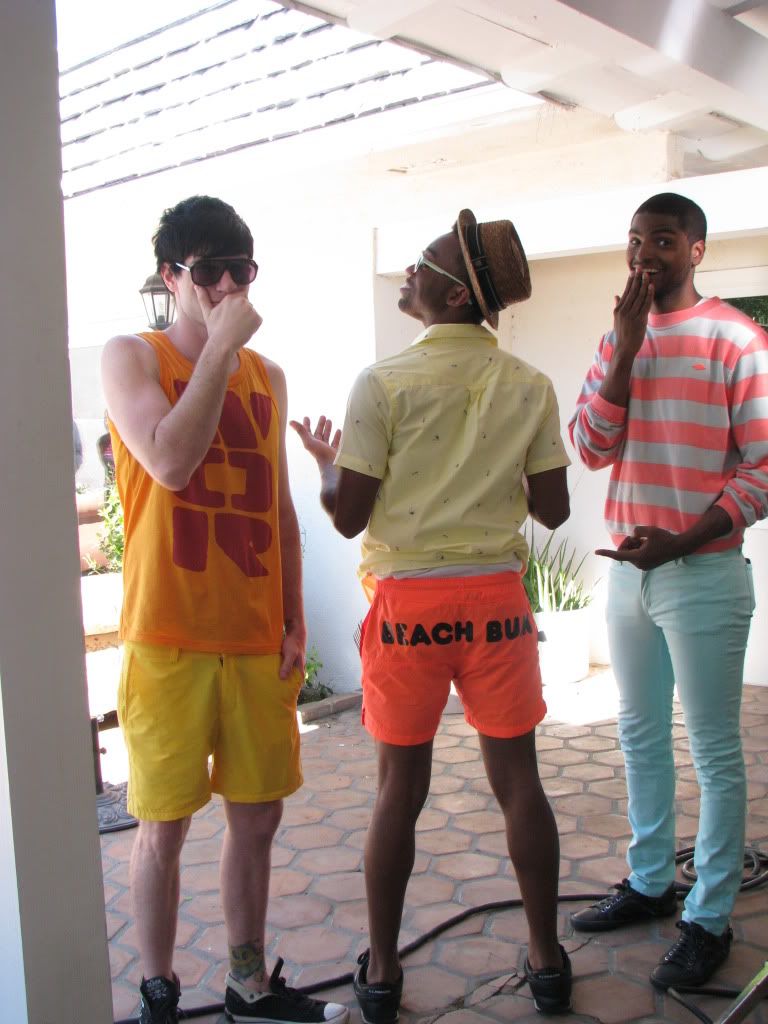 Motown Maurice doesn't normally dress like this.
Swift K.I.D & Motown Maurice
Motown Maurice and a couple sexy ladies from the shoot.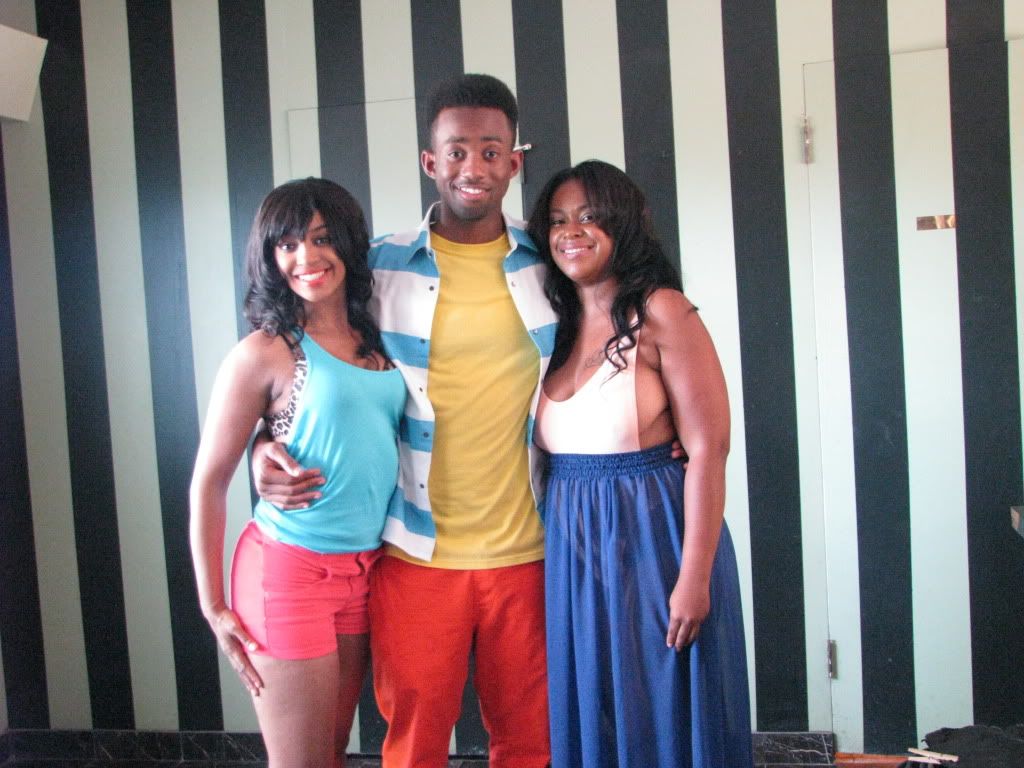 Motown Maurice & some more sexy ladies.
What can I say. The ladies really love Motown Maurice.
Final Thoughts
Once again my high top fade deserves some credit. When I was contacted about this video, one of the first things they asked me through email was, "Do you still have your high top fade?" That's the same thing I was asked upon getting accepted for my Chris Brown's
Yeah 3X
. Most recently
I become SAG-E partly because of my high top.
Of course I am more then just my high top fade but I am thankful for the doors it opens for me. One of the directors came up to me and told me they were certain they wanted me when they saw my picture. Not only did they get the high top, they got more energy then they could imagine.
Throughout the whole day, I networked with a lot of wonderful people and the day rapped at a decent time. I was able to make it to my acting class shortly after it started.
Swift
K.I.D, thank you very much for the great experience. I'll be your hype man when you need me. Just holla. I'm looking forward to seeing your success continue to grow.
Everyone. Stay tuned for the release of Swift K.I.D'S debut single: Hey Hey Hey.
I'll post it when it releases.
Next Related:
As the quest continues...
The Future of Late Night
Motown Maurice