Post Represents: day 187 Sat, March 26, 2011
On day
Day 147 = Monday, February 14, 2011
I had an interview for YATA. That was my code for a pilot show called You Against The Audience. Then on
Day 171 Thursday, March 10, 2011
I got a call back confirming my status for the pilot. On Thursday
day 185
I was invited to a pre-meeting and history was made on Saturday
day 187
. Now you know what I was talking about all this time. I was a tester for a potential show called, You Against The Audience.
The name of the show speaks for itself. Its a
Wipeout
type show with physical obstacles. The premise of the game is a team of 5 verses the audience. The audience has to stop the team from winning. If they stop the team, the audience shares the prize. If they don't, the team gets the prize.
The experience was fun but I think the audience was having too much fun throwing things at me. Lets just say, I won't ever do this again without a jock strap. (Oucchhh)
This pilot took place in a community gymnasium in Van Nuy's without any special machinery. That's a first for me. Most of the pilots witness were located in big studios and/or in space with all kinds of special apparatus. There is a lot learn on how this pilot was pulled off.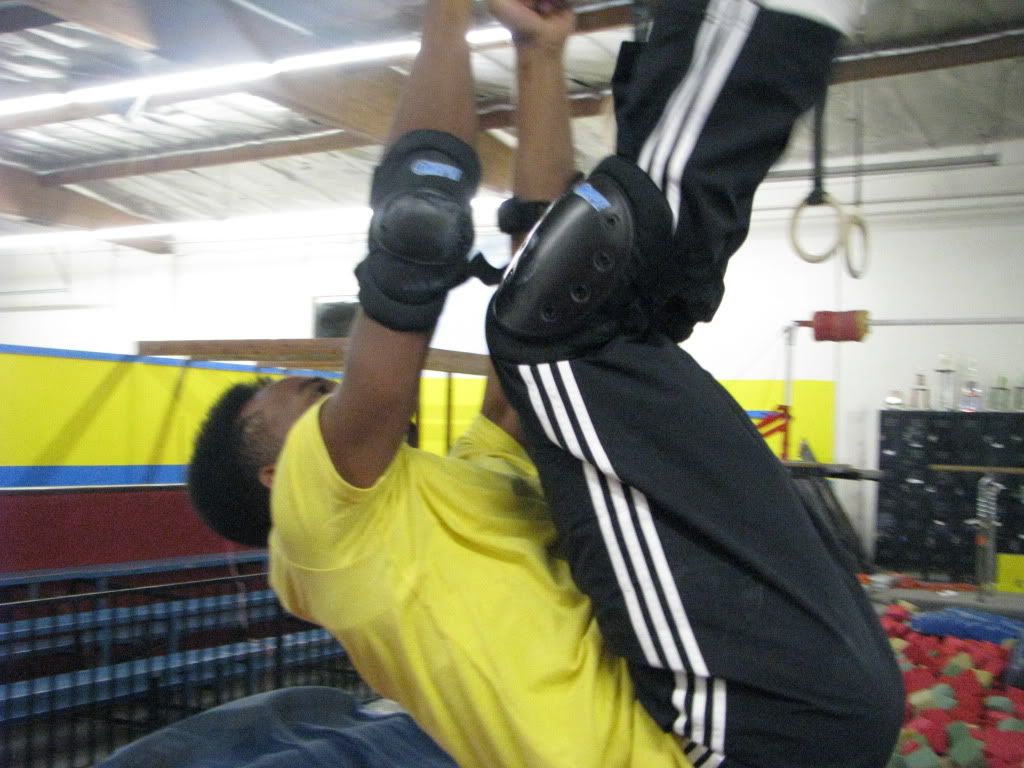 Motown Maurice is a natural at this.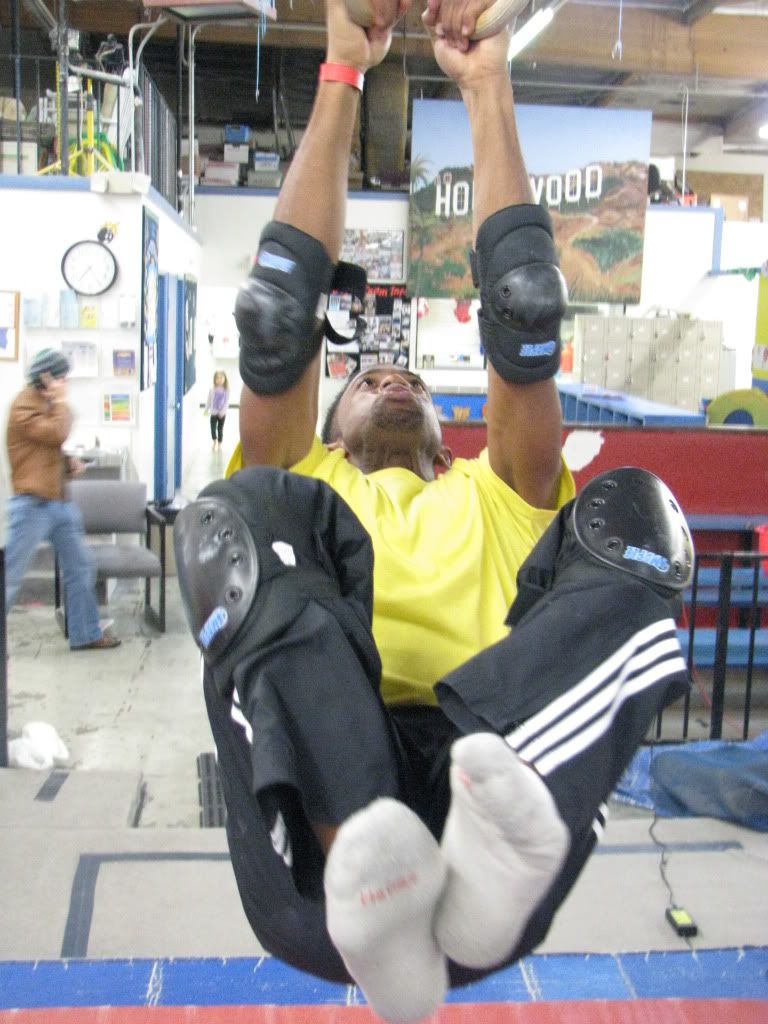 Look at Motown Maurice go.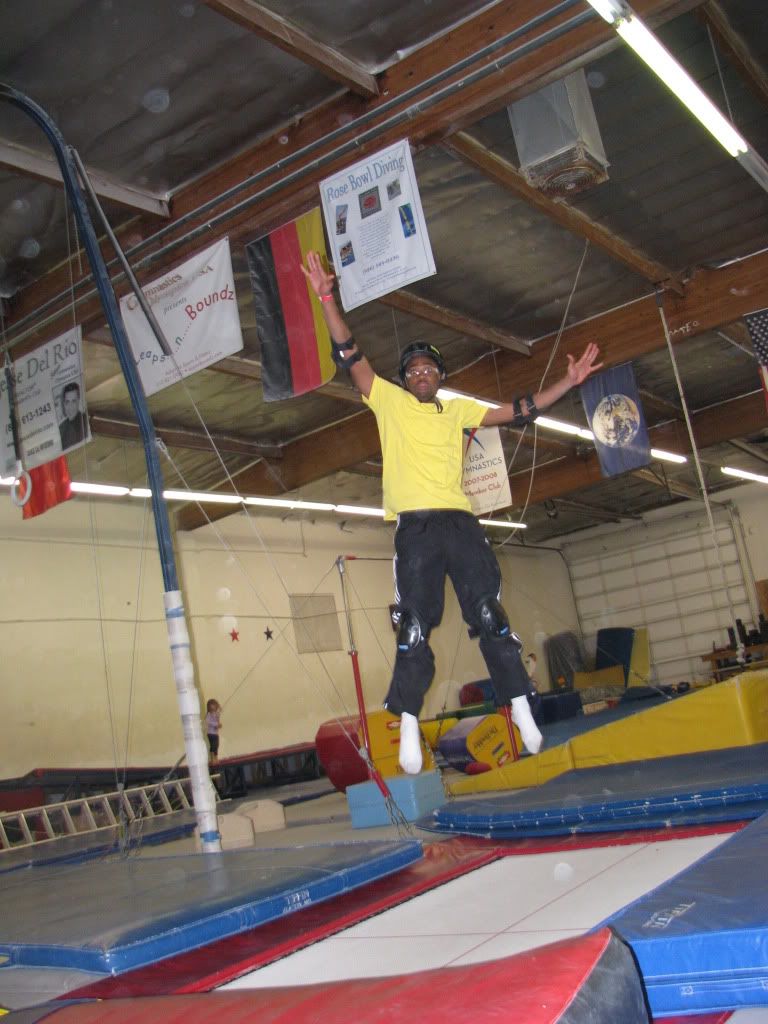 Motown Maurice could jump this high without the trampoline.
Air Motown Maurice.
Poor Motown Maurice gets water blows thrown at him.
Motown Maurice & Team Yellow get ready for the picture. Natasha Lloyd is the 2nd person to the right.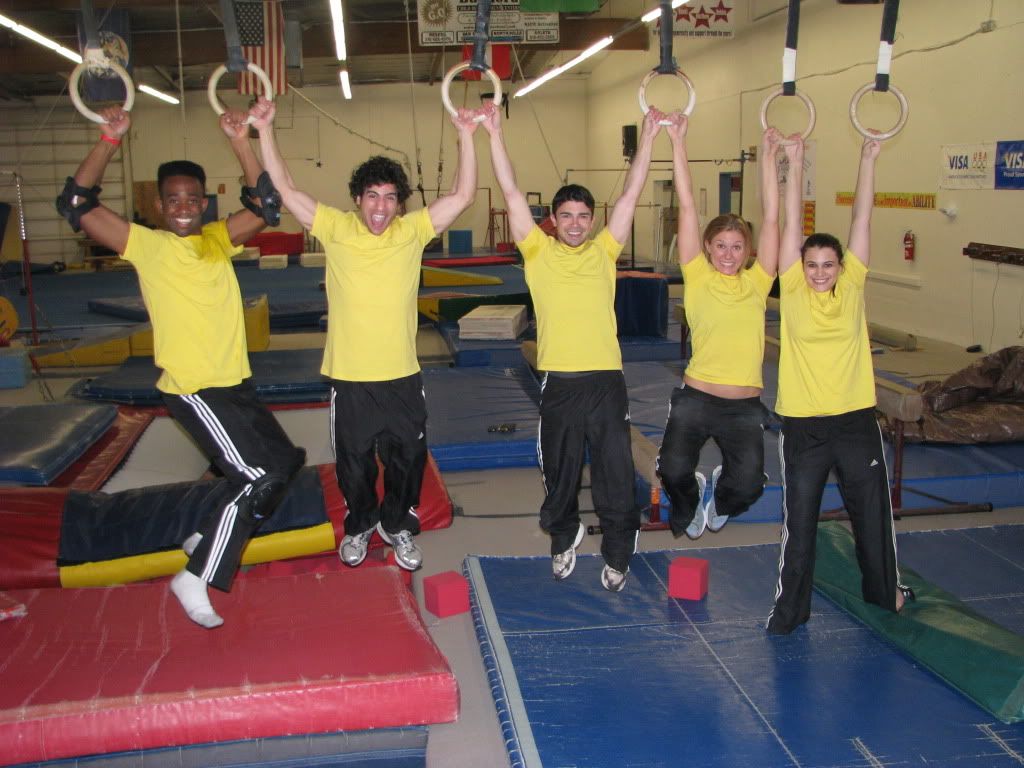 Motown Maurice & the Team Yellow Testing Team.
I'm currently sore from all the jumping and running but it was all wroth it. I got a chance to meet the executive producer of the show is also the EP of a few popular shows on Fox. We even interacted a few times and course I showed my appreciation at the end and gave him my carding card. Without a doubt I was noticed. They actually used me a lot and by the end of the day everyone knew me by name. Even the audience. I also left with a few next level ideas. I'll keep you posted as usual.
For now I'm just appreciative that I was chosen. I'm sure they interviewed quite a few people and I was one of them. When I thanked they before I left they said, I stood out in the interview.
Notable mention:
Van Nuys is about an hour away with public transportation. I didn't find a ride home but my blessings are always with me. One of my teammates give a ride to the bus stop. While waiting for the bus I looked up times for the the next bus on my phone. It told me to go to another street. I asked a person at the gas station where that street was and he told me where to go. About 5 minutes later he pulled up on curb and offered me a ride. I never took a ride from a stranger before but I felt at ease. He ended taking me to the bus station instead. Which was a much better post to catch the bus. I offered him a few dollars for his time and he would take it. We exchanged cards, shook hands and I thanked him for his help.
I did lose my cell phone holder somewhere between the pilot and the bus station but it was easily replaceable.
As the quest continues...
The Future of Late Night
Motown Maurice