Yes, The End is Coming. No! I'm not talking about that dooms day apocalyptic prediction by Harold Camping that was suppose to happen this past Saturday on May 21st.
The end that I'm referring to is in regards to me. Not the end of my life but the end of an era. The end of an era that represents change and what I strongly also believe to the end of financial hindrances.
Check out what has mostly been my theme song of this week. Its getting my hyped up for what I have in stored on Tuesday.
Then all of a sudden I get this urge to start a Prince marathon. I think I was watching a rerun of Lopez Tonight with Prince as a guest and that's how it started. I'm enjoying this Prince streak for now.
Day 238 Sunday, May 15, 2011
Day 239 Monday, May 16, 2011
*
"Friends" Scene
Rehearsal at Linna's
* Received a phone call about new show. I'm calling it Code A.G.S. for now.
Day 240 Tuesday, May 17, 2011
* One time for Exclusives Hair Studio in Sherman Oaks. I believe I finally found my home barber shop in LA. There is much irony to this also. If you don't already know I've had most horrible experience with my hair when I arrived in LA. Its been months, my hair grew back and the memory still haunts me. That devastating cut took place on
Day 19 in L.A. (My Strength, My Money, MY HAIR!!!!)
Since then I've found two other barbershops but I never found satisfaction.
The irony is I noticed this shop when I went to met my agent for the first time
on day 2
. At the time I thought they were too pricey and may be a little far. I ended up taking another person horrible recommendation and got ripped off at an over rated, over price
barber shop Legends.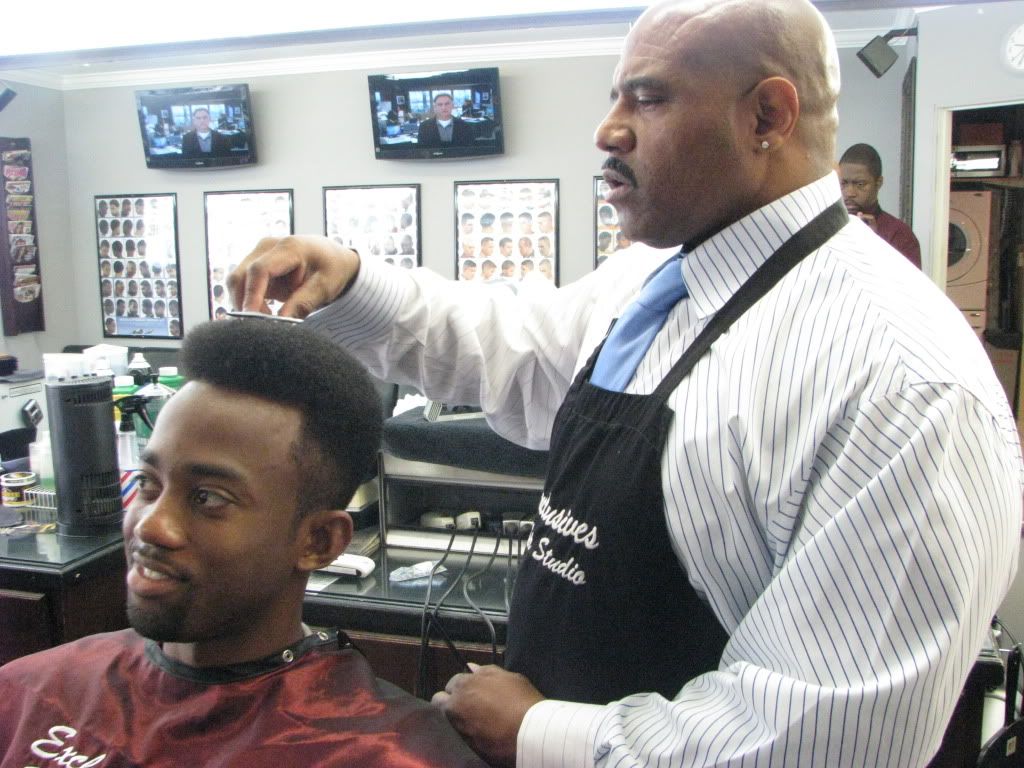 Gene hooks up Motown Maurice's Hair at Exclusives Hair Studio.
They hooked me up with this facial Vicks Moisturizer thing and it wasn't any extra.
Motown Maurice's High Top from the back.
* Since I was in the area of my agent I had to stop by my favorite pizza place. The last time I was there was on
Day 225 Monday, May 2, 2011
and I had to take a picture of the slices this time so you can see this great pizza I enjoy.
The place is called Vitello's Express.
I've been bragging about them for a while now. Check out the picture of the building here.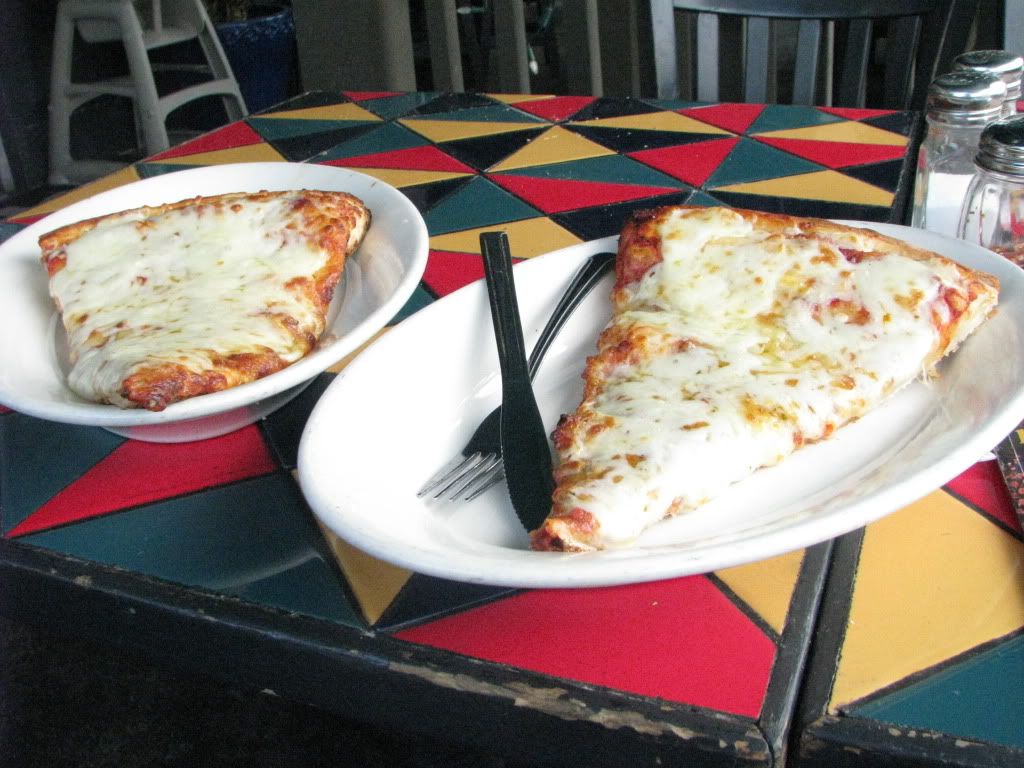 As big as the slices one isn't enough.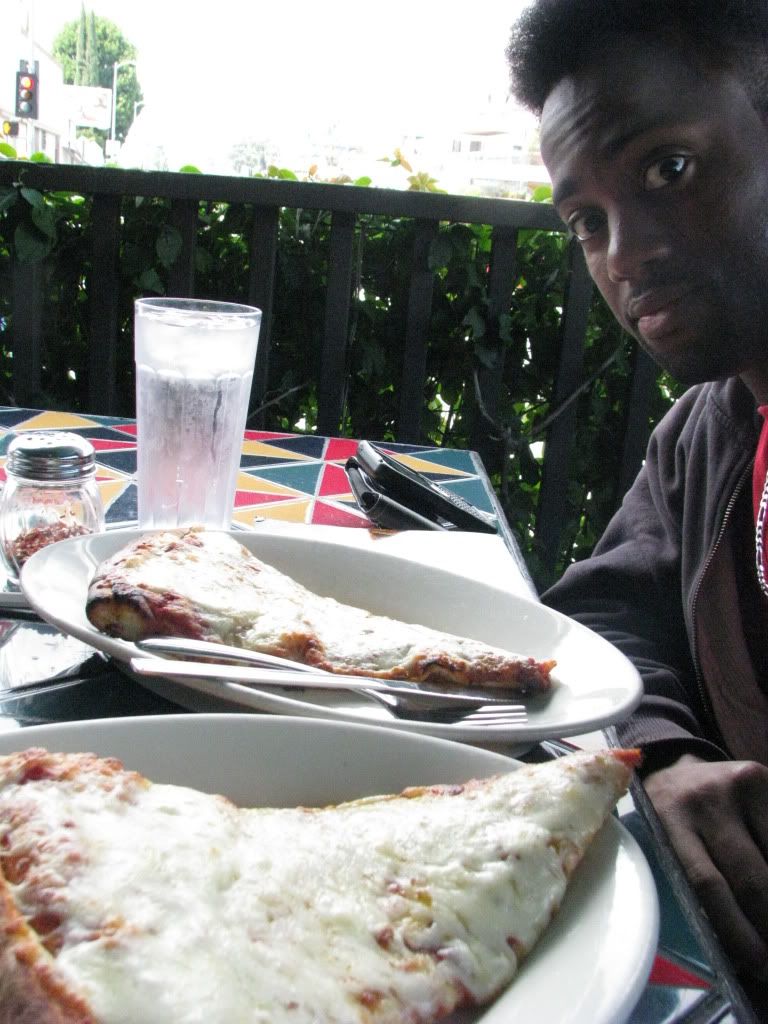 Motown Maurice is about destroy Vitello's Express Cheese Pizza
Day 241 Wednesday, May 18, 2011
Day 242 Thursday, May 19, 2011
*
I arrived at the game show interview with my Funky Feet and I was ready to go. I was actually familiar with the actual company because I had a chance to work with them before. Which means one person recognized me immediately and greeted me with a hug after she off of the elevator. Other than that the interview went well. They conducted it in groups and I was in a room standing with two other people. I think I was asked me the most questions and I can confidently say I gave the most energy.
* Since
Day 216 Saturday, April 23, 2011 I began my duties as a stage manager. Today in a undisclosed verbal way, my hard work and sacrifice was acknowledged. I greatly appreciated the gesture.
* As usual I take picture of the class. I'm not in them this time but you can find them here: www.Facebook.com/Lifebookacting
Day 243 Friday, May 20, 2011
* While still half a sleep, I had a partial conversation about the day. Judgment day to be exact. However, the results of the conversation was positive. I began to realize that I have to capitalize on every last moment. I'm not a great speaker generally because I don't like to talk. Over the years, I've done more producing than talking. I am inherently a quiet person. Today I decided to put my quietness to rest.
In effort of improving my speaking skills, I started to join the ladies of The View and speak out with the them. I did the same thing with various TV commercials that aired. Following that I started playing songs from Prince and started signing and dancing out loud. I also started to do some research on building strategies
to focus my mind. If I'm not 100% interested in the conversation my mind begins to draft. That's not good. Its mostly because my dreaming abilities are so powerful. I have to control my thoughts better and start mentally reacting faster.
* In the blink of all my make-shift speaking and signing exercises I received a text about a hosting position for a cell phone company. I was totally not expecting it. It was set for the next day and I confirmed right away.
* On
Day 219 Tuesday, April 26, 2011
and met up with someone and confirmed web cast interview for the
Red Lipstick show. The interview was set for today but it never happened. There was a mix up with directions.
Day 244
Saturday, May 21, 2011
* I put in some hours as stage management at The Space from 8am-12pm.
* After my stage management hours I rested, then began my journey to the mobile host audition. I'm proud of myself because I took my time and rehearsed when I received the sides. I didn't allow them to rush me too much. When I finally when in the room, I initiated a great conversation with the casting director before the audition started. I made a joke about the world coming to an end
and we both had fun with that for a few minutes. Then we even found a Florida commonality.
As for as my performance I wasn't bad. I don't like it when I fumble on words but my energy was great and I looked dashing. He said I did great and that the call backs will be on Tuesday.
* On
Day 178 Wednesday, March 16, 2011
I noted something about O.R. It was actually
an audition a show called Operation Repo. I'm mentioning this because that same person called me today for a gig on Tuesday coming up. He even offered me more money but I couldn't agree because I already have something booked. Thus, its always great to know I'm still in mind.
* Thanks to my great mom and her intuition to give a credit card I was able to purchased some clothes at Ross in preparation for Tuesday's show. (Read:
Momma Knows...Momma Knows...)
* Wasn't the world suppose to come to an end today? These peopling are obviously mocking all the nonsense.
* Kelly from my Lifebook class invites me to her The World Didn't Come to End End Party.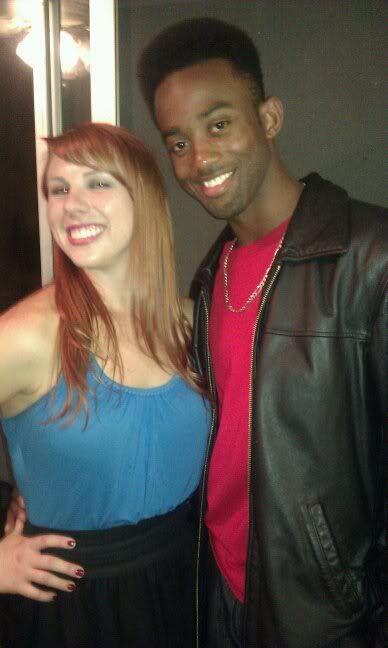 Kelly Shanely & Motown Maurice
Motown Maurice & Adam Bobrow acting weird at the party.
Final Thoughts
The end is near. Which means I I need to prepare for a new beginning.
Note to self. Shave once a day or once every two days. Less ingrown hairs will arrive. The results are better but it still a working progress.
As the quest continues...
The Future of Late Night
Motown Maurice