Post Recaps: Thursday, June 2, 2011
The call that booked this show was on
Day 250 Friday, May 27, 2011.
It confirmed my participation on Let's Make a Deal hosted by Wayne Brady. Lets Make a Deal is a colorful costume infused show. I don't have any costumes nor did I have the money to purchase any so I just put what I already had together and added a few adjustments. Since
Day 225 Monday, May 2, 2011
when the casting director told me my high top reminded her of Steve Urkle I've been making it work for me. Of course I made my official nerd debut with Snoop Dogg (Read:
Behind the scenes with Snoop Dogg & Wiz Kahlifah
) and for the second time on Let's Make a Deal.
I didn't think my attire was that special but a hand full of complimented what I was wearing. Now everyone was told in advance that there is no guarantee we'll be selected as a contestant. It all depends on a few factors. Way before the first factor I ran into a block but I made the block work for me. This show has a tough policy about using government first names. I wasn't happy with that at first. However, in less then 5 or so minutes I figured I'll give them what they want.
If they want Maurice, they can have him as the geek he is. Years ago there was a battle between Motown and Maurice. Now we are one but Maurice was always the geeky one (something like that). So I gave them what they asked for. From that moment on I felt comfortable because the difference was clear to me. I got in character mode and I stayed in it. Months ago I probably would of walked out at the point. Proper reference is always priority for me but I made this work and everything else was magical.
Before we got inside we were all interviewed by the producers in a line for less then a minute each. That's how they determine the contestants for Wayne Brady in advance. When my line was up next the producer saw the Fresh Prince resemblance and I told him my attire was inspired by my idols Fresh Prince and Steve Urkle. I stayed in character during the whole interview and I thought it went well.
One person who I met in line outside told me she noticed the producer was digging what I was wearing. She is also the same person I spoke to first, which allowed me to skip a few people. I'm so good at skipping.
From the moment we arrived in the studio I was fired up with energy. I was dancing and many people had their eyes on me. I even noticed the producers looking closely at me from a distance. There is a chance I impressed them when I walked in the studio or maybe in both places. The lesson here is they are always watching.
Before the show started, I was sitting next to the young lady that I just mentioned above. For some reason the production team moved her in another seat. The person that took her seat was a geek looking guy. I figured it was buy design because they wanted to do a game with to geeks or something. I'm sure he was thinking the same way.
By the time they got to the 2nd or 3rd person that same girl that was sitting next to me was selected for a game. Then I noticed my energy dropped a tad bit. I guess part of my mind was thinking they moved her to a higher spot for better television angles and they wasn't going to select me. I think I started to zone out for a second. Not too long after that Wayne Brady selected me totally off guard and in the blink of an eye I was on stage playing a game.
I remember most of what happened but part of it is a big blur. Things happen so fast. You really don't have much time to think. You can only react. As much as I would love to write more I can't until the show airs. I'll mention this much. I was offered door number 3 or some money.
Check out pictures of my attire below. Part of what got the producers attention.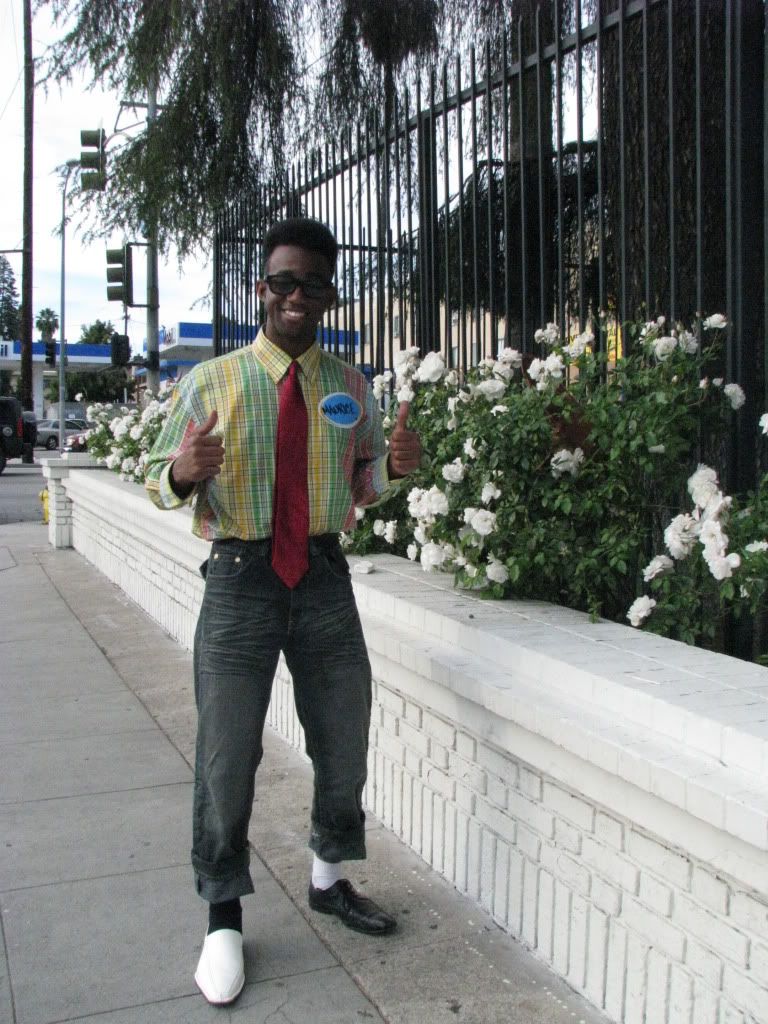 Motown Maurice...
Motown Maurice...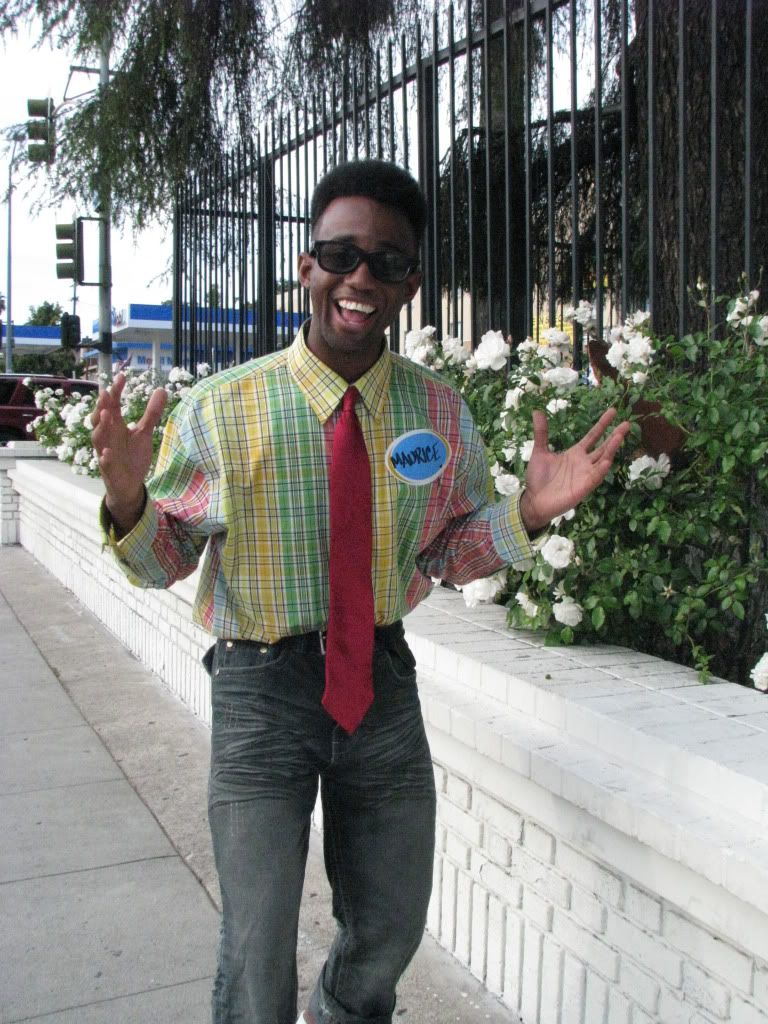 Motown Maurice...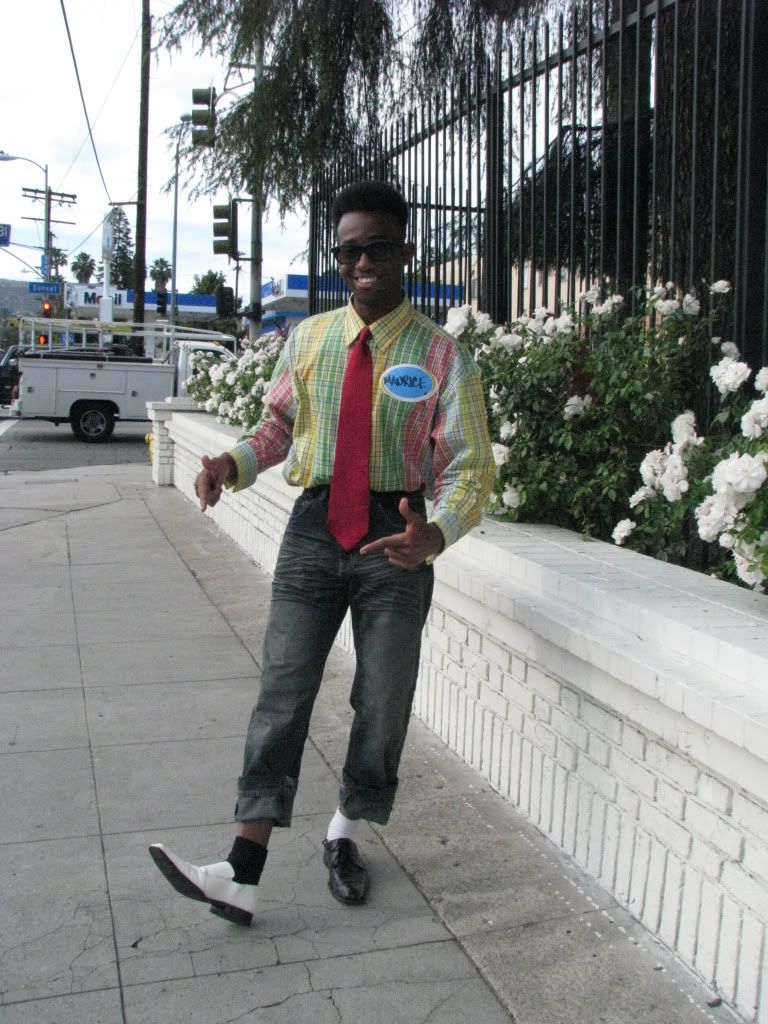 Motown Maurice...
As the quest continues...
The Future of Late Night
Motown Maurice
Update: Thursday, May 3, 2012
I was recently contacted by a member current late night team and she's also a previous guest on my blog talk radio show, Nichole. She informed me about her appearance on Lets Make a Deal. I missed her episode but I asked her about it through text yesterday. To make a long story short, I then decided to shared with her my relation toward the show and process. I told her I was on the show last June and I figured they cut my episode. She asked for my show number and behold, I'm scheduled for June 2, 2012. One year since the recording of the actual show. I actually thought they decided not to use my episode. Lets Make a Deal told me it would air last September.
The Show date schedule website has proof.
http://www.cbs.com/shows/lets_make_a_deal/airdates/67178/
This is awesome. I only wish my show aired earlier because its still going to take some time to receive my prize. If I received it earlier, I would found a way to convert my prize into cash to fund my upcoming pilot by now.
As the quest continues...
The Future of Late Night
Motown Maurice
Update: Monday, June 4, 2012
The episode aired as the website indicated. I didn't get a chance to see it but I should be able to pull it from my old roommates DVR soon. Here are a few comments that came in on my Facebook Television Notice Network.
Peggy Gustave
Thank goodness for Tivo! I saw it and had to wear shades one your colorful shirt (personality) came on. Now the question is...what in the world will you do with a dune buggy.
Ronni Grossman Kustin
Craigslist so you can pay the rent?...LOL..
Next Related:
Let's Make a Deal on Door Number...
As the quest continues...
The Future of Late Night
Motown Maurice