Post represents: Sunday, May 8th, 2011
Revert back to
Day 225 Monday, May 2, 2011
for the origins. At this shoot, I over heard Snoop talking. He basically said he got an idea, made some phone calls, put up the money and now we're shooting a movie. Apparently, its that easy for Snoop. This was shoot at Mira Costa High School in Manhattan Beach. I must say this was a different type of production experience. Mainly because they didn't mind everyone taking out their cameras to photograph at will.
All the extras were there for a full 12 hour day and of course we wasn't used that much. We spent most of our time in the classroom watching the Lakers get their butts whooped. When we were shooting I was having fun. I had no premeditated plans but I found myself in the nerdy geek character the entire time. Some people really didn't know if I was acting or not. I was asked if I was acting multiple times throughout the day. Each time would
I would say, "I'm only being myself."
I drew much attention to myself and with my improvisational skills by doing things outside the box. Others that I was told to do those things. Acting like a nerd all day was cool. Hey, I auditioned to be a nerd, yet I didn't get the part I was the nerd regardless.
Snoop walked by me once shook my hand and said, "That's right stay in character. Stay in character."
So many other great things and connections happened in this shoot but I'll let the pictures and video below speak for itself.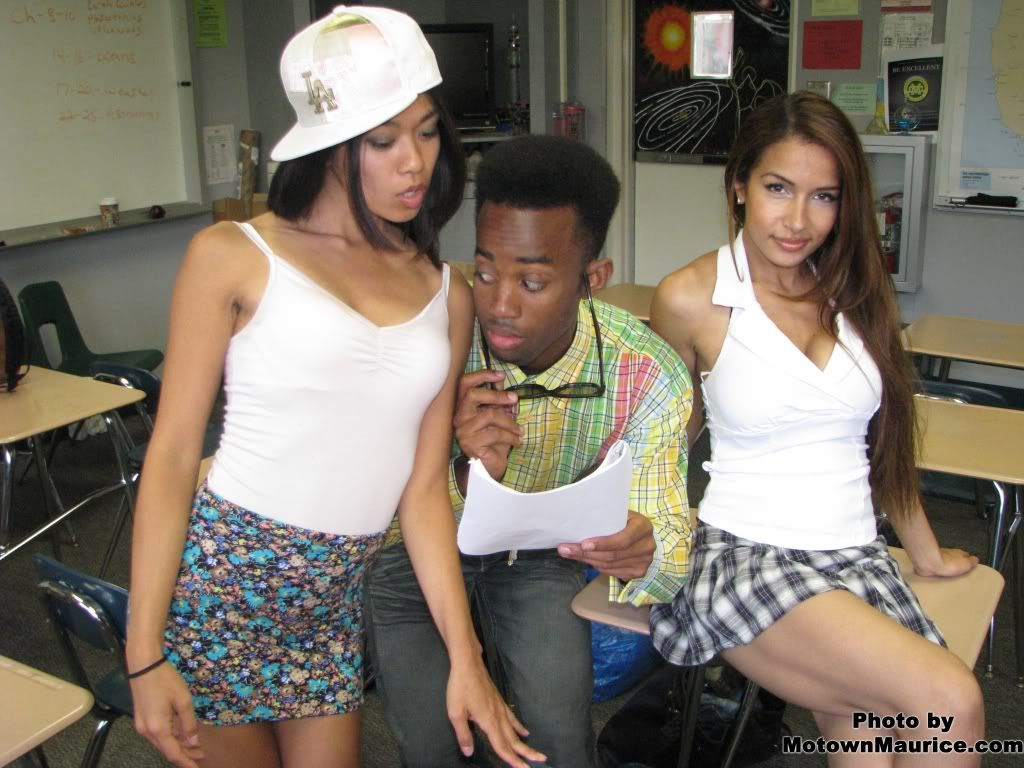 Motown Maurice studying with his lady friends.
Motown Maurice & Amber Rose. She came to visit her current boyfriend Wiz Kahlifah. Little does she know, she'll be dating me next.
Snoop in between scenes.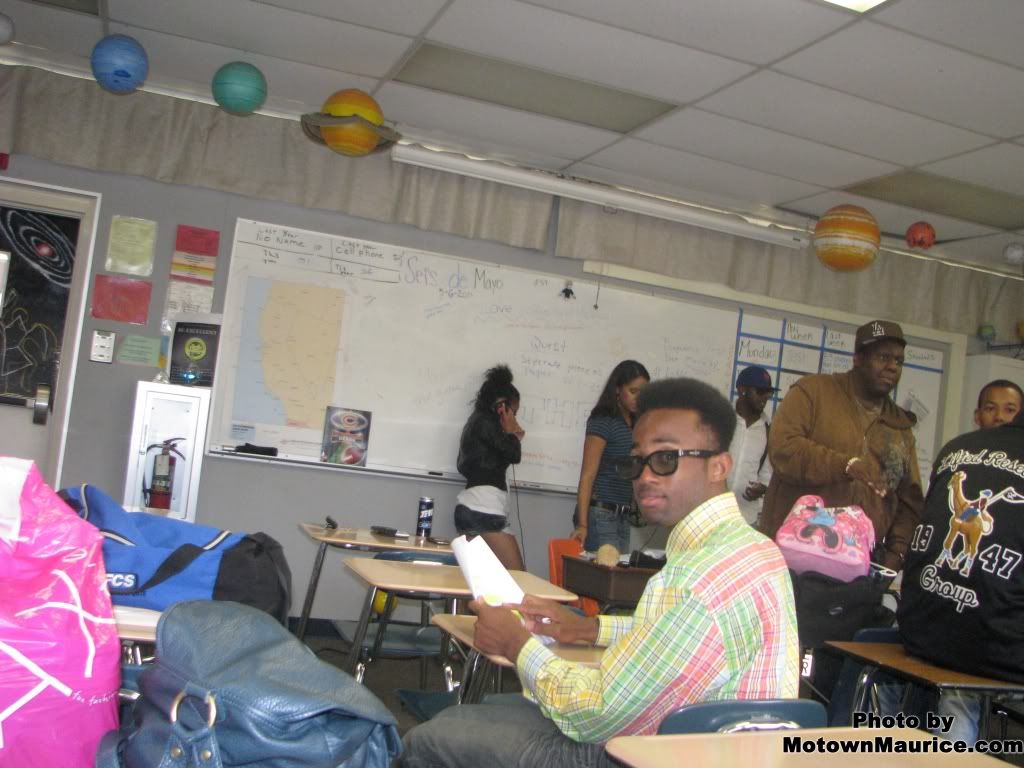 Motown Maurice in the classroom.
Motown Maurice gave her the answers to the test and he got a kiss.
Motown Maurice & J. Cannon Events
Motown Maurice and his classmates.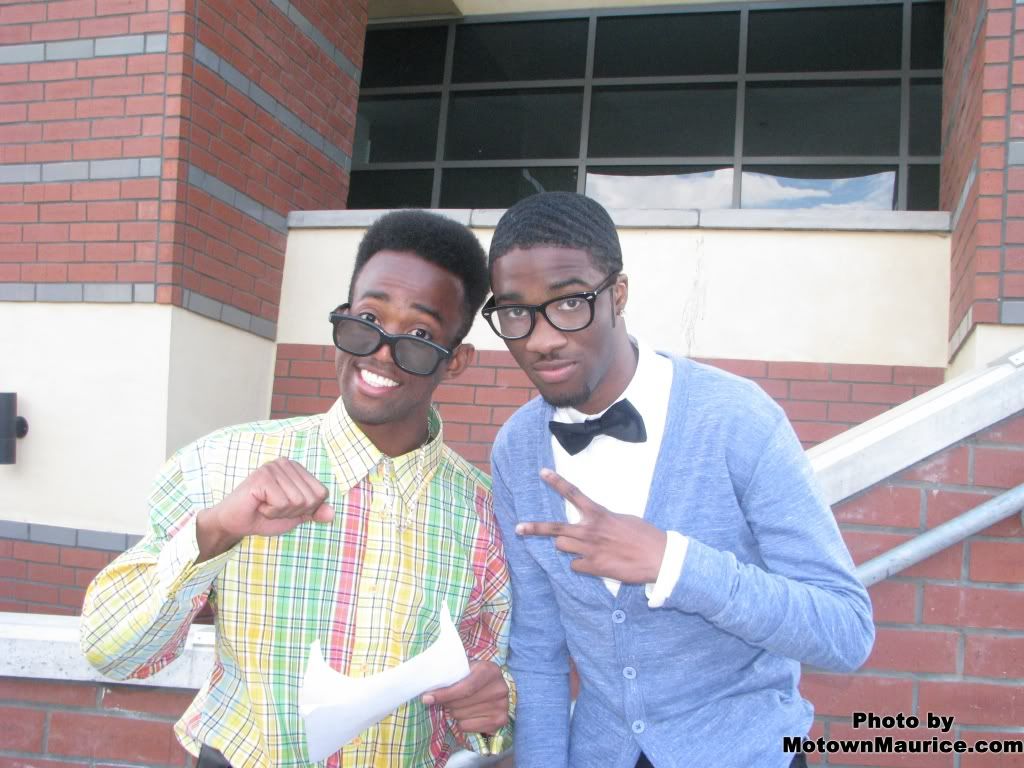 Motown Maurice & Kendre
Motown Maurice & the popular guys.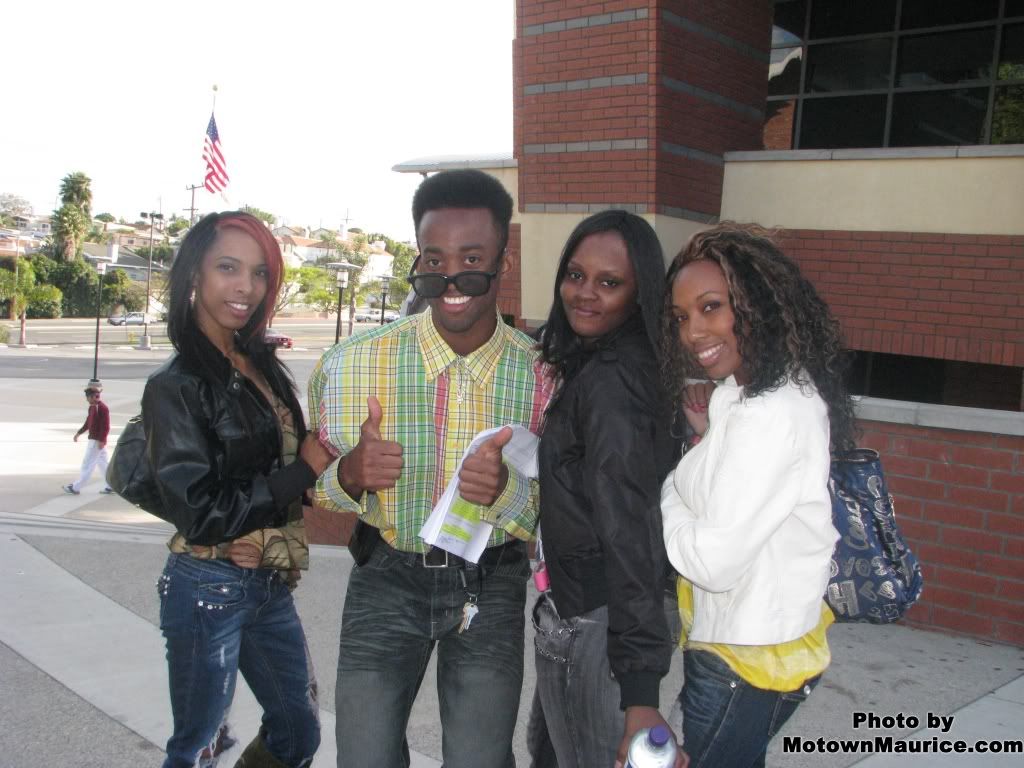 Motown Maurice and his new lady friends.
Motown Maurice is the only guy in his class.
Video ( 1) Here:
Motown Maurice & Snoop Dogg
Video (2) Here:
(Added 9/12/12)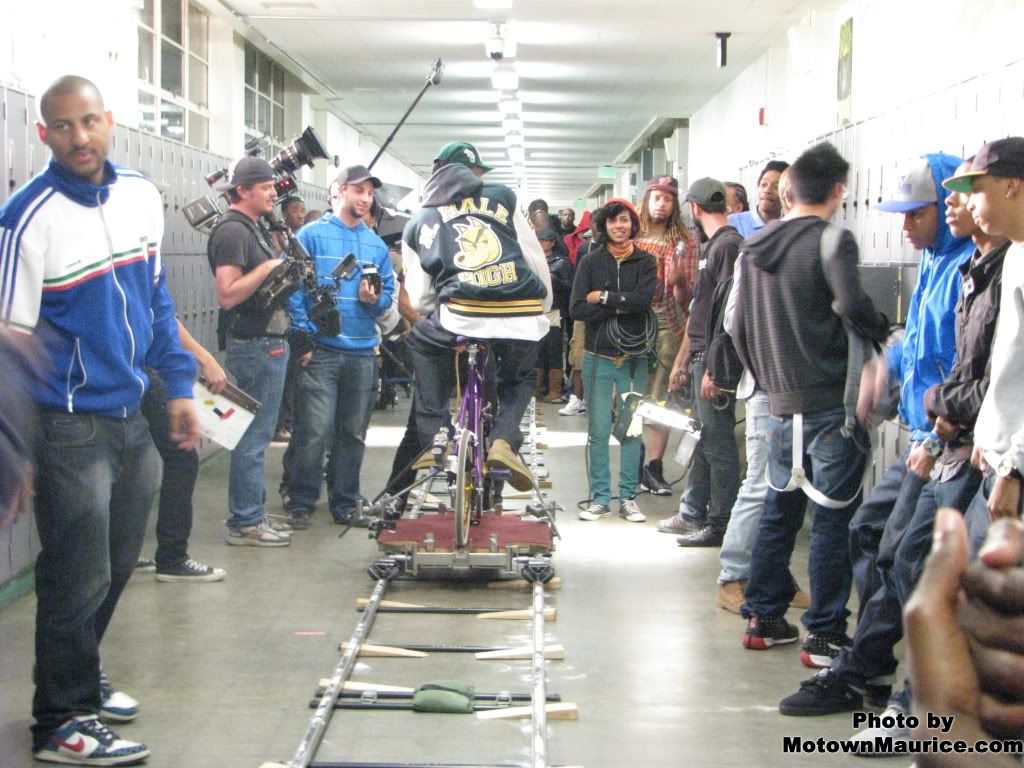 They built a track for Snoop Dogg and his bike to scroll down the hall.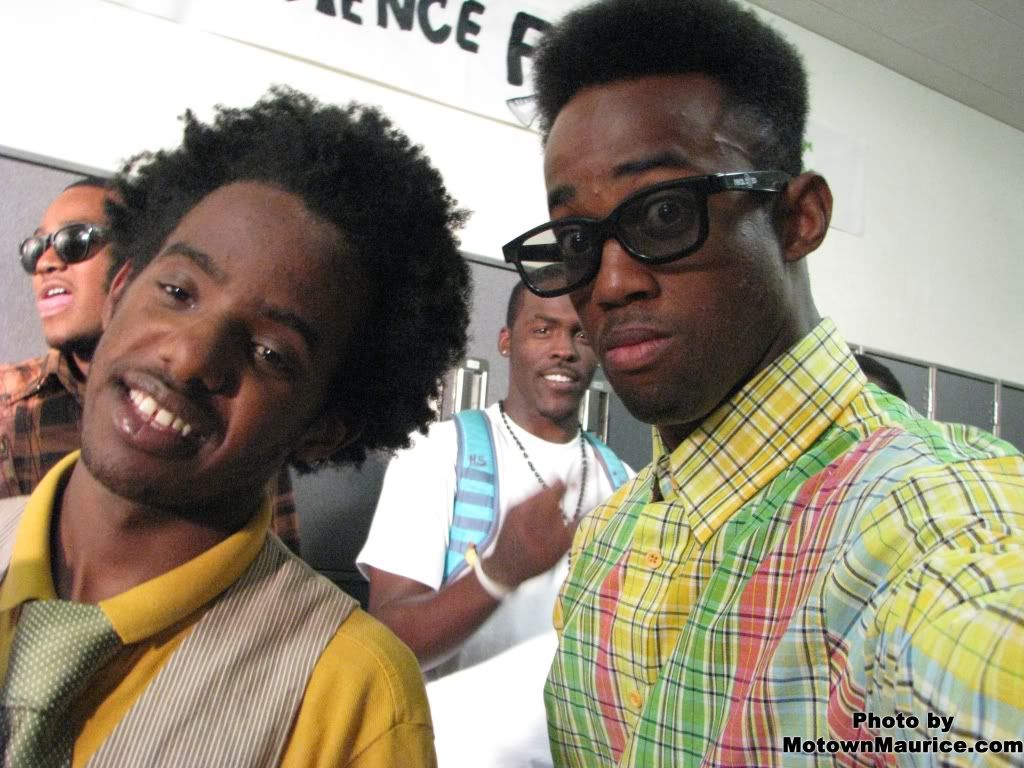 Oko Carter & Motown Maurice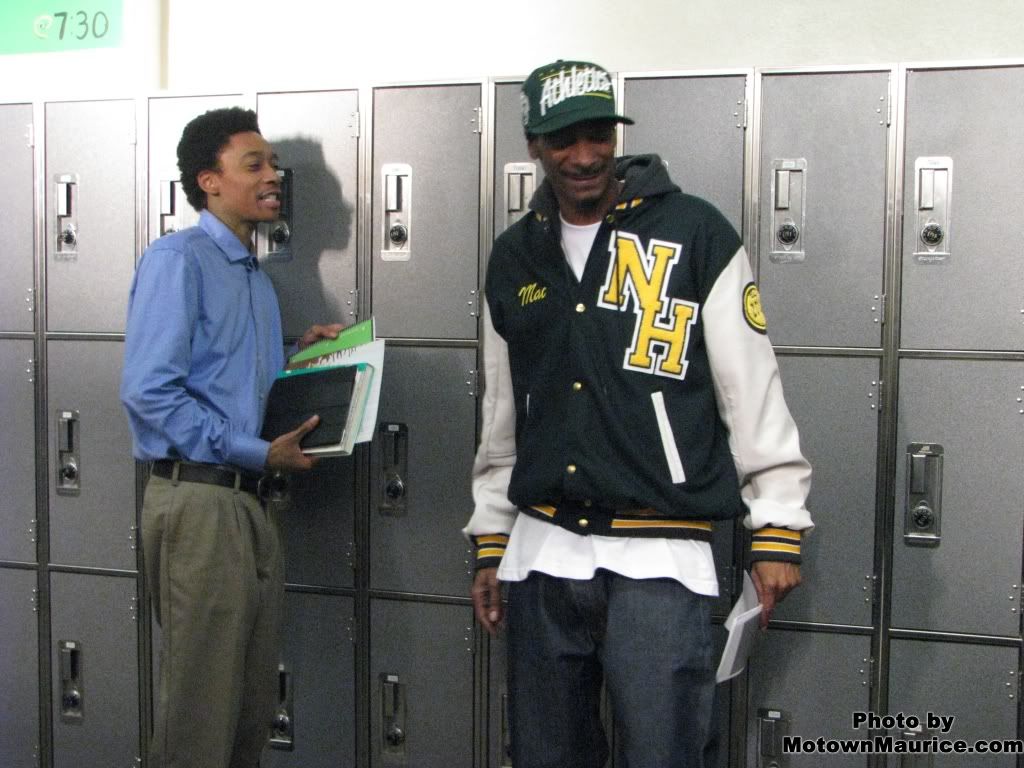 Wiz Kahlifah & Snoop Dogg
Video (3) Here:
(Added 9/12/12)
Final Thoughts
I just mention that I finally got to play a game a basketball today. With my dress shoes on and all. Within my first shoot they was like the geek can play ball. lol. Fo shizzle my nizzle.
Next Related:
High School Tips! with "Mac & Devin" (Snoop Dogg
Mac & Devin Go To High School Super Nerd Highlight
As the quest continues...
The Future of Late Night
Motown Maurice