In approximately 2 weeks, I'll be celebrating my one year anniversary from the day I arrived in Los Angeles, California. The date is September 19th to be exact. Its near hard to believe that all that I have accomplished in this blog represents less than a year. It has been a continuous nonstop progression to establish myself and break through on something big. My work and initiative speaks for itself and all of my accomplishments/efforts are blog evident. As a result, I must confess, right now, at this moment, my energy is deranged. I'm burnt out.
My life has been looping like a rolling coaster ride at an amusement since July 1st. Within the last two weeks (
Week 49
/
Week 48
) I thought I identified the requirement for those changes. At one point I assumed maybe I need to start mediating. I visited a meditation center once this week but that didn't do much for my uneasiness.
I'm simply burnt out to the crisp. I can't function at full capacity right now. I started this week watching movies and shows through Netflix. I also ended the week the same way. The state that I am in right now isn't a foreign experience. Far before I knew the exact specifics of my purpose, this occurrence took place approximately once a year for the past few years. Through those occurrences, I discovered movies and in other case videos games to be an outlet of relaxation. Now looking back, I realize the intake of movies/video games have been more of a energy rejuvenation process.
Within that exhaustion period, thanks to Netflix (Currently, truly thanks my acting classmate Sylvester who allows me to use his streaming Netflix account on my computer) there was always one a particular film series I really became attached to.
In 2006, I purchased a Play Station pocket (PSP).
In 2007 or 2008 I purchased a Nintendo Wii and Xbox 360.
In the summer of 2009 I was hooked to the HBO series
The Wire
.
Summer of 2010, I fell in love watching
Spartacus
.
Now in 2011, its Fox television series
24
. This series came out in 2001 and I new nothing about it. I finished watching 24 hours of the show in 5 days. I can't believe what happened at the end of the first season. Every moment of it was amazing. Its so impacting, I'm apprehensive to watch the next season.
Movies, and video games have always been used a tool to fix my energy derange. By now I'm getting much better at identifying this period when it starts. Last year and the year before (2010/2009) those periods were partly freighting because I lacked vision and clear sight on how to move out of that period.
Somehow, some way, I emerged sparked with energy and better ideas more powerful than before. For example, after one random meeting in September/October in 2009 I emerged with the idea to create The Motown Maurice Show. In September of 2010, after a phone call and a couple Facebook messages, I then after emerged with a one way ticket to LA. Now in 2011, I have just acknowledged the beginning stages of this exhaustion period and I have decided to Let Go & Let God have his way. Somewhat unknowing I did that before.
In the past I would be concerned about the near future and my temporary inability to envision. Then finally when I choose to worried less, something great always manifested. Here I am, facing my burnt out cycle again and I'm letting go early this time. I'm not going to put up a fight as I did in the past. I have to Let Go & Let God Have His Way.
As well as I'm going to Let God have his way, I truly believe its also means to let go and let my focus be upon my talent agency. Although, I probably spent more leisure time this week in front a screen watching shows then any other week thus far in my quest don't be fooled. I still took some huge foot steps mostly lead by my agent. (Please see my final thoughts for a further explanation.)
Day 343 Sunday, August 28, 2011
* Went to Universal City Walk and watched Columbiana, left in the middle of the movie Conan and watched 30minutes are less. Columbiana as the best of the 3. I could of done without the other two.
Day 344 Monday, August 29, 2011
* Began producing new layouts for my head shot inspired by my agent.
* Read Post: St. Pete Times and the Critic
* Audition notice for HTC Phones
Day 345 Tuesday, August 30, 2011
* Read Post:
Sardines & Crackers
* Before my audition I did a thug life photo shoot because I had to take the puffs out.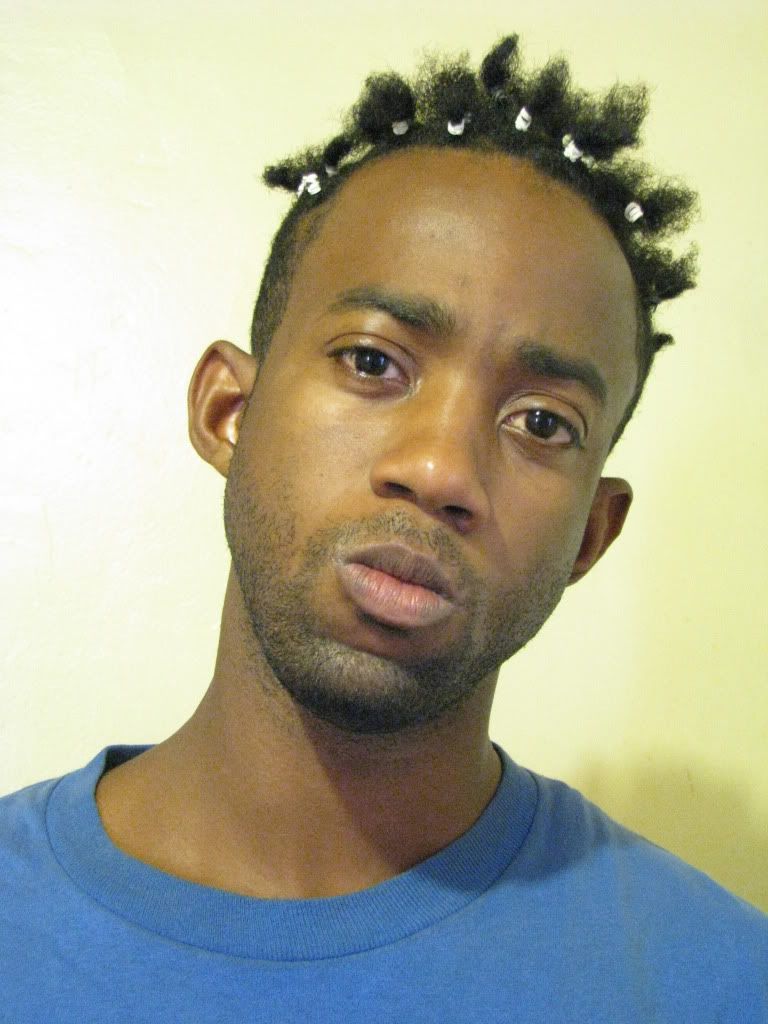 What you looking at?
Related Post: Rough & Stuff High Top Puffs...
* Had a great conversation with my agent.
* Audition for HTC phones.
* Felt low spirited and burnt out most of the day. I watched Alicia in Wonderland to relax.
* Started watching the Fox series 24. I didn't realize it until days later but my agent actually inspired me to watch this. Simply by telling me to design a head shot layout based on 24's flier online.
Day 346 Wednesday, August 31, 2011
* Rehearsed for a scene for acting class and interesting enough Byron Allen's name came up again. hmmmm
* Decided to Let Go and Let Flow/God.
* Received a call back notice for HTC audition.
* Visited Maum Meditation place and tried out a session.
Day 347 Thursday, September 1, 2011
* 2nd call back for HTC Phones.
* Notice for Miller Lite commercial
* Attempted a Hustle and Shuffle interview but because of technical difficulties I had to reschedule for next week.
* 24 marathon continues...
Day 348 Friday, September 2, 2011
* I tried out a new barbershop and the results were workable. Shout outs to Chris and
Capsule Barbershop
. The week before a guy who claims he was homeless told me about the shop which was a less than a block away from my acting class. I've seen it before but I never checked it out until today. I went ahead and introduced myself and they seemed cool enough so I gave the a try. The distance is great because its next to my acting class.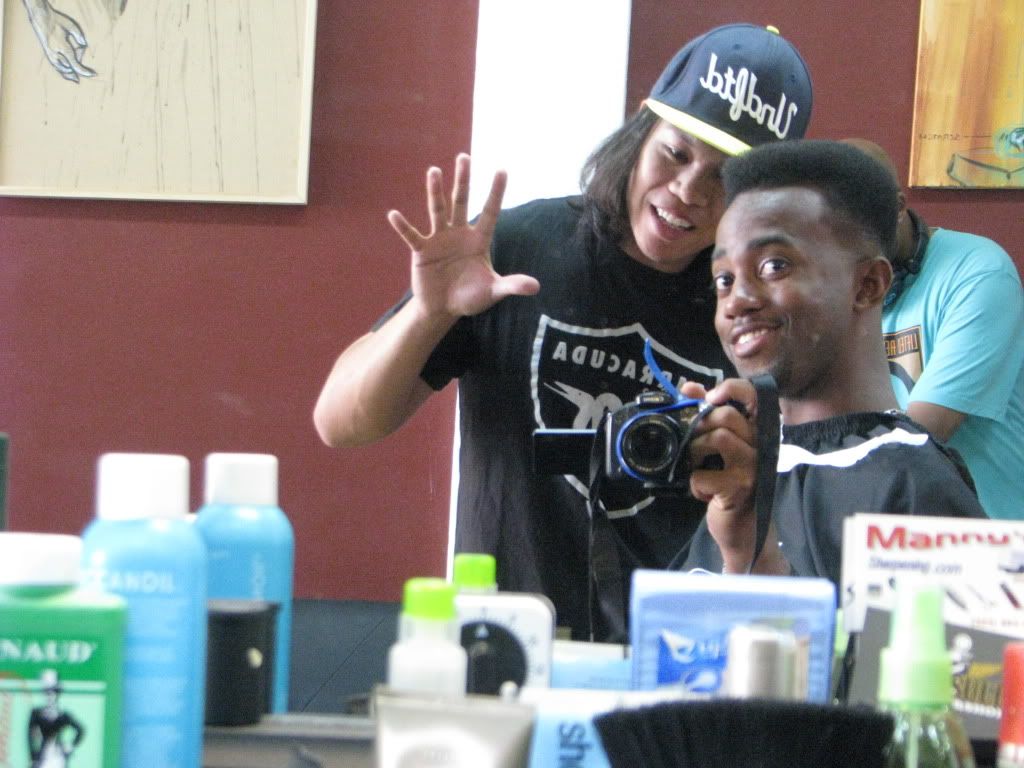 Chris & Motown Maurice at Capsule Barbershop
* Auditioned for Miller Lite
* 24 Marathon continues...
Day 349 Saturday, September 3, 2011
* 24 continues and ends...
* One back is scratching another
My partner which helped me out (
Day 340 Thursday, August 25, 2011)
with my food stamp riches needed some help so I opened the doors to him and my friend for a few days.
Final Thoughts
In reality, when I'm burnt out like this it really means I'm getting work done in smaller proportions. Translated into wise terms that means "I'm working smarter not harder." There are a lot of things I've done in the past year in which I can't see myself doing anymore. Its truly time that I let go and let God take control. I have to now let the universe conspire. I've planted the majority of my seeds. In less than a year, I have exhausted not only myself but several casting avenues. Since July, I haven't been using Craig's List anymore. Its even been a while since I've been cast for a music video, background or audience work through LA Castings. I haven't stopped submitting for any of those gigs on my own but the responses don't come in like they use to.
None of that will really propel my quest but I'm taking it as a sign to relax and focus in on what my agent has to offer me. Coincidentally enough, my agent partly inspired the way I'm feeling and the direction I'm taking right now in one phone this week. I've only made them $10 in less than a year but their belief in me hasn't changed a bit. As a matter of fact, it has only increased. In a conversation early this week, they said, despite the fact that I haven't booked, I'm top 3 on their talent list for auditions and call backs.
Their general attitude is that I'm being noticed, some agencies keep calling me in and its just a matter of time before I get chosen. In the same spirit of the conversation, I told my agent that I believe my booking will come when I reach my one year mark. Everyone seems to tell me if I make it in LA for a year then you've made it.
When I started my production company in Tampa back in 2004, I was always told that if can survive the first 3 years as a business owner, then my business will make it. That was true for me because 3 years and 1 month after I started my business I was able to get my own apartment and pay full utility bills for the first time since I left college. My agent recently celebrated their first year in August and they also celebrated the most bookings with their clients. It LA its seems to be that one year mark that really matters.
I'm sticking to my decision and I'm going to relax and take the back seat for the first time in my quest. My agency is truly a blessing and this week alone they got me two huge auditions. One with HTC Phones and the other with Miller Lite. I got a call back from HTC Phones which of course is another great accomplishment even thought I didn't book it.
My agent also suggested some new ideas for my head shots to layout my many looks. I've spent a good amount of time putting that together among another version.
My plan is as follows for now. As I rejuvenate my energy, I'm submissively focusing of what my agent has to offer. So far so good. The auditions are back in rotation and I'm enjoying the back seat of causal Netflix entertainment.
As my anniversary approaches (September 19th) I wholeheartedly want to buy myself a tablet. A Toshiba Thrive to be exact. In addition to that, the 3rd and last edition of my favorite video is coming out the day after. Gears of War 3 for the Xbox 360. I don't have access to my Xbox 360 because its in Florida nor do I have the financial ability purchase a tablet or any games. I really want to treat myself to both of those things for anniversary but my sacrifices have not paid off for me just yet.
Let the count down begin.
As the quest continues...
The Future of Late Night
Motown Maurice