Written Weekly Review
The past two weeks have been huge for late night television. Less than two weeks ago Jay Leno signed off with a heartfelt goodbye and this week Jimmy Fallon officially stepped in to begin his reign. I've been reading up and doing my sincere best to follow up with the stories. 2-3 years ago, in the earlier stages of my quest, I would of invested much of my time and energy into a literary perspective. I don't have time for that now. I wasn't even able to watch a full episode of late night television this week. I'm doing improv almost every night and there also important events to attend. With that, I say congratulations Jimmy Fallon and much blessing to late night television. Yes, my eyes flicker when I see Jimmy's face on a billboard and bus banner. My desire to go head to head with him hasn't changed. It never will. Thus, I've been doing this long enough to know its not my time yet. Mostly importantly, Jimmy Fallon's tonight show ticket is well deserved. The man is a superb talent. I honestly don't understand why some people think he's not talented. He's certainly not an actor, that in which he knows. As for late night, he's made for it. Its his calling. Soon enough the late night god's will grant my long awaited opportunity. Late night is doing good right now. I'm still skeptical about Seth Myers but I'm not hating. I don't think its his calling but he certainly paid his dues and people respect him. He does deserve the right if he desire it. More about Seth next week. All in all, I have to author my own legacy. If I just watched the programs all the time that would just make me a late night enthusiast. I'm a late night crusader, fighting to...I think we all know who I am by now.
Sunday, February 16, 2014
* Attended a Mosaic Church morning service
* Continued my winning basketball streak at the park.
* Attended Ivana Chubbuck's Christmas in February with Kevin Cardenas. He invited me. After awhile, I noticed Robert Townsent there. It was my second time at the same event with him since I arrived in LA. The first time was
March of 2012
. I originally met him June of 2009 in Miami Florida. I later approached him and he basically snubbed me off. I had not intentions to approach him that night but I saw an opportunity and took it. We had an authentic meeting at the American Black Festival 5 years ago and I figured he would remember me. When I got his attention he was by himself and his facial expression didn't even flinch. I asked him to guess where he was June of 2009, the weekend Michael Jackson died. He remembered that. I then proceeded to tell our amazing story of when he pulled my name of out a bag and... Subsequently, without much care he throbbed his shoulders, said and indicated he didn't remember. Then he gave me a very generic hand shake and said, "I wish you continued success." Who said anything about success? I said nothing about the status of my career or nothing like that. He obviously was far from interested in speaking to me. I sure figured wrong.
Okay, many up and comers, complementary house hold names have had past situations which celebrities that have dis them. I'm not not calling this a dis. It is what it is. Since my first interactions with celebrities and The Motown Maurice show, I got 101 lessons needed about interacting with them. The most diplomatic term I can use is "lousy." What I valued as significant in 2009 between Robert Townsent and is no longer significant to me. What was he suppose to do you asked? He was suppose to be himself. Always be yourself. Myself would of responded differently to another young man. I'm confident about that but to each his own. Maybe he didn't like the fact that I made him guess. Or maybe, I wasn't as pretty as the young ladies he took the time to talk before. It doesn't matter. More power to him. This reminds me of Michael Baisden (I won't get into it now but I'm sure it will resurface in the future).
Monday, February 17, 2014
* Internet problems, fixed with I love Boba.
* Had a Mosaic meeting with my improv teacher Matt Tate mainly about leadership and volunteering for Mosaic.
* Attended improv class at The Next Stage. Its the first time in a while. And I got kicked out for leaving early. The director Chris B of The Next Stage is an idiot. He's not even worth my time writing about.
* Formally known as Swipe, Special Delivery improv rehearsed today.
Special Delivery rehearses for its soon debut.
Tuesday, February 18, 2014
My decrepit chair finally gave in. RIP chair!
* Sent QWF email.
* Formally known as Monkey Butler. Mosaic Comedy has a new day for improv class.
Wednesday, February 19, 2014
* I recently booked some type of Superman dating skit today but it later got canceled. As far as I'm concerned, I'm cool with it.
* Improv at Michael's
Thursday, February 20, 2014
* DOS Improv Rehearsal.
* An actual music video audition. I decided to try something new during the audition that had something to do with the weather and mango's. It worked. The next day I got the call and booked it.
* Attended NYTVF's Format Frenzy: An Indie Guide to TV's Fastest-Growing Phenomenon at Busby's East. The general manager of the venue greeting me with open arms and office me a free drink. That's first class. Mostly importantly this event inspired the reinvention of an idea that will soon become a pilot.
* Did a lot of walking to day. Basically from Melrose and La Brea to home.
Friday, February 21, 2014
* Hit It audition and BOMBED it. I totally went blank but I can explain. I memorized the last verse from this old school hop hop song "SLAM" by Onyx. I had it down but not when it counted. The reason I bombed so well is because I wasn't being myself. While waiting they told us to be ourselves, that I wasn't.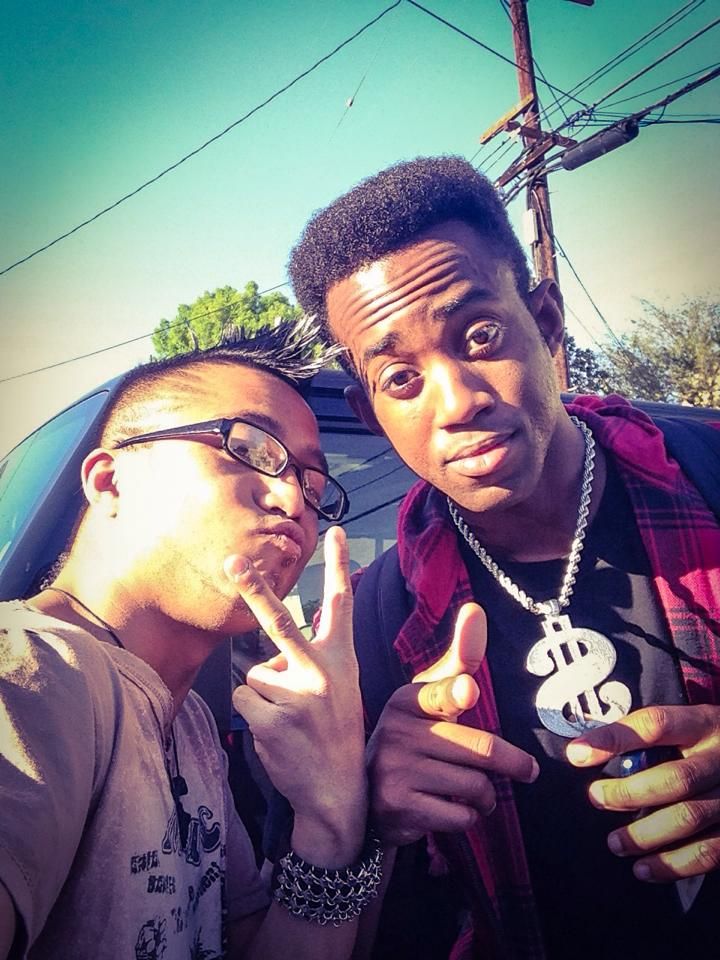 DJ and Motown Maurice post my horrible audition.
* Damn Katy Perry music video Dark Horse came out and I my epic scene was completely cut out. Bummer!!! My head can be seen a little bit in the back ground but its really not notable.
* Neon Venus improv show with DOS.
Saturday, February 22, 2014
* Basketball win streak continues with one indoor basketball game. The second game never ended because one of my teammates left without telling anyone. We noticed he was gone mid game and we ended it.
* My gracious landlord let me borrow $5.00 because she was concerned I didn't have any money for food. She also gave me 3 one dollar coins and some can foods. I went most of this week with $1.00 in pocket with access to my $25.00 cash in my debit card. I later in their office and fix it.
Teen Wolf epiphany. I'm on a Teen Wolf binge by the way. I loved the first season then came Vampire Diaries. It took me a while to get back into Teen Wolf. The start of season 2 was kind of wack but I'm looking it now. I'm checking up and seeing myself in season 3 episode 8 was priceless. Moreover, I want in on Fantasy Comedy Drama. It makes sense based on how much I love watching it. I would be great in a supernatural drama program. With my upcoming new strategy, I'm going to do my best to fit myself into that equation.
Final Thoughts
Two random people came up to me and said, "I'm sorry about your lost." I was like what are you talking about? Their response, "The Tonight Show and Jimmy Fallon..." It certainly makes me smile and once again Jimmy Fallon deserves it. I want my stake in late night. Jimmy can have The Tonight show. I'll get mine. I'm just grateful people think of me when they think about late night.
As the quest continues...
The Future of Late Night
Motown Maurice