Weekly Written Review
As I write (Wednesday, Nov. 27th), I'm a few days past needing to complete this post. Now that the screening of season 2 is complete, I feel a relief. Yesterday, was the premiere and it was a success. More info coming in week's 167 post. Of course much has happened since this week 166 was completed. Which means it heavily influences my recap right now. Nonetheless, lets review. Business wise, there's nothing new. I missed a few more auditions this week, continuing the pattern from last week. Editing consumed my life of course but it went along smoothly. The computer that I ordered to get the editing done is working like a charm. I never experienced such proficient editing before now. Editing season 2 of The Late Night Experiment is what I've been doing and honestly there is nothing exciting to convey about editing. My personal life on the other hand has been making the headlines a lot lately. See final thoughts for more.
Sunday, November 17, 2013
Motown Maurice stars as Kel from Good Burger. #CabbagePatchin
#CabbagePatchin
Monday, November 18, 2013
* Editing...
* Monkey Butler improv. I had a nice walk and talk with her after improv.
* Skipped a zombie related audition.
Tuesday, November 19, 2013
* Missed EBT appointment to continue editing.
* Skipped a Wade World audition.
* Editing is the focus.
Wednesday, November 20, 2013
* Editing...
* A random text called me in for a music video audition. It wasn't actually an audition. They just wanted to meet me. I decided to go considering the fact that music videos have always been good to me. I'm glad I went. I ended up booking for Friday.
Thursday, November 21, 2013
* Audition for: Ladylike/Jewish Wedding/Pep Talk Micha
Friday, November 22, 2013
* Carl Jr's Buns music video shoot.
* Shot the last scene of The Late Night Experiment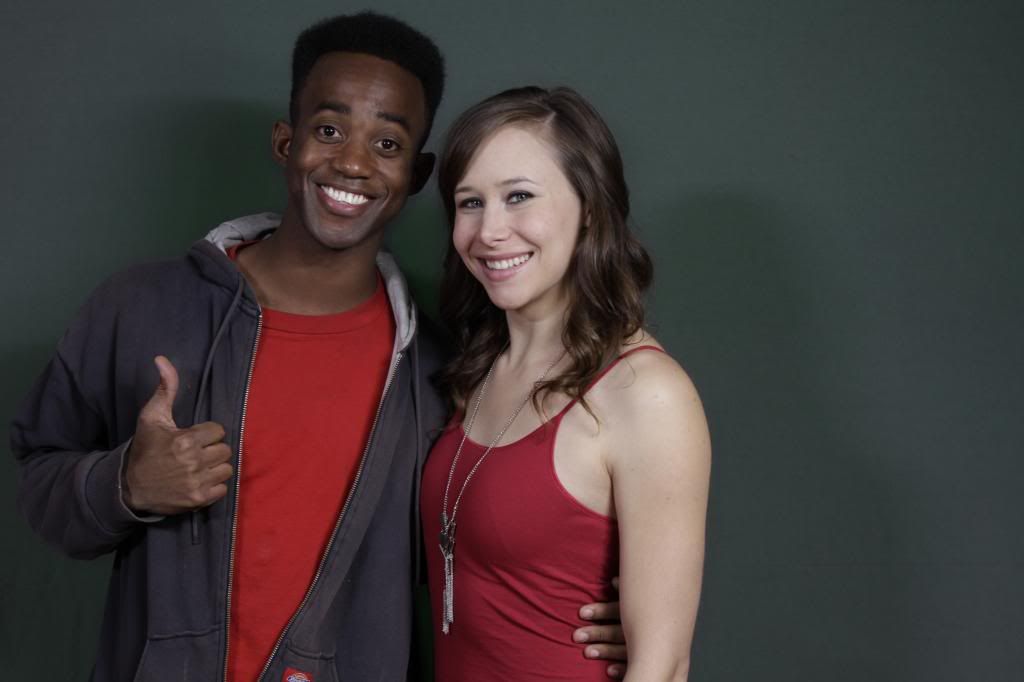 Motown Maurice & Malorie Felt
Saturday, November 23, 2013
* Editing...
Final Thoughts
Last week (week 165) I begged myself back into the life of a particular young lady. The remaining of that weekend leading into Sunday of this week was depressing. I wanted to talk to her but she needed time to get her feelings back, so she texted. Finally we spoke on Monday of this week and we seemed to be on the path of hope. For this to happen, I had to press the patience button. For the first time in over a decade, I'm converted my mind set to seek out a healthy relationship. I reactivated my sensitivity levels and put to use some of my emotions once again. No more pushing any her away. I'm relaxed, I'm patient and I'm hopeful. At least somewhat hopeful. My problem with his girl is that she doesn't act like a girl that likes me. Of course she likes me but I had reason to believe she doesn't like me like that. I'm always happy to be a round her and talk to her but a day doesn't go by when I'm not wondering if she's really into me. A couple pre-planned industry related appointments brought us together twice as usual. She never makes plans with me. We never make specific plans with each other. Saturday night she said she was going to call me back before she went to bed and she didn't. That' rubbed me the wrong way. The next day I avoided her calls and only intended to call her back if she left a message. She called me twice that day and not until Monday of week 167 did she finally leave a message.
Its been over a month of back and forth with this girl. We were cool. Then I pushed her away. I'm doubtful, I'm hopeful, I'm hopeless. Well, as of right now. Wednesday, November 27th I can officially say its over. Last night at my season 2 screening, I made an epic observation that confirmed our relationship has been roadkill from the start. I'll explain in next weeks post.
As the quest continues...
The Future of Late Night
Motown Maurice