Weekly Audio Review
Sunday, March 29, 2014
* Recovering from Q1 Wrap Fest. I watched The Hobbit: Desolation of Smug today.
Monday, March 31, 2014
* Went for a run to the basketball courts. Didn't play any ball today.
* Attended The Academy of Web Television networking event.
* Mosaic Comedy group class. I got their late and just watched.
Tuesday, April 1, 2014
* 3 pop up audition notices
* Got noticed from UCB. Unfortunately, I didn't get my scholarship renewed this time.
* Special Delivery improv practice
* Signed up for a 2 week LA Fitness trial
Wednesday, April 2, 2014
* Family Matters Audition (Agent sent). After the audition I met a girl I noticed from the audition. Conversation was good. I even got her number. hmmmmmmm.
* McDonald's Audition (Agent sent)
* Fresh Faces Audition (Agent sent)
* Received a random phone call from a young man in Florida who noticed my Late Night Show on Youtube. He poured me with compliments and encouragement. We later connected on Facebook, watched The Late Night Experiment and said I was better than Kevin Hart.
Thursday, April 3, 2014
* Played basketball and in the first game got the winning shot. It felt good. The next game I was making valuable baskets but my team was selfish. Record for the day 1-2.
* David Letterman announces his retirement. I heard this first from my ma.
Friday, April 4, 2014
* A home call from an old friend shared some horrible news. RIP Pam's son
* Bank account -86.00. My ma had to bail me out.
* DOS Rehearsal/Show. This is my, "I'm getting worse at improv period."
* Used my LA Fitness pass and played ball in their gym (Hollywood near Highland location). First time on their courts and I wasn't too bad. My problem is I don't know how to cut to the basket very well. I cleaned up very well. Rebounds and a couple put backs. I fell twice. Everybody was falling. One fall gave me a big bubble bruise on my left forearm. It didn't look or feel good, surprisingly it healed fast. In 24hrs it was almost gone. Before the bruise I got hit in the face slightly. I really have to get a face mask or something.
Saturday, April 5, 2014
* Attended the Burbank International Film Festival Industry Forum. Wasn't in the mood for the train/bus so I used my Lyft credits.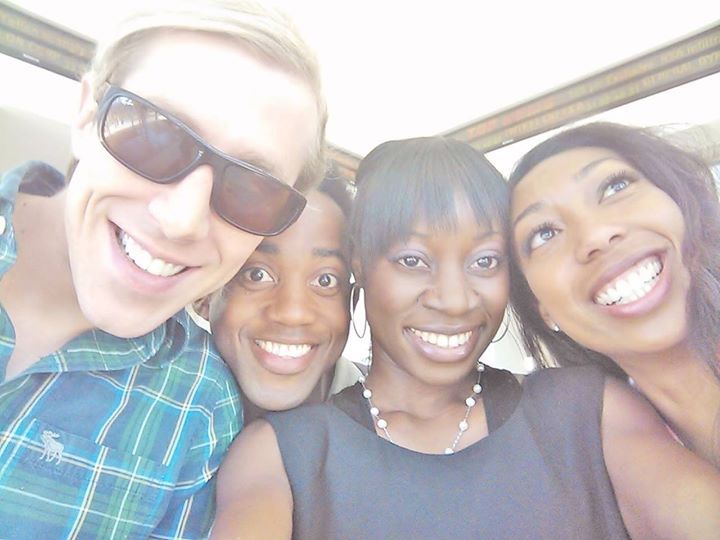 Burbank International Film Festival forum Selfie!!! Here you go guys...
— with
Stacy Aspen
,
Lindsay Castillo and Motown Maurice.
* African Movie night at persons house whom I connected with from Meetup. It was cool/interesting.
Final Thoughts
Week 186 here I come.
As the quest continues...
The Future of Late Night
Motown Maurice